2018: near and far, a clash of narratives
Restore and replenish yourself for the battles ahead
The holiday season with its social obligations and reminders of absent friends brings its special tensions. After a hectic day, self-care guides me home. A warm robe, herbal tea, and quiet reflection are restorative. Before heading out earlier I sent an inquiry to the outpost of the United Nations High Commissioner for Refugees in Nairobi on behalf of a suffering gay Ugandan. He texted me thanks from the hospital where he was treated for injuries from a police assault during a peaceful protest days before.
On Dec. 11, DC Congresswoman Eleanor Holmes Norton wrote to UN High Commissioner Filippo Grandi in Geneva urging him to investigate the mistreatment of Ugandan LGBT refugees in Kenya. I stopped by her office on Capitol Hill the next day to thank her. In 1964, she went to Mississippi for Freedom Summer to register African-American voters, an effort from which some volunteers never returned. She knows the price of freedom as only veterans of the struggle can. As a standard courtesy, her letter to Grandi was copied to Secretary of State Mike Pompeo, despite the unlikelihood of a sympathetic reception, as illustrated by Pompeo's insulting visit to Brussels the previous week.
"Cast your bread upon the waters," wrote Ecclesiastes, "for you will find it after many days…. In the morning sow your seed, and at evening withhold not your hand, for you do not know which will prosper, this or that…." A British colleague who also advocates for the displaced Ugandans writes to me about a teenage couple, one of them transgender, who need help. There is anti-gay and anti-trans bias among some of the Kenyans working for UNHCR. An American regime that seeks to erase trans people at home will not speak up for a 14-year-old trans girl waiting with her boyfriend outside UNHCR's office in Nairobi. So my colleague and I do.
You have to steel yourself for this kind of work. There are many more in need than you can help. If you begrudge yourself every moment of relaxation, you can damage your own well-being and end up no good to anyone. The world is great and you are small. Make a few ripples where you are, and see where they travel.
There will be plenty of opportunities in 2019. The Trump regime has damaged everything from diplomacy to environmental protection to the rule of law to American values. Rapacity has replaced stewardship, fear has replaced inspiration, and spite has replaced cooperation. Migrant children are still dying at our southern border. The GOP still threatens the healthcare of 17 million people. Right-wing ideologues are still packing federal courts.
Mark Harris, a homophobic and transphobic minister and Republican candidate for Congress in North Carolina's ninth district, hired a convicted felon to help him win. Wisconsin Gov. Scott Walker on Dec. 14 signed legislation stripping powers from Tony Evers, the Democrat who beat him. Republicans are branding themselves as cheaters and sore losers.
Tyrants consider their assertions the only evidence that matters. Journalist Jamal Khashoggi was murdered for disputing that, and Trump's embrace of his murderer despite damning intelligence makes us complicit.
A Greek proverb says that a society grows great when old men plant trees in whose shade they will never sit. Trump's unconcern for a projected national debt spike because "I won't be here" confirms his vaunted national greatness as empty sloganeering. We who deplore Trumpism have not only reality on our side, but a more compelling narrative.
The importance of narrative was illustrated in 2018 by gifted young filmmaker Ryan Coogler. His epic movie Black Panther conjures the mythical African nation of Wakanda, untouched by colonialism, with advanced technology and children who grow up with an expectation of success. Beautifully designed and cast from across the African diaspora, it soars.
Confidence is invigorating. After American voters elected women in record numbers, once-and-future House Speaker Nancy Pelosi's deft Oval Office sparring with Trump gave a bracing preview of the battles ahead.
Americans have faced challenges before. If we can only connect with our diverse citizenry we can defeat the nihilist in the White House, on whom Robert Mueller is slowly closing in.
Richard J. Rosendall is a writer and activist. He can be reached at [email protected].
Copyright © 2018 by Richard J. Rosendall. All rights reserved.
Underfunded, undermined and unabashedly victorious in Brazil
Country's LGBTQ politicians are bringing diversity to democracy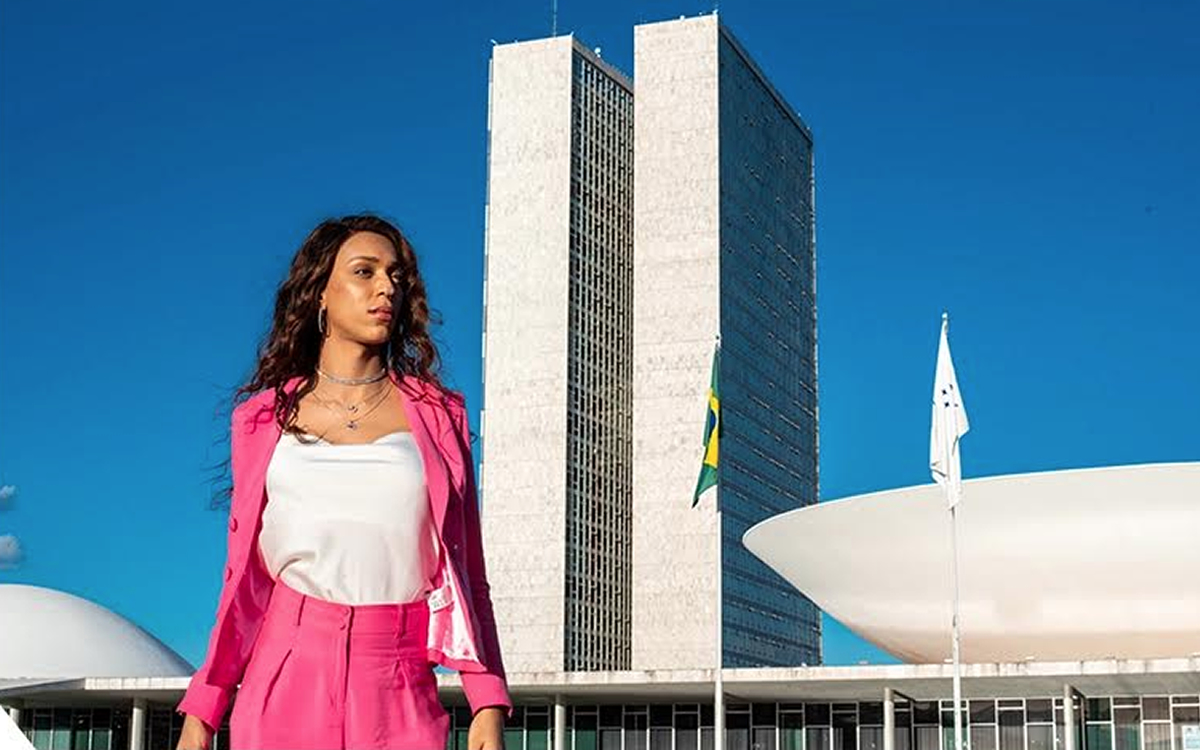 Imagine a group of 18 winners where you'll find only one white man. The recent election in Brazil not only brought back former President Lula, but also doubled the numbers of out LGBT+ representatives in both the national and state legislatures. Out of these 18 elected officials; 16 are women, 14 are black and five are trans. There is only one white man in the group.
Women, LGBT+ and Black people have always showcased political leadership in their communities. But the path to occupy a space in Brazilian institutional politics is often violent and expensive. In recent years, many organized social movements have directed their efforts to set the agenda for public debate into the intersectional realm and support community leaders. In a poll VoteLGBT conducted in 2017 during the São Paulo Pride parade, the biggest in the world, only 45 percent of Pride participants surveyed thought that identity matters when choosing a candidate. In 2022, 85 percent believed so.
Despite the many obstacles and violence they face, Brazilian LGBT+ leaders are gaining political power, often being the most voted individuals in their states or cities. Many trans women who won big in their cities in 2020 advanced to higher positions in 2022. Four LGBT+ people (all women) were elected to congress: Three of them Black and two of them trans, a major breakthrough for LGBT+ political participation.
In Brazil, campaigns are publicly funded. Taxpayers' money goes to parties' leadership who can pretty much do whatever they want with it. There are rules made to fight the underrepresentation of women and Black population, but they are often corrupted by fraud.
Party leaders are often older rich white cis men who focus their efforts and financial support to old allies. LGBT+ politicians receive an average of 6 percent of the legal limit for what parties can provide to a single candidate. When interviewing 30 of those who ran in 2020, we came across three trans women who didn't have enough to eat during their campaigns and still won their seats. Our vote is the cheapest in the election market.
Once elected, LGBT+ officials often face discrimination from their peers in the chambers, many times from their own parties. In a poll we did in 2021 we found that more than half of LGBT party members reported facing discrimination. And those who decided to report it found that there's no accountability for LGBTphobia inside the parties.
Not to mention the constant death threats that (especially) Black and (especially) trans women face when elected or running for office. City Counselor Benny Brioly, who is Black and trans, had to flee the country in 2020 after public security forces refused to offer her protection, which was her legal right. In 2022 she kept getting death threats from a congressman, from his official Cabinet's email. Erika Hilton and Duda Salabert, the first trans women elected for congress in 2022, had to conduct campaign activities with armed security and bulletproof vests.
It seems like the world is looking for the tools we are developing to fight extremism and LGBTphobia. International organizations have long supported many of those initiatives. The partnership and support from organizations like the National Democratic Institute and the LGBT Victory Institute have been fundamental to promote a comprehensive approach to such a complex issue.
VoteLGBT's innovative research strategies have a political and historical importance due to the lack of official data about the LGBT+ population in Brazil. Research has been fundamental for us, not only to give visibility to our issues and set the agenda for public debate, but also to better strategize where to allocate resources. Since 2021 we have been investigating the parties, conducting in-depth interviews with candidates and LGBT caucus. We've produced a list of 327 out LGBT candidates in the 2022 election cycle with their racial and LGBT+ identity self declared. That had never been done before.
We've offered direct support through organizing a series of webinars, creating downloadable toolkits, conducting pressure campaigns on parties, lobbying the Supreme Electoral Court for them to produce official data on our leadership, creating a gallery with over 300 LGBT+ candidates and their priorities, and offering confidential psychological support, especially after such a violent campaign.
It would be dishonest, though, to claim any part of such astounding victories. Each of those candidates struggled to run their underfinanced and understaffed campaign, and still created strategies to reach and amplify their audience brilliantly. Also, we are not the only ones on the task. There are other organizations who are great examples and partners.
Brazil's recent election results show us that an intersectional approach to the issue of political representation is not only possible, but potent. LGBT+ candidates earned over 3.5 million votes. Of those votes, a third went to trans women. Seven in 10 went to a Black candidate. Brazilian voters are showing us what kind of democracy they are willing to fight for. Without diversity there is no democracy.
'Queer' evolves from hateful epithet to expression of pride
NYT criticizes HRC's Robinson for use of term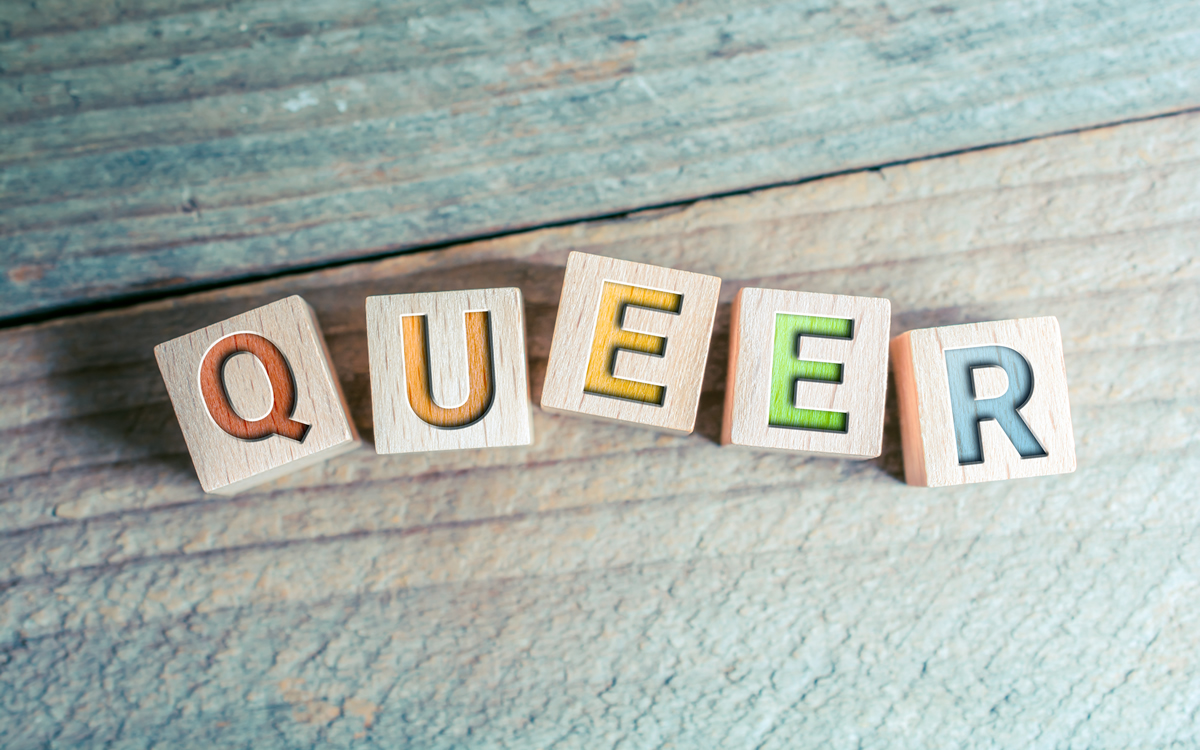 It hit me one morning this fall as I woke up: I've turned 70.
As I've been celebrating this milestone, I've marveled at the changes that have occurred for our LGBTQ community during my lifetime.
Marriage equality, Pete Buttigieg (or any LGBTQ person) running for president and/or the fab queer rom-com "Bros" would have been unimaginable when I began coming out 50 years ago.
Then, just three years after the Stonewall uprising, I and many other LGBTQ folk felt far more shame than pride about our queerness.
Most of us in that era wouldn't have dreamed that, decades later, not only LGBTQ teens, but queer people our age would have marched, out and proud, in Pride parades. We'd never have thought that in the 21st century any of us would ever proudly say, shout or chant "we're queer!"
Nothing is more emblematic to me of the progress made in LGBTQ rights from Stonewall to today than the evolution of the word "queer" from a hateful epithet to an expression of pride.
Today, the term "queer" can be found everywhere from news outlets (including NPR, the Blade, the New York Times and the Washington Post) to museum exhibits such as "Queering the Crip, Cripping the Queer" at the Schwules Museum Berlin through the end of January and "Queer Creativity Through the Ages: Artwork from the Center on Colfax Open Art Studio" at the Denver Art Museum through Dec. 31.
I can't think of any of my under 60 friends, hetero or LGBTQ who don't use the word "queer." Sometimes they're proudly writing it on Pride parade signs. Often, they use it as a neutral adjective. The way you'd say "they're from Boston" or "he's about six-feet tall."
Many of my over-60 pals are beginning to use the word "queer." If they're not comfortable using it about themselves, they're increasingly comfortable with others using it. My 70-something hetero cousins, who are LGBTQ allies, no longer feel I'm putting myself down when I say I'm queer.
Given that "queer" is so often used as an affirmation of identity or neutral descriptor, I was surprised when New York Times columnist Pamela Paul recently lamented the popularity of the "q-word."
I'm an avid reader of Paul's column. Paul, a former editor of the New York Times Book Review, is, like many writers, obsessed about language. She's an astute observer of the culture and of how we use words.
Yet, I can't help but wonder what Paul was thinking. "Language is always changing – but it shouldn't become inflexible," she wrote, "especially when new terminologies, in the name of inclusion, sometimes wind up making others feel excluded."
Paul, who is hetero, worried that the widespread use of "queer" excludes LGBTQ people who don't identify as queer. She was upset that so many Gen-Zers identify as queer, and annoyed that "gays and lesbians can feel crowded out" under the LGBTQ umbrella.
Paul chided new Human Rights Campaign president Kelley Robinson for using the word "queer," and not saying the words "gay," "lesbian" or "bisexual" in a video where she introduced herself.
People at HRC do say "gay," "lesbian" "bisexual" "transgender" and "nonbinary," Robinson wrote in response to Paul's column in a letter to the Times.
"I identify as a Black queer woman," Robinson wrote, "and when I say 'queer,' it's to be as inclusive as possible, to re-center those at the margins, to embrace our differences and to embrace our power, too."
Robinson nailed what attracts so many of us to the word "queer."
Of course, many LGBTQ boomers and Gen-Xers vividly recall when "queer" was a homophobic slur.
A hetero friend remembers when she was seven riding on a school bus. "I was mad at a kid," she told me, "I wanted to call him something mean. So I said he was 'queer.'"
"My sister told me not to say that again," my pal added, "She said it was too horrible to tell me what it meant."
But in recent decades (starting with AIDS activists), we've reclaimed the word "queer." We've taken away its sting: transformed it from a hate-mongering, othering slur to a source of power.
It's hard to think of a more inclusive word than queer. It includes and values all LGBTQ folk. In the wake of the Colorado Springs LGBTQ club shooting, it's more important than ever to be proudly queer.
Kathi Wolfe, a writer and a poet, is a regular contributor to the Blade.
As a gay Jewish man, I will never let Trump win
My parents escaped Hitler for an America that we must save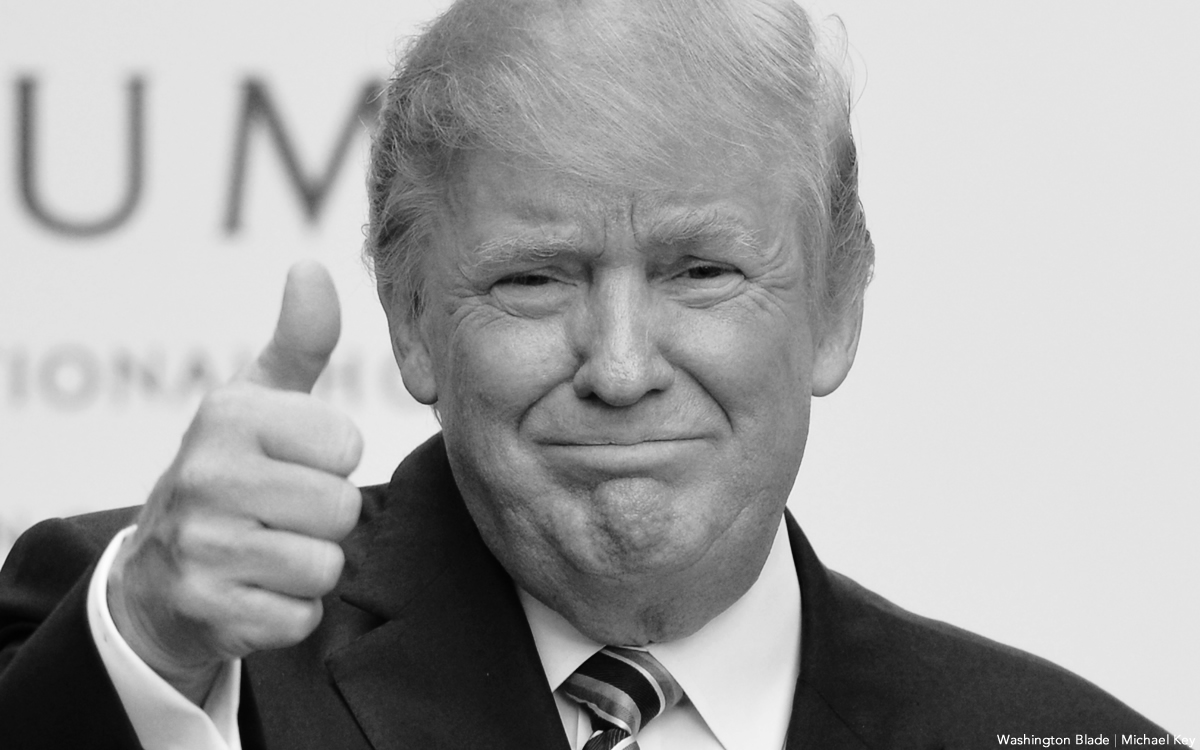 Donald Trump and his friends are scary, but I will not sit back and let them win. My parents escaped Hitler, coming to the United States for a better life. My father's parents were killed in Auschwitz. Until Trump became president, I never believed anything like that could happen here. While I still don't, I now know it will take everyone speaking out and not acquiescing to him and his acolytes.
It is not only Jews and the LGBTQ community who are threatened. In the United States today all minorities and women are coming under fire. Our response must be not to only speak out, refuting hate every day, but working to see it doesn't continue to threaten our lives. We must vote to ensure those who threaten our way of life never gain control.
Trump is a sexist, homophobic, racist pig. For four years he held a megaphone as president spreading hatred and enabling his followers to spread theirs in the public square. He capped four years with an attempted coup. He was stopped, but today he is trying to once again regain that megaphone. We cannot let him or anyone who supports him have it.
We must call out Trump and every one of his acolytes every time they do something like sit down to dinner with anti-Semites like Kanye West and his friend Nick Fuentes. Fuentes, a white supremacist and Holocaust denier, is a political commentator and live streamer banned from YouTube for his views. We cannot accept any excuses for such behavior. We must also call out those with the power to reach people like that, who don't speak out. Those like Ivanka Trump and Jared Kushner. They are Jews, bringing their children up in the Jewish faith. Where are their voices? They must realize they and their children will not be spared if the likes of West and Fuentes take over our country.
There needs to be the outcry like there was when West first iterated his diatribe against the Jews forcing Adidas and others to cut their business ties with him.
Today we see movies and plays opening that speak to the horrors of racism and anti-Semitism. Movies like "Till," about racism, and "Fabelmans," the Steven Spielberg autobiographical movie about him facing anti-Semitism and bullying and the new Tom Stoppard play on Broadway, "Leopoldstadt." Every day, and in every way, decent Americans must speak out and fight back; not with guns but with words, actions, and votes.
We are seeing gun violence climb in the United States, often based on hate. We shouldn't be surprised with the easy access to guns, nearly 440 million in the hands of Americans, when someone's hatred results in violent attacks on churches, synagogues, schools, movie theaters, or just on the streets in our neighborhoods. We see anger much too easily escalate into violence.
Again, whereas sexism, racism, homophobia are not new to American society, we worked for many years, and until Trump, managed to keep them somewhat under control. It was getting to a point where they were not acceptable to be spoken in the public square. Trump changed that. While we can fight the policies he proposed, like lowering taxes on the rich, or refusing to recognize climate change, the cultural changes he wrought will take decades to change. Putting the genie of hate back in the bottle will not be easy as we see in our country today. From his announcement for president to his comments on Charlottesville, where he said he could see good on both sides; one side being white supremacists and neo-Nazis, the other being those who opposed them, he allowed hatred to become acceptable.
Today we have not only Trump but the mini-Trumps who want to take over from him like Ron DeSantis in Florida and Glenn Youngkin in Virginia — those who cover their disgusting thoughts in a more acceptable public veneer, but who nonetheless end up working to advance the same goals as Trump, namely to marginalize every minority and allow them to be continuously threatened into submission.
But they will learn we will not be threatened without a response. We will not sit idly by while they ruin the country my parents, and so many others, came to seeking asylum and safety. We will fight for the country whose Declaration of Independence states: "We hold these truths to be self-evident, that all men are created equal, that they are endowed by their Creator with certain unalienable rights, that among these are life, liberty, and the pursuit of happiness." We will continue to fight to include women in those beautiful words.
Peter Rosenstein is a longtime LGBTQ rights and Democratic Party activist. He writes regularly for the Blade.