January 9, 2019 at 2:04 pm EST | by Peter Rosenstein
Let the Democratic presidential games begin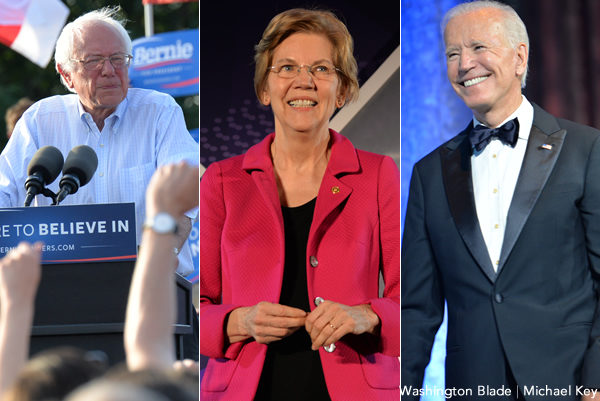 A strong ego can work to a person's advantage but it can be dangerous if it runs totally amok. It can be especially dangerous for politicians or would-be politicians. One example is Michael Avenatti, who recently recognized ego alone wouldn't make him a good presidential candidate. There are a host of others who I hope will reach the same conclusion Avenatti has. They include West Virginia losing congressional candidate Richard Ojeda and former Maryland Congressman John Delaney, who got bored in Congress and moved to Iowa to run for president.
Then there are some candidates who people take seriously but have the same ego problems. Joe Biden, a man I admire, recently said in his own opinion he is the most qualified person to be president. And Sen. Bernie Sanders thinks he is qualified, yet might want to contemplate why he lost a primary by nearly four million votes as he decides whether he will run. Biden, who dropped out early in two previous tries for president, recently managed to put his foot in his mouth by declaring, "I've been there with eight presidents as an elected official and none had more class and a greater sense of decency than President Bush." Many wanted to know what he thought of Barack Obama. Sanders is finding he is losing support and can't count on those who helped him last time around. Another former loser re-emerging is John Kerry suggesting he could make another run at the office because in his own estimation he is the one most qualified.
Now that Elizabeth Warren has announced an exploratory bid and with Julian Castro expected to shortly we are assured of seeing two very different generations competing. If rumors are true there might be 20 people running for the Democratic nomination for president. A full employment boondoggle for campaign consultants and fundraisers. Many of those announcements will be based on the candidates' own inflated ego convincing them they have a chance.
The allure of the Democratic nomination in 2020 is clear. It could be another banner year for Democrats. While two years in politics is an eternity, after the blue wave in 2018 when Democrats won hundreds of seats in state legislatures, a number of governors' mansions and flipped 40 seats in the House of Representatives, things look promising. As the Mueller investigation moves forward getting closer to implicating the disgusting excuse for a man in the White House, and the continuing outrageousness of his lackeys in Congress, 2020 could be the year Democrats take back the White House and gain full control of Congress.
Yet despite ego and bluster working for Trump in 2016, let's hope he was an anomaly. Over the next 18 months, the Democratic primaries will winnow out those with no chance of winning a general election. We saw in the 2018 midterm elections a wide majority of voters elected neither far-right nor far-left candidates, rather choosing those ready to work within the system to get things done.
Three women exemplify this type of candidate winning races prognosticators predicted they could lose. They are Sens. Tammy Baldwin (D-Wisc.), Jackie Rosen (D-Nev.) and Kyrsten Sinema (D-Ariz.). While their races were clearly impacted by national politics they ran campaigns based on issues their constituents were most concerned about. They didn't campaign on slogans but spoke to voters in language the average voter in their state could connect with. They understood what might work for a candidate in California or New York wouldn't necessarily work to elect them. They understood what Tip O'Neil said years ago, "All politics is local."
As we head toward the primaries, it will be important for candidates for president to appeal to the widest possible range of voters. In today's world of instant gratification and 24-hour news cycles it is important to delineate not only a vision but to translate that vision into a campaign people can connect with.
While the media loves to cover those like Rep. Alexandria Ocasio-Cortez and Sen. Sanders, the fact is candidates who emulate them may win a caucus or primary, or even a congressional seat in a particular district or state, but won't be able to win a national election.
The Democratic presidential nomination and nominations for seats in Congress will be won by those best able to keep their balance while walking a tightrope, which is what our primaries have become. The American voter is skewing younger and more diverse and Democrats will want a ticket that will appeal to those voters while not turning off anyone else. So let the games begin!
Peter Rosenstein is a longtime LGBT rights and Democratic Party activist. He writes regularly for the Blade.