January 15, 2019 at 5:41 pm EDT | by Joey DiGuglielmo
QUEERY: Gerard Turner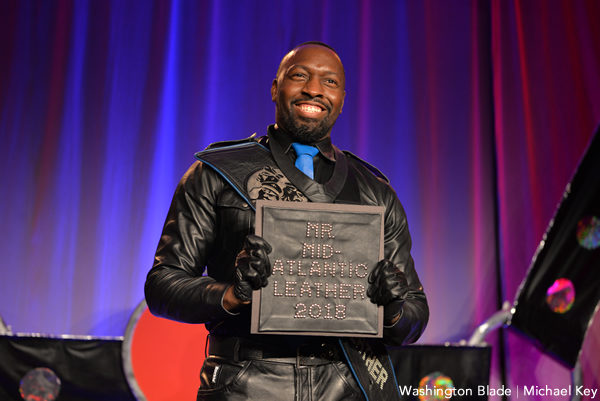 It took Gerard Turner a while to feel comfortable in the gay leather world although he says he's loved the feel of leather, even as a 3 year old.
"I've been actively involved in the scene for six years but before then, I took in the shadows and watched from afar for more years than I care to remember," the 41-year-old Elizabeth City, N.C., native says.
But when he did get involved, he got quite involved. Turner is the reigning Mr. Mid-Atlantic Leather titleholder, a contest he won last January against five other contestants. Winning, he says, was surprisingly emotional.
"It was overwhelming," Turner says. "A very humbling experience. I cried and could not stop. It was true joy."
Turner will act as head judge this year. The contest is Sunday, Jan. 20 from 1-4 p.m. at the host hotel, the Hyatt Regency on Capitol Hill (400 New Jersey Ave., N.W.). The contest is part of the weekend package but tickets are also available to purchase. Details at leatherweekend.com.
Turner started going to MAL seven years ago and says he most enjoys the intimacy the weekend offers.
"You develop better relationships with those in your company," he says. His favorite event is Leather Cocktails.
Any advice for this year's contestants?
"Gird your loins," he says. "You're about to have one of the most memorable weekends of your life. Never be ashamed of your journey. Walk in your truth and love the skin you're in."
Turner is in a relationship with George Diaz and works as a program manager. He lives in Gaithersburg, Md., and came to the D.C. area after several years in Baltimore for work. He enjoys walking, growing orchids, making stone bracelets, writing poetry, photography and baking in his free time.
How long have you been out and who was the hardest person to tell?
Eleven years and it was hardest to tell my parents but I did and they still love me unconditionally.
Who's your LGBT hero?
Bayard Rustin, openly gay civil rights activist.
What's Washington's best nightspot, past or present?
In the past, Washington had this nightclub called Tracks.
Describe your dream wedding.
It would only have to happen once, very simple with water in the view somewhere. Not too big, comfortable, rustic, intimate and a moment that leaves me feeling like I can speak with my eyes before my voice sounds.
What non-LGBT issue are you most passionate about?
Every issue in my life feels like an LGBT issue because we are all connected and multi-faceted. The more I think about it, the deeper my thoughts become with this question.
What historical outcome would you change?
History has a way of repeating itself and what we are experiencing right now with our federal government has happened at another time under different circumstances. I would change this, now historical outcome of this being the longest government shutdown ever.
What's been the most memorable pop culture moment of your lifetime?
Michel Jackson's video "Remember the Time."
On what do you insist?
Unconditional love and respect in our community.
What was your last Facebook post or Tweet?
A video post I made about supporting Code RED Fundraising Event in the fight against HIV and AIDS.
If your life were a book, what would the title be?
"How To Get Through the Unimaginable"
If science discovered a way to change sexual orientation, what would you do?
Sit back and eat popcorn. You can't fix what's not broken. You can't change what's in your heart and soul with science.
What do you believe in beyond the physical world?
I believe that we all have another journey to embark on after we leave our physical being. The spiritual being is only a scratch on the surface of eternity in the heavens above.
What's your advice for LGBT movement leaders?
Listen before you speak, watch before you act and when you take action, make sure you're capable of taking all the responsibility if it goes your way for the good or the bad.
What would you walk across hot coals for?
Understanding. I would walk across hot coals in search of answers if I am ever faced with such, that would place me in that situation.
What LGBT stereotype annoys you most?
Thinking that we're all the same, when we are all very complex, unique and different.
What's your favorite LGBT movie?
"Paris is Burning." It was real life and reality before reality TV existed.
What's the most overrated social custom?
Going viral for likes
What trophy or prize do you most covet?
A certificate that says I beat cancer.
What do you wish you'd known at 18?
To buy stock at Amazon.
Why Washington?
It's multicultural and accessible. If you can survive living in D.C. for at least five years, then you can live in any major city.