January 16, 2019 at 11:20 pm EST | by Mariah Cooper
Mid-Atlantic Leather Weekend returns with 40th annual D.C. event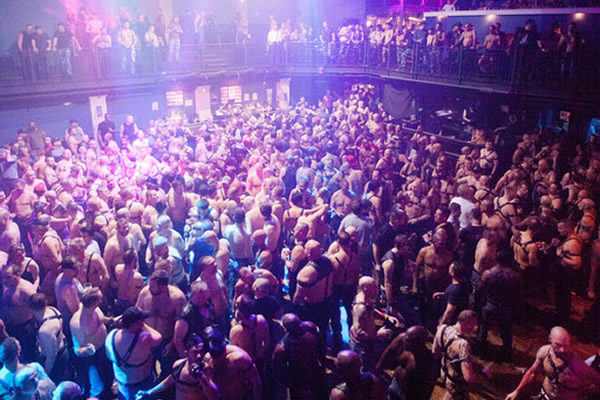 Mid-Atlantic Leather Weekend

Jan 18-20

Hyatt Regency Capitol Hill (400 New Jersey Ave., N.W.)

Friday and Sunday $15, Saturday $20, all three days $30

MAL Weekend Package $250
Glenn Pitcher of the Links Motorcycle Club (MC) rented a suite at the Waldorf-Astoria Hotel in New York City in 1976 for his leather-clad friends to enjoy cocktails before heading out for the evening. The clink of a metal cock ring hitting the bathroom tiled floor alerted the group that Jerry McChristiansen, also a Link MC member, had been trying to free himself during the party. That sound would unexpectedly be the start of the yearly tradition of Leather Cocktails, now in its 43rd year.
The event eventually evolved into the now wildly popular Mid-Atlantic Leather Weekend, which draws thousands of attendees to the three-day leather/fetish event. It's the second largest event of its kind in the United States. This year is the 40th year the annual event has been held in Washington.
MAL weekend, which is sponsored by the local group Centaur MC, will hold its official events at the Hyatt Regency Capitol Hill (400 New Jersey Ave., N.W.) Jan. 18-20. Leather Cocktails — it's the Centaurs 35th year hosting that event — takes place on Saturday, Jan. 19 from 7-9 p.m. in the Regency Ballroom. There will also be official, off-site events at the D.C. Eagle (3701 Benning Rd., N.E.) and the 9:30 Club (815 V St., N.W.).
The weekend generates plenty of excitement so lots of local bars and clubs also have their own MAL-inspired parties. Another highlight of the weekend is the Mr. Mid-Atlantic Leather contest, which has a group of men compete for the leather community's coveted title.
President of Centaur MC Todd White told the Washington Blade that MAL's theme this year is "Let the Games Begin." It's a nod to MAL's oldest event, Olympia, an outdoor weekend event that typically took place on Labor Day weekends, which started in 1971.
This year will also mark a change in the official MAL Closing Dance Party at 9:30 Club on Sunday, Jan. 20 from 7 p.m.-2 a.m. This year the dance is in partnership with the Frankie Knuckles Foundation. A portion of the event proceeds will benefit the foundation. Tickets are $35 in advance and $45 at the door. The dance is also included in the MAL Full Weekend Package.
White says that the dance won't have the "dark" circuit music it typically plays.
"Frankie has a much lighter sound in how he puts his music together. So we're hoping the buzz about that will help people realize the event is really emphasizing the fact that MAL is truly a safe and welcoming space for everybody. It's just light and love. That's basically what we tried to create and focus on this year," White says.
Overall, White says there's something for everyone at MAL. It's that welcoming vibe that keeps people coming back no matter what MAL event they choose to attend.
"I've heard it called leather family reunion," he says. "I call it my leather Christmas. It's going home. Most attendees will tell you, even people who are coming back just for the second time, it's coming home. I think the cocktail party is what sets the framework up for that because that's something very intimate and that's something you do with friends and family. I think that where the foundation started is something that, thank God, through all these years, the club has been able to stay focused on. So whether you attend cocktails or you don't attend cocktails, you feel it throughout the whole weekend."
Schedule
Mid-Atlantic Leather Weekend returns Jan 18-20 at the Hyatt Regency Hotel (400 New Jersey Ave., N.W.). The Leather Exhibit Hall will feature more than two-dozen exhibitors selling products and gear. Admission is $30 for the full weekend, $15 for Friday, $20 for Saturday and $15 for Sunday. Other events include a rubber cocktail party on Friday, Jan. 18 from 7-9 p.m., Puppy Park XI on Saturday, Jan. 19 from 11 a.m.-1 p.m., brunch on Sunday, Jan. 20 from 10 a.m.-noon, the Mr. Mid-Atlantic Leather Contest on Sunday Jan. 20 from 1-4 p.m. and the closing dance party, which this year is a tribute to Frankie Knuckles, at 7 p.m. Visit leatherweekend.com for a full list of events.
There will also be plenty of off-site parties celebrating MAL weekend.
Green Lantern (1335 Green Ct., N.W.) hosts Rough House: Leather Edition on Friday, Jan. 18 at 9 p.m. Lemz and the Barber Streisand will spin tracks for the evening. Matt Strother and Scott M. Douglass will mix drinks. Cover is $10 and includes clothes check. For more information, visit  greenlanterndc.com.
Highwaymen Tnt host Impact: Heroes MAL Fetish Ball at the Hyatt Regency (400 New Jersey Ave., N.W.) in Ballroom B on Friday, Jan. 18 from 10 p.m.-2 a.m. Attendees are invited to dress as their favorite superhero. Cover is $10. DJ Twin will play tracks. For details, visit facebook.com/highwaymen_tnt.
Honcho presents DJ Josey Rebelle at U Street Musical Hall (1115 U St., N.W.) on Friday, Jan. 18 from 10 p.m.-4 a.m. Rebelle is known for her house, techno and breakbeat sounds which she has performed in clubs across Europe and Asia. There will be a full clothes check. Advance tickets are $14 and day of show tickets are $18. Attendees ages 18-20 will be admitted by advance ticket only. For more information, visit ustreetmusichall.com.
Distrkt C hosts Masters, Boys and Pigs at Karma D.C. (2221 Adams Pl N.E.) on Saturday, Jan. 19 from 10 p.m.-6 a.m. DJ Barney Philly plays the opening set followed by DJ Tony Moran. Rocco Steel makes a guest appearance. Tickets are $70. For more details, visit distrktc.com.
La Fantasy hosts SexShop Party at L8 Lounge (727 15th St., N.W.) on Friday, Jan. 18 from 10 p.m.-7 a.m. DJ Alex Acosta, DJ X Gonzalez and DJ Joe Pacheco will play music. Coat check available for $5. Tickets are only available in advance for $40. For details, visit lafantasyproductions.com.
The Onyx Cocktail Party and Gear Show is at the Hyatt Regency (400 New Jersey Ave., N.W.) on Saturday, Jan. 19 from 2-6 p.m. There will be cocktails and a fetish auction to benefit Youth Empowered Society. Cash, credit and debit will be accepted for auction purchases. There is a suggested donation at the door. For more details, visit facebook.com/onyx.midatlantic.
495 Bears celebrates MAL weekend at Green Lantern (1335 Green Ct., N.W.) on Saturday, Jan. 19 from 9 p.m.-3 a.m. with its dance party the Bear Cave. DJ Popperz will spin tracks ranging from retro to electro. Drink specials run all night. No cover. Clothes check available. Visit greenlanterndc.com for more information. 
The D.C. Eagle (3701 Benning Rd., N.E.) hosts Sircuit, an MAL weekend party, on Saturday, Jan. 19 from 10 p.m.-6 a.m. DJ Sean Morris will play music all night. GoGo boys Israel Hermes and the Honey Bear will perform for the evening. Alcohol service runs until 4 a.m. and music goes until 6 a.m. Tickets in advance are $30 and tickets at the door are $40. For more details, visit thedceagle.com.