January 15, 2019 at 1:41 pm EST | by Lou Chibbaro Jr.
Shenandoah LGBTQ Center set to open in historic building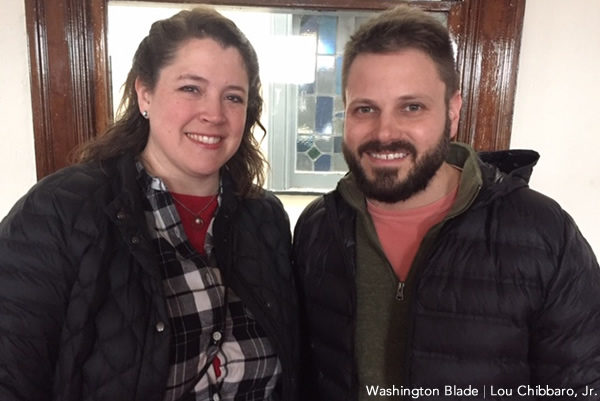 The Shenandoah LGBTQ Center, which began operating in temporary office space in Staunton, Va., in August 2018, is scheduled to open its new offices and meeting space on Jan. 26 in Staunton's historic Masonic Building.
Christopher Wood, the LGBTQ Center's founder, and Emily Sproul, the Center's executive director, gave the Washington Blade a tour of the soon-to-be-opened offices and meeting space in December.
The two noted that the Center's new home is in the heart of downtown Staunton, which serves as a hub for Virginia's expansive Shenandoah Valley.
"The Shenandoah LGBTQ Center was announced on July 13, 2018 in response to the severe lack of resources available in the Shenandoah Valley and Greater Appalachian region for LGBTQ individuals and their families," the Center states on its website.
Wood said new owners of the Masonic Building, which first opened in 1895 as a Masonic temple, are supportive of the Center's mission and offered favorable terms on the Center's lease.
Last weekend, Wood said he and others involved with the Center traveled to the Ikea store in Northern Virginia to buy office furniture and other items for the new space.
"So the space is being redone this coming weekend," he said. "There's a work day actually on Saturday," he noted, when volunteers will help put the finishing touches on the new space.
Although LGBT people often face challenges in rural parts of the Shenandoah Valley, Wood said the new center is fortunate that city officials in Staunton, including the mayor, police chief, and city manager as well as the local business community, have been welcoming and supportive.
Wood and his husband own and operate a retail store in downtown Staunton not far from the LGBTQ Center's new offices. He also serves as executive director of LGBT Tech, a national nonprofit organization that advocates for the LGBT community on technology issues.
He said an important role of the LGBTQ Center will be to provide access to technology for those who visit the Center, especially LGBT youth, such as computer terminals and advice on devices such as smart phones.