January 21, 2019 at 7:13 pm EST | by Michael K. Lavers
EXCLUSIVE: Prominent US activist 'harassed' by Cuban officials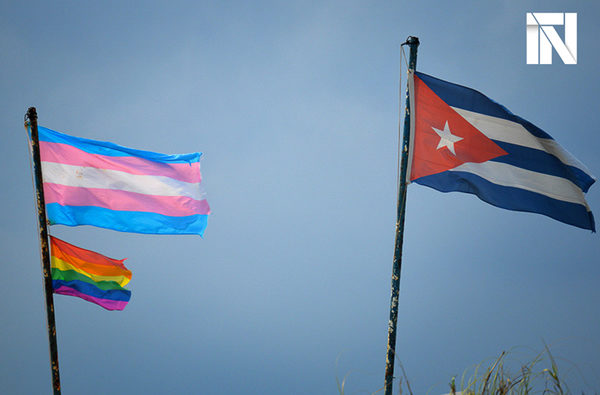 A prominent LGBT activist from San Francisco says Cuban authorities "harassed" him during his recent trip to the country.
Michael Petrelis had 10,000 "Love is Love" rainbow stickers and 1,200 Pride bracelets in his luggage when he arrived at Havana's José Martí International Airport on Jan. 2.
Petrelis told the Washington Blade during a series of exclusive interviews from Cuba and San Francisco that an immigration official in street clothes "tapped on the shoulder from behind" shortly after he went through customs. Petrelis said the official asked to see his passport before bringing him to an "upstairs interview room."
Petrelis wrote several Facebook posts about his trip before he left San Francisco. He told the Blade there were printouts of them on the table when he was brought into the room.
"The agent asked why I was bringing in so many rainbow items to Cuba and on a tourist visa," said Petrelis, telling the Blade he planned to distribute them to people across the country. "I explained that these gifts would be shared with gay Cubans and no fee charged."
Petrelis said he was asked where was staying in Havana and "took down the information about the location and the number of days I would stay there." Petrelis told the Blade the interrogation lasted about 30 minutes.
"He said not to worry, which made me worry, and that I would be allowed into the country as a tourist," he said. "Neither he nor any other agent ever opened my luggage, which I thought (was) quite odd, but I didn't object."
Petrelis told the Blade a "uniformed agent" from Cuba's Interior Ministry on Jan. 3 "showed up" at the home in which he was staying and "was again questioned why I brought so many rainbows with me." Petrelis said the official summoned him to a meeting at what he described as a ministry barracks.
Petrelis said two men — the man who he said interrogated him at the airport the day before and another official who identified himself as Carlos — interrogated him for two hours. Petrelis told the Blade that he spoke with a woman at the ministry before he left.
"It was at the first meeting with him that he stated, through a young translator, I was not to attend 'manifestations' and certainly not the human rainbow at the (Cuban Capitol) that I had proposed, but which was never agreed to actually take place," said Petrelis, recalling the interrogation.
Petrelis said Carlos told him he could not attend any meetings, "but he never defined what constituted a meeting and I said I wanted to meet with friends from Facebook in Havana, Matanzas and Santa Clara."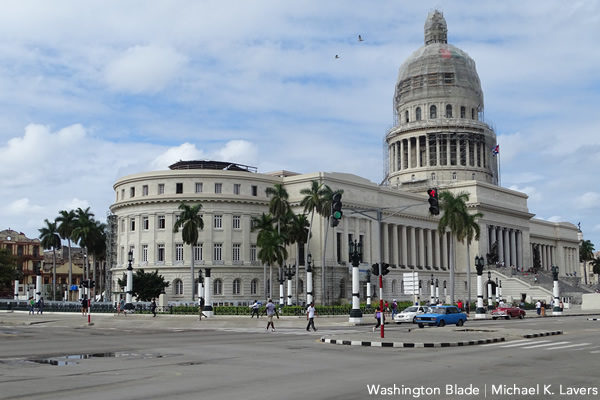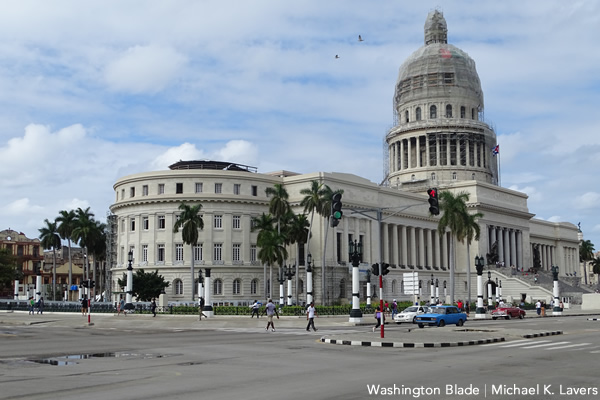 Petrelis said Carlos called the National Center for Sexual Education, an organization directed by Mariela Castro, the daughter of former Cuban President Raúl Castro who spearheads LGBTI issues on the island. Petrelis told the Blade that Carlos told him to bring his rainbow stickers and bracelets to CENESEX's headquarters in Havana's Vedado neighborhood.
"Oddly, when I showed up at CENESEX, as ordered by Carlos with my rainbows, my friends there really wanted to convene a meeting with the national gay network of theirs," said Petrelis.
Petrelis told the Blade that one of the CENESEX staffers who greeted him said "not to worry about the Interior Ministry ban on meetings." Petrelis said he was also confident that CENESEX would be able to quickly distribute the stickers and bracelets across Cuba.
Petrelis said another Interior Ministry agent came to the house in which he was staying after his meeting at CENESEX.
He traveled to the cities of Santa Clara and Matanzas without incident, even though he continued to post to his Facebook page pictures of himself in rainbow flags and other paraphernalia with Cubans.
Petrelis told the Blade he was once again interrogated at José Martí International Airport before he boarded his flight to Mexico.
"I got on the line to go through security and a 30-something muscle boy motioned for me to get out of line," he recalled. "A plainclothes security agent with a walkie-talkie was soon at my side, and walked me to an immigration room just to the left of security."
Petrelis said Carlos and the same man who interrogated him when he arrived in Cuba were waiting for him.
"His arms were opened wide and he seemed to want a hug," recalled Petrelis. "The translator said Carlos was happy to see me and I had nothing to worry about. Carlos enjoyed reading my Facebook page and seeing the photos. He smiled at my painted nails and said it was good I made it to El Mejunje (an LGBTI-friendly cultural center in Santa Clara.)"
Petrelis said Carlos told him authorities "were aware" he did not attend an LGBTI rights demonstration in a Havana park that two "counter-revolutionaries" attended.
"I said Cuba should pay me for all the good public relations I've given the country," said Petrelis. "Carlos reiterated that I am a good friend of Cuba and they welcome me to return, and next time I can bring a smaller amount of wristbands and stickers."
Petrelis said he was then escorted through security and to the gate.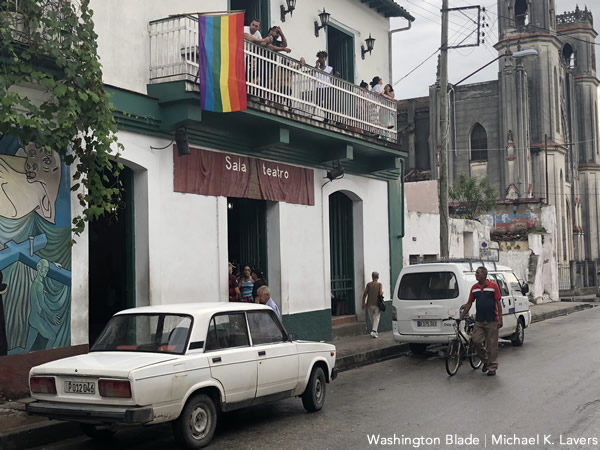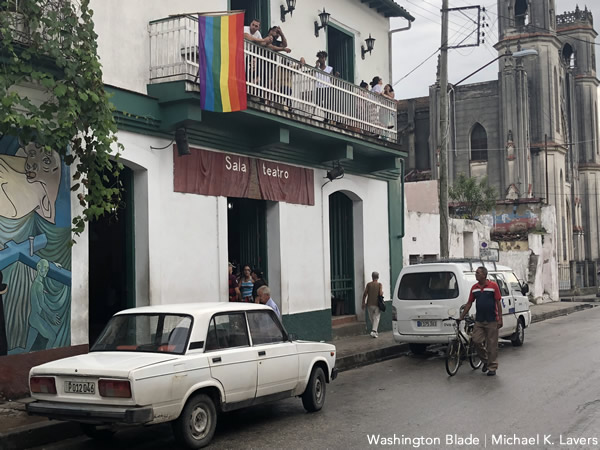 Petrelis has traveled to Cuba twice before.
He arrived in Havana on the 60th anniversary of the revolution that brought Mariela Castro's uncle, Fidel Castro, to power. Petrelis' trip also coincided with the growing controversy over the removal of marriage rights for same-sex couples from the draft of Cuba's new constitution.
A referendum on the new constitution will take place on Feb. 24.
Many LGBTI activists who work independently of Mariela Castro and CENESEX have urged Cubans to vote against it.
Yoaní Sánchez, an independent journalist and vocal critic of the Cuban government, on Saturday said authorities threatened to detain one of her reporters if she covered an LGBT rights protest in Havana. Independent activists with whom the Blade has spoken have said they face harassment or even arrest if they publicly criticize the Cuban government and/or Mariela Castro.
"I felt sweaty moisture in my armpits and harassed as I was escorted into the windowless room at the airport, where I was interrogated for 30 minutes, harassment that eventually equaled three interrogations by four government agents and two interpreters," Petrelis told the Blade on Monday in a statement. "Even though Carlos claimed the government saw me as 'a friend of the Cuban people' and I had nothing to worry about, the harassment forced me to question if this is how you treat your amigos, what do your enemies experience from the Interior Ministry."
"As a patriotic and progressive citizen of the United States and longtime government accountability fighter, the surveillance I had to contend with equals harassment in my world," he added.
The Cuban government has not responded to the Blade's request for comment.