February 2, 2019 at 10:30 am EST | by Mariah Cooper
Wig Night Out moves to new locale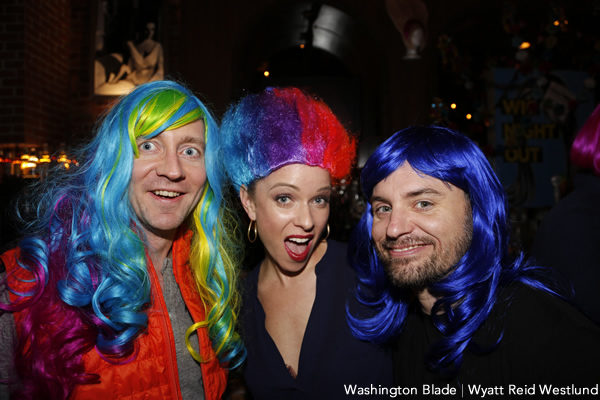 Wig Night Out
Pitchers
2317 18th St., N.W.
Saturday, Feb. 2
8-10 p.m.
Instead of spending a Saturday night snatching wigs over drinks, Wig Night Out wants you to don a wig over drinks in the name of charity instead.
Wig Night Out takes over Pitchers (2317 18th St., N.W.) on Saturday, Feb. 2 from 8-10 p.m. where the venue will be filled with people rocking their wigs in support of local LGBT charities.
Jeff Seese, a co-founder of Wig Night Out, says the annual event began in 2011 when he and his friends decided to throw on wigs while grabbing drinks at Dito's bar in Floriana. Seese says everyone was curious about why they were wearing wigs and he realized they could turn their silly night into a charitable venture.
"Suddenly it dawned on us that this could be a real fundraiser idea for when people say, 'Why are you wearing a wig?' You know what we're wearing it for charity," Seese says.
The first Wig Night Out raised $1,000 for the Point Foundation and soon flourished into an event held at JR.'s Bar. When JR.'s general manager David Peruzza left JR.'s and moved to Pitchers, Seese says he asked if Wig Night Out would have a home there too.
Peruzza agreed.
This year's Wig Night Out charities are Whitman-Walker Health and Casa Ruby. They're both charities that were clear choices for Wig Night Out to support.
"Whitman-Walker has been a lifelong member of the community and a huge supporter of LGBTQ rights and activities. They are fundamental to our community so we want to make sure that they are recognized and find money through our community," Seese says.
As for Casa Ruby, Seese says they want to uplift a small but important part of the local LGBT community.
"They have done a substantial amount of work with Pitchers and Dave Peruzza," Seese says. "We felt it was necessary to highlight that organization in a broader spotlight than what they have historically seen. It's such a small organization. Every donation really, truly means something to a place like Casa Ruby."
Wig Night Out has already raised $10,000 for this year's event based on donors from previous years who made significant contributions. There is a suggested $10 donation at the door. Attendees can expect plenty of wigs, a raffle and entertainment from local drag performer Kitti Chanel who will have a "bucket brigade" to collect any additional donations. Guests can purchase five raffle tickets for $10 with a long list of prizes offered from local businesses and restaurants.
Participating businesses include Pitchers, Brick Lane, Duke's Grocery, Floriana, Taqueria del Bario, Hank's Oyster, VIDA Fitnes, Aveda Salon and Chester Gap Cellars located in Front Royal, Va.
Seese says the night is ideal for both the LGBT community and straight allies to have fun and support local charity. Sometimes, the most fun is had from people who wander into Wig Night Out without warning.
"I actually had someone two years ago come up to me. It was a work function so a few guys after work, they're dressed in suits," he says. "We happened to be hosting the event and they still came in and said, 'You know I've never worn a wig before.' One of the guys said, 'Here's a $100 if I can wear the wig on your head for the next hour.' And I said, 'Absolutely' and took the donation. He wore the wig and he had a fantastic time with his work colleagues. They were laughing, joking and they were suddenly made aware of these causes we were supporting."