February 20, 2019 at 2:23 pm EST | by Peter Rosenstein
Anti-Semitism must be called out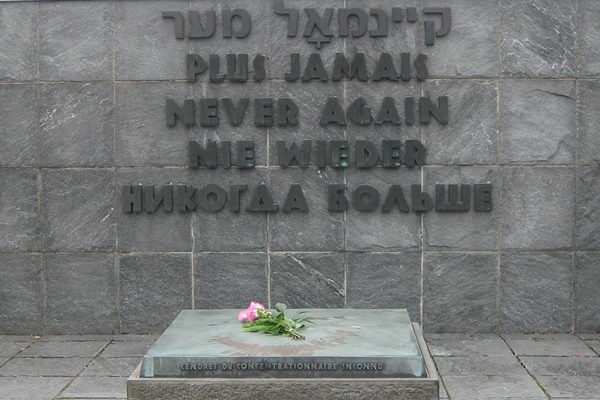 It is scary to see anti-Semitism on the rise around the world once again. A recent CNN poll found anti-Semitic stereotypes are alive and well in Europe, while the memory of the Holocaust is starting to fade. "More than a quarter of Europeans polled believe Jews have too much influence in business and finance. Nearly one in four said Jews have too much influence in conflict and wars across the world. One in five said they have too much influence in the media and the same number believe they have too much influence in politics."
"A third of Europeans in the poll said they knew just a little or nothing at all about the Holocaust, the mass murder of some six million Jews in lands controlled by Adolf Hitler's Nazi regime in the 1930s and 1940s. Lack of Holocaust knowledge is particularly striking among young people in France: One out of five people there between the ages of 18 and 34 said they'd never heard of it."
According to the Center for Strategic and International Studies (CSIS) "After the Paris terror attacks on Charlie Hebdo and a kosher grocery, much attention has focused on growing numbers of French Jews leaving France for Israel and increasing anti-Semitism in Europe." Today we see the word 'Juden' painted in red across the window of bagel store in Paris and in the United States hear Louis Farrakhan say, "the powerful Jews are my enemy. White folks are going down. And Satan is going down. And Farrakhan, by God's grace, has pulled the cover off of that Satanic Jew and I'm here to say your time is up, your world is through."
I am a first generation American Jew who grew up in a Jewish neighborhood in Washington Heights, a community in New York City. My mother, born in Vienna, Austria, fled the Nazis at 14 with my grandmother going to London for two years before immigrating to New York. Her father finally got out and met them there. My father escaped the Nazis from Hamburg, Germany, getting the last boat to New York. He had to leave his parents behind and they were rounded up by the Nazis and gassed in Auschwitz. Growing up in Washington Heights it seemed everyone around me was Jewish. I never knew what anti-Semitism was until I heard the word 'Kike' at the age of 13 on a Boy Scout trip across the country. I didn't know then what it meant.
In the last couple of years anti-Semitism has raised its ugly head in the District of Columbia when a councilmember said, "It just started snowing out of nowhere this morning, man. Y'all better pay attention to this climate control, man, this climate manipulation. And D.C. keep talking about, 'We a resilient city.' And that's a model based off the Rothschild's controlling the climate to create natural disasters they can pay for to own the cities, man. Be careful." Some leaders of the Women's March gave support to the words of Farrakhan and now Congresswoman Ilhan Omar (D-Minn.) attacked AIPAC saying, "It's all about the Benjamins baby," suggesting Jewish money is the only reason the U.S. supports Israel. When these comments were called out those making them apologized and I want to accept their apologies. What their comments did was reinforce my belief anti-Semitism must be called out every time it raises its ugly head. I am waiting for the National LGBTQ Task Force leadership to call out and condemn those who hijacked one of their Creating Change conference sessions by spouting anti-Semitic and anti-Israel slogans.
I went to Israel in 1970 to visit my father's great aunt who had helped found a kibbutz there after escaping Nazi Germany. Seeing the country through her eyes was amazing. I met many people there who escaped the holocaust and heard their stories and why Israel was so important to them; it reinforced my continued support for the State of Israel.
I do not support the Netanyahu government and many of their policies. I believe in a two-state solution. When friends ask how I can support Israel with its current government my response is the criminal acts of Hamas don't change my support for the Palestinian people or an eventual Palestinian State. Trump's disgusting policies don't stop me from believing in the United States. If there ever is a Palestinian State I want the United States to help build it and make it strong.
I focus on anti-Semitism because as a Jew it is frightening. I also understand as a society we must focus on what is frightening to others. Together we must commit to calling out every bias and respond to all hate as unacceptable. That includes condemning racism, homophobia, transphobia, sexism, anti-Muslimism and attacks on dreamers and other immigrants. We must stand together and call out anyone who would spread hate by either word or deed. We must correct the structural racism existing in our country and work to have Congress pass a fair national immigration policy which recognizes it was immigrants who helped build our nation and new immigrants who will continue to make it vibrant and strong.
If we learn to accept each other and honor our differences we will be a better people for it and will have a better world.
Peter Rosenstein is a longtime LGBT rights and Democratic Party activist. He writes regularly for the Blade.