March 17, 2019 at 11:03 am EST | by Finley Freibert
Whatever happened to filmmaker Dick Martin?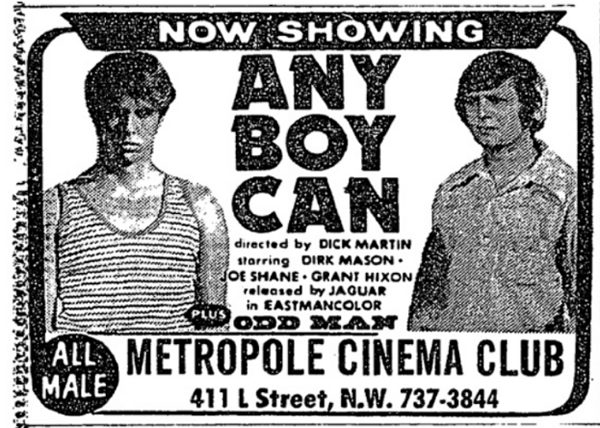 In the recent past a number of filmmakers of significance to the LGBTQ community, such as gay activist and filmmaker Pat Rocco, have passed away. However, gay cinema from the 1960s and 1970s was largely adult cinema, and many of the pseudonymous filmmakers go unremembered.
While undertaking research on gay film from that era, I felt compelled to investigate a nearly forgotten filmmaker named Dimitri. He was known by numerous pseudonyms including Spartacus, Dick Martin, and Demitri Alexis (a variation on his legal name Dimitri Alexis Svigelj). Dimitri was born on May 8, 1910 in the city of Ljubijana, Austria-Hungry. He lived through a tumultuous period in the city; it was split from Austria-Hungry, annexed by Italy and then Nazi Germany, and became part of Yugoslavia at the close of WWII.
After emigrating to the U.S. on June 5, 1939, Dimitri distributed drawings of nude muscular men through mail-order companies called Wessart and West Coast Art Studios, based in Portland, Ore. Under the name Spartacus, his drawings were eventually featured in physique magazines, including Trim Studio Quarterly and Physique Pictorial.
By 1968, Dimitri lived in Los Angeles and under the companies Taurus and Art West sold mail-order short films featuring fit young men's physiques. Eventually, Dimitri ventured into production of feature-length gay films for Shan Sayles' Continental Theatres, the chain that owned the famous Park Theatre on Alvarado Boulevard.
Tom DeSimone, filmmaker and pioneering figure in early gay adult film, explained to me that the features Dimitri shot for Continental would have had a budget of $3,000. During this time, Dimitri's movies employed a quirky use of classical music that was sometimes contrapuntal to the films' content. As DeSimone recalled, "Shan and I used to get a kick out of the fact that he always used old recordings of classical music for background in his films. Most of the time, it didn't lay in quite well. That was Shan's biggest peeve."
By March 1969, the Park would dedicate an entire program to Dimitri's movies, a status only attained by big name directors like Pat Rocco. Filmmaker Toby Ross originally met Dimitri outside the Gold Cup in Hollywood and remembers him as a "jolly older man with a very strong almost funny touch of sleaze." Reflecting on Dimitri's filmmaking persona, Ross recalled Dimitri's excitable directing style, which included exhilarated hollering and arm flailing. In comparison to Pat Rocco, Ross considered Dimitri "a bit less pretentious than Rocco who regarded himself as a great auteur… Rocco was 95% ego and 5% talent; Dimi was extremely talented."
For patrons of gay theaters in D.C. during the early 1970s, Dick Martin, one of Dimitri's pseudonyms, was among the most recognizable name in overtly gay cinema, rivaled only by Wakefield Poole and Lancer Brooks (the pseudonym of Tom DeSimone). The introduction of Dimitri's films to D.C. occurred within months of the opening of the area's first gay theater, the Mark II, a joint operation between physique magazine entrepreneur H. Lynn Womack and legendary West Coast showman Shan Sayles. During the theater's first months Dimitri's "One Touching One" was held over as long as more remembered gay films like "Song of the Loon" and "Happy Birthday, Davy." From August 1972 to March 1973, the Metropole Cinema Club featured six of Dimitri's films.
If feature-length films under all his pseudonyms are included, then Dimitri had at least 12 in circulation across the U.S. from 1970 to 1972. Given that number, he was among gay cinema's most prolific directors from that period, beside contemporaries like J. Brian and Tom DeSimone. The magazine In Touch for Men mentioned that Dimitri suffered a series of strokes later in life. Dimitri died on Sept. 3, 1981 in Los Angeles.
For the discussions and sharing of resources, I thank Tom DeSimone, Toby Ross, Michael Oliveira of the ONE Archives, and Tim of timinvermont.com.
Finley Freibert is a Ph.D. candidate in visual studies at the University of California, Irvine. He researches the histories of bisexuality, LGBTQ culture, and media industries. Reach him @FinleyFreibert.