March 17, 2019 at 9:07 pm EDT | by Kathi Wolfe
Hollywood should tell queer and disability stories authentically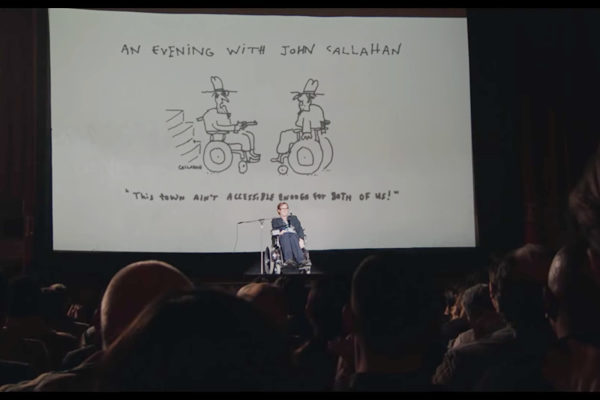 Two cartoons are taped to my filing cabinet. In one, a blind man and his seeing-eye dog are boarding a plane. "We've arranged a window seat for your dog so you can enjoy the view," the flight attendant says.
The other cartoon is a drawing of an aerobics class for quadriplegics. "O.K., let's get those eyeballs moving," the instructor says.
The cartoons are by John Callahan, a quadriplegic cartoonist who died in Portland, Ore. at age 59 in 2010. A biopic about Callahan "Don't Worry, He Won't Get Far on Foot," released last summer and based on his 1990 autobiography of the same name, is now showing on Amazon Prime.
His politically incorrect cartoons on disability and other subjects might seem tasteless to you. But not to me or his other aficionados. I'm visually impaired. Every time someone describes one of Callahan's drawings to me, I laugh. Why are his cartoons so funny to many of us with disabilities? Because they capture the absurdity, gallows humor and spirit of what it's like to be disabled. Callahan wasn't someone from the outside laughing at our lives. He himself was disabled. Just as the queer community has often combated homophobia and transphobia with lacerating wit, Callahan cut through disability-related stigma and pity with his razor-sharp cartoons.
"Don't Worry, He Won't Get Far on Foot" is directed by Gus Van Sant. Van Sant, known for "Milk," "Good Will Hunting" and other films is gay.
At age 21, Callahan, an alcoholic, got a ride after a party with a friend. Callahan's buddy, driving drunk, crashed the car into a pole. His pal wasn't hurt: Callahan, portrayed by Joaquin Phoenix, became a quadriplegic. After his injury, he kept drinking until he could no longer open a liquor bottle on his own. At that low point, Callahan joined AA. In the 12-step program, he became friends with his sponsor Donnie, a gay man with AIDS.
Callahan, who enjoyed art in high school, begins drawing cartoons after his injury. He had partial use of his arms and hands. The movie's title is from one of Callahan's cartoons. In the drawing, there's a wheelchair in a desert. A posse of cowboys looks on. "Don't worry, he won't get far on foot," the caption says.
As someone who's disabled and queer, I'm glad Van Sant made "Don't Worry, He Won't Get Far on Foot." Just as the LGBTQ community has a culture, the disability community has a culture and history. Though, nearly one in five people in the United States has a disability, according to the U.S. Census Bureau, many in the queer community are unfamiliar or uncomfortable with disabled people and disability culture. "Don't Worry," though not a documentary, brings to light Callahan's transgressive work – an important part of disability culture.
Too often, people like me are isolated within the queer community. Frequently, LGBTQ as well as hetero folks don't see disabled people as either being able to work or as sexual. I can't tell you how often I'm asked not about my work or if I'm dating anyone, but about my white cane. In "Don't Worry," we see Callahan, who was straight, getting established as a cartoonist and sexual. He has a girlfriend.
Yet, "Don't Worry" doesn't authentically portray Callahan. Why is the movie's depiction of Callahan inauthentic? Because Phoenix, though a highly talented actor, is able-bodied.
There are talented actors with disabilities. Yet, too often, non-disabled actors, using computer generated imagery (to simulate the loss of arms or legs) play disabled characters. Or they think that they can capture a disabled character's essence by learning how to move in a wheelchair.  
Non-disabled actors don't realize how a person's disability shapes his or her identity, Beth Haller, author of "Representing Disability in an Ableist World, emailed me, "which is something a non-disabled actor can never embody."
"Disability mimicry" is unacceptable, Dominick Evans, a queer, non-binary and trans filmmaker and wheelchair user told me over the phone. "It's like a cisgender person playing a trans person. It's degrading."
I hope one day Hollywood will tell queer and disability stories authentically.
Kathi Wolfe, a writer and poet, is a regular contributor to the Blade.