March 25, 2019 at 2:19 pm EDT | by Mariah Cooper
Adele and Jennifer Lawrence make surprise appearance at NYC gay bar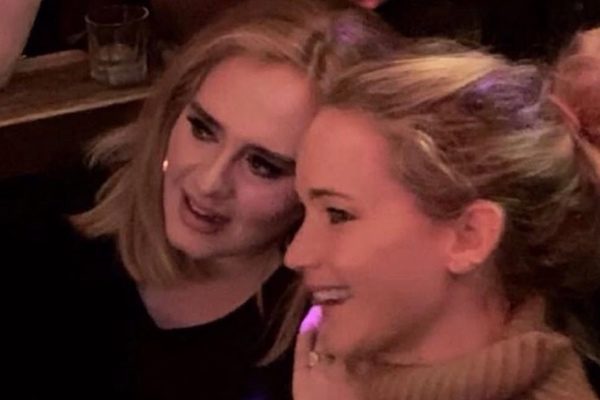 Adele and Jennifer Lawrence unexpectedly dropped by Pieces, a gay bar in New York City, on Friday night where the pair indulged in some drunken shenanigans.
Adele played a game of "musical shots," a drinking game where players must grab a shot instead of a chair when the music stops, and casually told the audience "Hi, my name is Adele." When drag queen Brita Filter asked her what she does for a living the Grammy winner replied, "I'm actually, at the moment, a stay-at-home mum."
Thanks for coming @Adele! 😘❤️ pic.twitter.com/h4qd8AFXKV

— Brita Filter (@thebritafilter) March 23, 2019
The singer was eliminated from the game when she didn't grab a shot fast enough. Lawrence tackled Adele to the ground causing Brita Filter to joke "Jennifer, this isn't the 'Hunger Games.' You don't need to do that, mama."
#JLaw tackles @Adele. @thebritafilter: "Jennifer you don't need to do that. This isn't the Hunger Games." pic.twitter.com/E45ldYV3ie

— Brita Filter (@thebritafilter) March 23, 2019
Also that night, Adele and Lawrence joined Filter backstage for Filter to do Lawrence's makeup.
Jennifer Lawrence goes backstage to get the drag queen makeup treatment following a surprise appearance at Pieces Bar in NY with @Adele. pic.twitter.com/2IFDwDWQH2

— Pop Crave (@PopCrave) March 24, 2019
Bar-goers were shocked that they were in the same bar as Adele and Lawrence.
"I just partied with Jennifer Lawrence and Adele…. I am speechless," one person tweeted.
I just partied with Jennifer Lawrence and Adele…. I am speechless

— Alex Craze (@Al_Craze) March 23, 2019