March 29, 2019 at 10:33 pm EDT | by Brock Thompson
World needs more gay sex in its face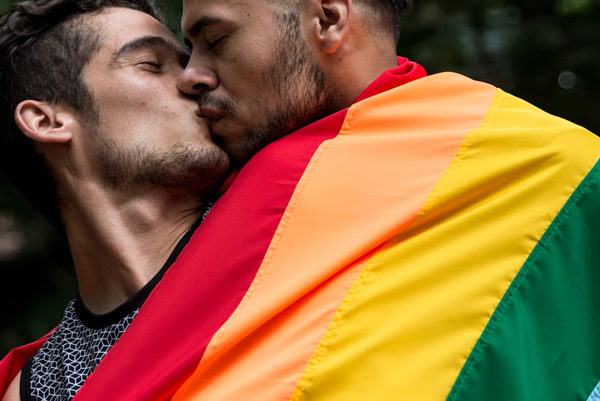 The world may soon have a gay president. (I predict that statement will age super well.) A gay president, with a gay husband having gay sex in a suddenly gay, gay, gay White House.
It might happen. And America and indeed the whole world should start getting used to the idea of gay sex. What am I talking about exactly? Two events this week unfolded in the world of entertainment that again illustrated that overall the world is still not even close to being ready to talk about gay sex, much less see some depicted on screen.
First, you had the apparent row over at Paramount Pictures over the upcoming Elton John biopic "Rocketman," due out later this spring. According to news reports, Paramount was angling to cut all the gay sex stuff featuring a nude Richard Madden and Taron Egerton, who plays the titular character. Let me lay it all on the line, whoever suggested cutting a sex scene between these two men should be kicked out of the business and not allowed to vote in the next presidential election. They're that stupid and unreasonable. Reason did eventually win out, according to sources, and the scene will be staying in the film. R ratings be damned.
But then you had China and last year's Freddie Mercury biopic "Bohemian Rhapsody," another salute to glam gay that already faced criticism for 'straight washing' the main character. Back in 2016, Chinese censors banned the portrayal of "abnormal sexual behavior," including all things gay, in television and movies. When it came to the "Bohemian Rhapsody" upcoming release in China, censors cut so much gayness from the film that the movie now borders on the nonsensical. Not only have they cut gay kisses and gay characters, the censors apparently even cut the words 'gay' from one scene. Boyfriends become blurry background characters and the whole thing sort of resembles how my grandmother regarded Liberace. "He's not gay — just eccentric."
None of this is really anything new. Gay men have been starved for representations of themselves in entertainment for years. Depictions of gay intimacy were at best a long shot. Remember the pathetic gay character Matthew that "Melrose Place" threw at us? Generally he was the tragic figure in the apartment complex, desperately so unlucky in love that when he did manage to go in for a gay kiss, the camera would pan away to the coffee table. This seemed to be more or less the trend.
Even Will from the vaunted "Will and Grace" was damn near asexual for years. Of course there's a danger of erasing gay lives, sex and all, from being depicted on the big and small screens. But of course there's a larger problem here. The inability or outright refusal to talk about gay sex is what more or less brought HIV and AIDS from health crisis to global pandemic in the span of just a few years. If we can't see it, doesn't that make it harder to talk about when we might really need to?
Straight sex has been all over the screen for decades. Gays have had to yawn through those vanilla scenes for years. Queer sex – the idea of depicting it at all still throws people, and in the case of China, entire countries into complete fits. Time for folks to grow up. This prudishness gets us nowhere. And it might actually do some damage. 
Brock Thompson is a D.C.-based writer who contributes regularly to the Blade.