March 30, 2019 at 3:20 pm EDT | by James Wellemeyer
Local couple met via Blade personals ad in '99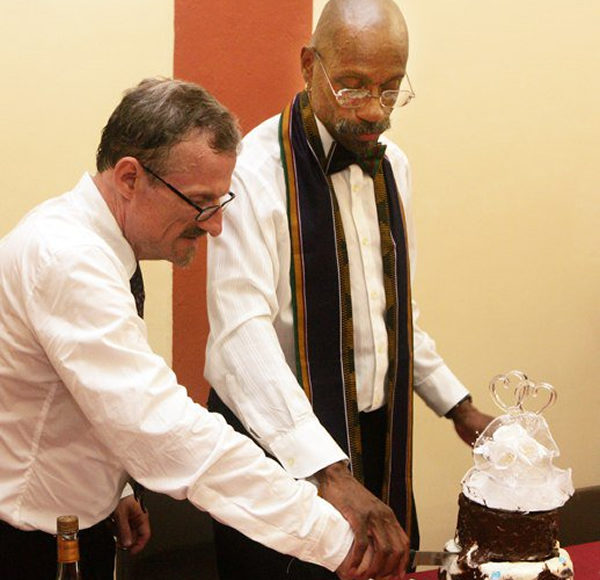 Personal classified ads, as many Washington Blade readers will recall, used to be a huge thing. They started appearing in the early '70s not long after the paper launched in 1969.
"That was the first type of advertising that existed," says Phil Rockstroh, the Blade's classifieds manager, who has been with the paper since 1986. "The easiest thing to do was to add a couple of lines of text on the back page."
There were no photos but the ads were "cluttered" with acronyms.
"It was GWM, 34, searching for GBM," with "GWM" standing for gay white man and "GBM" standing for gay black man.
"Trying to figure out what half of [the acronyms] meant was always the fun," Rockstroh says.
Two men who remember them fondly are Isaiah Poole and Paul Crego. They met in the summer of 1999 when Poole placed a Blade personal ad stating he was looking for a relationship with a man "for whom spirituality was important." 
One of the men who responded was Paul Crego, a former United Methodist minister with a theology doctorate from Harvard.
"His ad had the word 'spiritual.' That's the tag that I attached to," Crego says.
The couple says these types of personal ads were a common way for gay men to meet in the late '90s and early 2000s.
"Of course, you could do the bar scene. But I just really felt that the best thing for me to meet people who were outside of my circle would be putting an ad and see what would happen," Poole says.
Poole remembers that the Blade had multiple sections for personal ads, one for those looking for "encounters," or hookups, and another for those looking for long-term relationships.
Lesbians, bi and trans folks also placed Blade personal ads.
"At the peak — I would say in the late '90s — we would have a whole page of men's personals, a half page of women's," Rockstroh says. "And classifieds altogether had grown into maybe six pages."
The section continued to grow until the internet all but wiped it out.
"Craigslist and all of the phone services became more sophisticated and took us out of the pie," Rockstroh says. "Now, Grindr, Tinder and other apps have made ads in the Blade even less common," though a few still appear.
Crego and Poole went on a date to a Filipino restaurant in 1999. Though the restaurant is now "long gone," Crego says, he and Poole are still together.
They got married on July 24, 2010, soon after marriage equality legislation passed in the D.C. Council. And their 10-year anniversary is fast approaching.
Originally from the D.C. area, Poole grew up in an adoptive family and became a reporter after high school. He started at The Washington Times, where he covered Jesse Jackson's presidential campaign and served in both writing and editing roles for a decade until 1991.
"There was an actual gay mafia at The Washington Times in the 1980s," Poole says.
Following his time there, Poole floated between local papers and even worked for an AIDS advocacy group for a bit. In 2000, he left D.C. for three years to earn his bachelor's degree in journalism at Penn State.
"I managed to skate through a huge chunk of my life without an undergraduate degree and felt like I had gotten to the end of skating."
Poole and Crego maintained their relationship while Poole studied in Pennsylvania.
"I wanted to be sure that Paul was the person with whom I wanted to spend the rest of my life. I would say that Paul's persistence made a difference," Poole says.
Crego remembers taking the bus from D.C. to Pennsylvania to visit Poole on weekends.
"When someone genuinely loves you, it's stupid to say no to that, especially when he is as good a person as Paul is," Poole says.
Once Poole completed his degree, he returned to D.C. to work as a reporter for Congressional Quarterly. He now serves as the editorial manager at the Democracy Collaborative.
Crego's path has been a little less complicated. From just north of Syracuse, N.Y., he has worked at the Library of Congress for more than 20 years.
Both religious, Crego and Poole always valued marriage as an institution. And both men were involved in early battles for gay rights.
While at The Washington Times, Poole worked with other LGBT journalists to help establish the Association of LGBTQ Journalists (NLGJA) in the mid-1980s.
"It was about a dozen of us who were involved in early meetings to get that organization launched. It's now a huge thing," Poole says. "I think partly because of the NLGJA, it's not a big deal that Anderson Cooper and Don Lemon have shows on CNN."
Crego presided at a 1984 union service of two men in Syracuse through the Metropolitan Community Church.
"I did it with the proviso that my name was not to be mentioned anywhere because I could have been kicked out of my job," he says.
The Syracuse Post Standard picked up on the story and it soon reached The New York Times.
"You can look in The New York Times of September 5, 1984, and there's an article called 'Homosexual Weddings Stir Dispute.' They mention the minister of a mainline denomination. That's me," Crego says.
On the day same-sex marriage became legal in D.C. in 2010, Crego emailed Poole, asking, "When are you going to get married?"
"That got his attention, and he showed it to everybody in his office," Crego says.
Poole and Crego wed in July of that year. "Although it wasn't on the hottest day that summer, it was 102. And the church wasn't air-conditioned," Crego says.
The wedding drew approximately 80 people, Poole remembers, including three best men and six clergy members from multiple denominations.
Poole and Crego now live with two cats, Tina and Ketedan, in Northeast D.C.
"We go to movies, plays and musicals. We saw 'Hamilton' when it was only on Broadway two weeks. We got tickets well before they were $1,000 a piece," Crego says.
"And it all started," Poole says, "With an ad in the Washington Blade."