April 3, 2019 at 4:38 pm EDT | by Lou Chibbaro Jr.
Slain trans woman remembered at vigil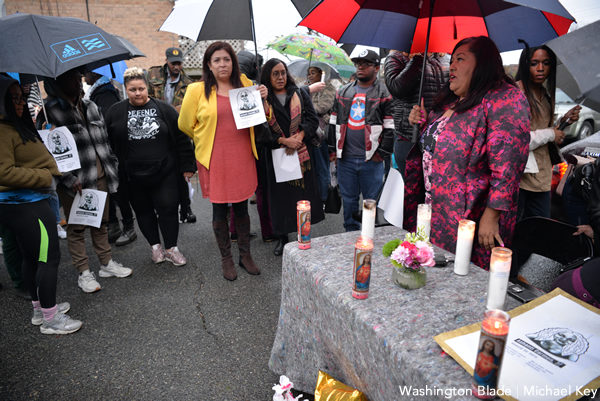 Close to 100 people turned out in the rain and chilly weather for a candlelight vigil Tuesday night on a quiet residential street in Fairmount Heights, Md., to honor the life of transgender woman Ashanti Carmon, 27, who was found shot to death there at 6:20 a.m. on Saturday, March 30.
Prince George's County Police, who are investigating the murder, have released little information about the case other than that Carmon had been shot multiple times and was pronounced dead at the scene.
Police said she was found at the intersection of Jost and Aspen streets one block away from Eastern Avenue, which serves as the boundary between D.C. and Prince George's County. The area where she was found is known as a place where both transgender and cisgender female sex workers congregate.
But friends of Carmon who spoke at the vigil and at a press conference held on Aspen Street immediately prior to the vigil said Carmon had a stable job at a Dunkin' Donuts shop in Alexandria, Va., where she lived. They said they were not aware that she engaged in sex work and pointed out that the area where she was shot is also known as a place where trans women go to socialize who are not involved in sex work.
"What I know is that transgender people congregate on Eastern Avenue and K Street and all of that," said transgender activist Earline Budd.
Budd served as the lead organizer of the vigil and press conference in her role as a case manager with the D.C. social services group HIPS, which hosts a drop-in center for the transgender community.
Budd told the press conference that gay bars in D.C. that once provided a welcoming place for transgender people have closed in recent years.
"So we congregate wherever we can and we hang out," she said. "And I understand that at Eastern Avenue there may be folks that do commercial sex work. But also there's folks who are just looking for a safe space to go and hang out with their colleagues and with their friends," Budd said.
Budd said she got to know Carmon as one of the trans women who occasionally visited the HIPS drop-in center and was deeply troubled over learning of her death.
Other speakers at the press conference and vigil, most of whom were transgender women, said Carmon's murder was another in a long list of murders of trans women of color in D.C. and across the country over the past 10 years or longer.
"It seems like only yesterday the last murder happened," said Tamica Spellman, a transgender activist who also works at HIPS. "And here we are back at the same place again, someone taking someone's life. I'm angry. I'm hurt. And I'm scared," she said.
Spellman said she was also troubled that some members of the news media appeared to be focused on the question of whether Carmon was a sex worker who engaged in prostitution.
"It doesn't matter if she was or was not," she said. "She was a human being. She was a human being who should have been protected," Spellman told the press conference. "And for her to be gunned down in the manner that she was in inexcusable. It's unfathomable that we are still losing transgender women in today's world. It has to stop."
Among those attending the press conference and vigil were officials and officers of the Prince George's County Police Department, the D.C. police LGBT Liaison Unit, and the Fairmount Heights police department, including its Chief of Police Stephen Watkins.
Watkins told the Blade that Carmon was a familiar face to his officers who patrol the Eastern Avenue area and the nearby side streets where trans women congregate. He said his officers considered her a "nice person" who never caused problems.
P.G. police handed out fliers about the Carmon case that announced a reward of up to $25,000 for information leading to an arrest and indictment. Police are urging anyone with information about the case to call the department's Homicide Unit at 302-772-4925 or its anonymous tips line at 1-866-411-TIPS.
Also attending the vigil were Sheila Alexander-Reid, director of D.C. Mayor Muriel Bowser's Office of LGBT Affairs, and gay Ward 7 Advisory Neighborhood Commissioner Anthony Lorenzo Green, who spoke at the vigil in support of the transgender community.
Trans activist Charmaine Eccles said at the press conference that she believes Carmon had a "promising career ahead of her" in the food service industry.
"Just this weekend I was told by her boyfriend that she would have been promoted to be a manager," Eccles said in referring to Carmon's job at the Alexandria Dunkin' Donuts. "And her boss was trying to call her this whole weekend," she said. "They were calling her to let her know that she was going to be promoted to a manager" before they learned of her death, Eccles told the gathering.
Veteran transgender activist Ruby Corado, founder and executive director of the D.C. LGBT community services center Casa Ruby, which helped Budd organize the vigil, urged vigil participants to get involved in efforts to help change attitudes that create a climate of hate toward transgender people that may have prompted the unidentified shooter to take Ashanti Carmon's life.
"What happened this weekend can be prevented," Corado said in referring to Carmon's shooting death. "We don't have to die on the streets of this city waiting for our life to get better with no support," she said. "Those of you who knew Ashanti know that struggle."
Added Corado, "So as we sit here today I want us to not just remember Ashanti but to remember the other 23 – the other 23 who today still don't have any justice." She was referring to the unsolved murders of LGBT people in D.C. over the past 20 years.
Among the others who attended the vigil but did not speak were Carmon's boyfriend and fiancé Philip Williams. Budd said she was hopeful that some of Carmon's family members would attend the vigil, but none showed up. She said she was troubled that Williams, Carmon's boyfriend, stated in a TV news interview that Carmon's family may not have been fully accepting of her status as a trans woman.
"But what I want to say to Ashanti's family is it's alright," Budd said. "I went through that. Many of us have gone through that. But at the end of the day you need to know that we stand by you."
Budd added, "Don't make us your enemy, make us a friend. We've done many of these. We can help you through this. We mourn and you mourn. So today I beg her family to please reach out to us."
At the conclusion of the vigil the crowd chanted "Ashanti! Ashanti! Say her name!" and "Trans lives matter!"