April 5, 2019 at 6:00 am EDT | by Staff reports
Maloney seeks to restrict 'conversion' therapy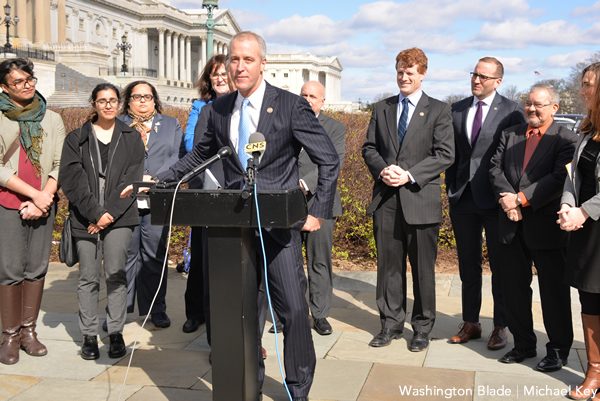 NEW YORK — U.S. Rep. Sean Patrick Maloney (D-N.Y.) last week introduced a federal bill that would restrict "conversion" therapy calling it "medieval-style nonsense," "outrageous," "barbaric" and "cruel," Rolling Stone reports.
Maloney's bill takes a novel approach to banning conversion therapy, a loosely defined set of practices that can include everything from "praying the gay away" and talk therapy to the extreme of shock treatment or worse. Known as the Prohibition of Medicaid Funding for Conversion Therapy Act, it would block the use of Medicaid funds for these treatments, Rolling Stone reports.
Conversion therapists often exploit loopholes to receive reimbursements through Medicaid through deceptive billing tactics. Because there's no diagnostic code for conversion therapy, the treatment is sometimes coded as "depression."
Sam Brinton, head of advocacy and government affairs for the Trevor Project, says there are countless ways to cheat the system. According to Brinton, counselors with the national LGBTQ youth suicide prevention hotline hear "from youth harmed by conversion therapy every week," and many of those young people are likely receiving taxpayer-funded treatment, Rolling Stone reports. 
"By limiting the means by which licensed mental health professionals can be reimbursed for their horrific practice, the Prohibition of Medicaid Funding for Conversion Therapy Act will make clear that conversion therapy is far outside the mainstream," Brinton told Rolling Stone in a statement.
While conversion therapy has been banned in 15 states, Maloney's bill is one of just a handful of attempts to regulate orientation change efforts at the federal level. A pair of bills co-sponsored Rep. Ted Lieu (D-Calif.) in the House and Sen. Patty Murray (D-Wash.) in the Senate that would define conversion therapy as "fraud" failed to make it out of committee in 2017, Rolling Stone reports.
Maloney, an openly gay Democrat, says he was inspired to try again after seeing the movie "Boy Erased."
The legislation's introduction follows several major milestones in the movement to outlaw conversion therapy across the United States. In January, New York became the 15th state to outlaw "gay cure" treatments after years of obstruction from Republican leadership in its State Senate. Colorado is poised to be next after legislation passed its House and Senate last month.
So far, the federal conversion therapy bill has been met with resistance from conservatives in Congress. Of the 63 cosponsors who have signed onto Maloney's legislation, not a single one is a member of the GOP, Rolling Stone reports.