April 11, 2019 at 6:59 pm EDT | by Lou Chibbaro Jr.
P.G. police have 'strong leads' in trans murder case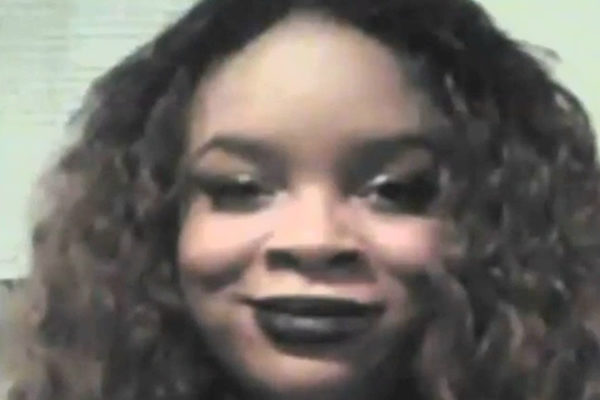 Prince George's County Police Chief Henry Stawinski disclosed at a news conference on Wednesday that his department has "developed some very strong leads" in its investigation into the March 30 murder of transgender woman Ashanti Carmon.
Carmon, 27, was found shot to death March 30 on a residential street in Fairmount Heights, Md., one block from Eastern Avenue, N.E., which serves as the boundary between D.C. and Prince George's County.
The area where Carmon was shot is known as a location where transgender female sex workers congregate, and Carmon's friends said she sometimes engaged in sex work in that area.
Stawinski said he could not disclose any additional details about the ongoing investigation other than his department was "using the complete capacity of our forensic sciences division to pursue this matter."
P.G. police have not said whether they have identified any suspects or a motive for the murder, including whether information surfaced to indicate whether it was a hate crime.
Stawinski discussed the Carmon murder at a joint news conference called by D.C. Mayor Muriel Bowser and Prince George's County Executive Angela Alsobrooks to discuss plans for collaborating over common problems and issues in neighborhoods located along the D.C.-P.G. County line.
The news conference was held on the grounds of the Marvin Gaye Park Recreation Center on 61st Street, N.E., near the P.G. County line. Following the news conference, Bowser and Alsobrooks led close to 100 officials and workers from their respective governments along with community activists on a walk along the streets at the D.C.-P.G. County border to observe sites of interest.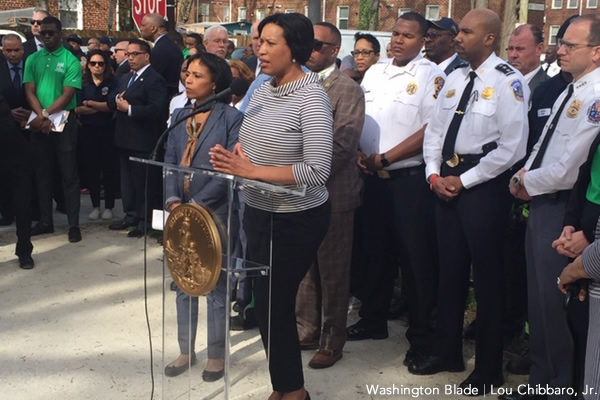 Bowser said among the longstanding issues confronting D.C. and P.G. officials along the two jurisdictions' boarder on Eastern Avenue is its longstanding reputation as a place where sex workers congregate, including female transgender sex workers.
"We have heard stories from residents and officials from both sides of our border about sex work that happens in this area," the mayor said at the news conference, at which dozens of D.C. and P.G. County government officials, including police officials, attended.
"And we have had a number of incidents where sex workers, particularly trans women of color, were specifically targeted for robberies and assault," she said. "And we mourn the recent death of Ashanti Carmon and the 2016 death of Dee Dee Dodds," the mayor said.
She was referring to the July 4, 2016 fatal shooting of Dodds, a transgender woman and sex worker who D.C. police believe was attacked by two men as she walked from the Eastern Avenue area to her nearby home in D.C. Two of four men charged in her murder are facing a second trial after a jury in their first trial became deadlocked last month and could not reach a verdict.
Bowser announced at the news conference that she has created a Working Group on Sex Worker Diversion "that will explore programs that divert people engaged in sex work away from the criminal justice system towards the support systems that they need."
According to a statement released by the mayor's office, the group's membership will include representatives from District government agencies, advocates, policy experts, and community representatives. Among those the mayor has asked to be part of the group is Sheila Alexander-Reid, director of the Mayor's Office of LGBTQ Affairs, the mayor's office said.
"The working group will provide recommendations on how to design and launch an arrest diversion program, using lessons learned from D.C.'s pre-arrest diversion program headed by the Department of Behavioral Health, D.C. Department of Human Services, and the Metropolitan Police Department," the statement from the mayor's office says.
"Sex workers frequently cross back and forth across the D.C.-Maryland border to avoid police officers," says the statement.
Bowser has named Michelle Garcia, director of the D.C. Office of Victim Services and Justice Grants, to serve as head of the working group. Garcia told the Blade after the news conference that the group will look at pre-arrest diversion programs in other cities as well as the one currently being tried as part of a pilot program in D.C. by the Department of Behavioral Health.
The objective, Garcia said, is to develop a way to provide needed services for sex workers without resorting to making arrests. She said details of the proposal would be worked out in the coming months.
"And we know there's very diverse opinions on how the District should respond to prostitution," she told the Blade. "On the one hand you have individuals who are advocating for decriminalization. On the other hand there's also community members who have a very hard line law enforcement lock-everybody-up response," she said.
"We want to bring all those voices together and craft the best set of recommendations for the mayor that's possible."
Stawinski, the P.G. police chief, said at the news conference that he and his investigators treat all murder cases seriously, including the Carmon case.
"When we have an update that is substantive I promise you, you will see me bring that update forward," he said. "It is important to us that people understand there are consequences when a life is taken in Prince George's County."