April 11, 2019 at 11:49 am EDT | by Chris Johnson
Pence responds to criticism from Pete Buttigieg, says he 'knows better'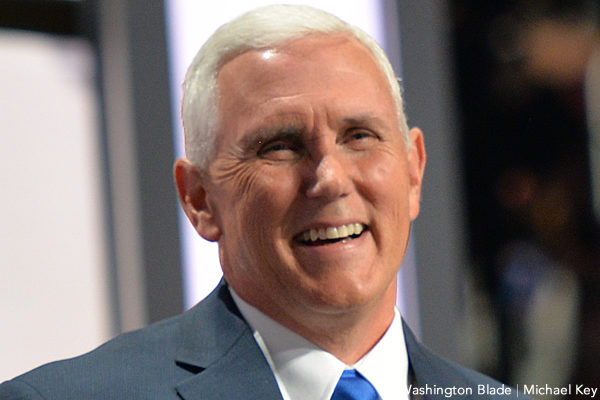 Following remarks in which 2020 hopeful Pete Buttigieg in defense of his same-sex marriage criticized Mike Pence, the vice president responded by saying the South Bend mayor "knows better," ignoring his own longtime opposition to LGBT rights.
"I worked very closely with Mayor Pete when I was governor of the state of Indiana," Pence said. "We had a great working relationship, and he said some things that are critical of my Christian faith and about me personally, and he knows better, he knows me."
Pence made the remarks during an interview Wednesday with Joe Kernen on CNBC's "Squawk Box" that was set to air Thursday morning.
The vice president suggested he thinks Buttigieg made the remarks to stand out amid the field of Democratic candidates vying for the 2020 presidential nomination.
"They got 19 people running for president on that side, and the party is sliding off to the left, and they're all competing with one another for how much more liberal they can be," Pence said. "I get that."
Alluding to polls showing a supermajority of the American public now backs same-sex marriage, Kernen asked Pence whether he has evolved on LGBT rights.
"Look, the Supreme Court has made their decision," Pence responded. "When I was governor of Indiana we fully implemented that decision into law."
But Pence concluded with additional comments indicating his opposition to LGBT rights hasn't changed.
"I have my Christian values," Pence said. "My family and I have a view of marriage that's informed by our faith, and we stand by that. That doesn't mean that we're critical of anyone else that has a different point of view."
Drew Anderson, a spokesperson for the LGBT media watchdog GLAAD, said on Twitter Pence was lying about his remarks when he asserted he "fully implemented" the 2015 Obergefell decision in favor of same-sex marriage.
"Mike Pence claimed he helped implanted marriage equality in Indiana in 2015," Anderson said. "Spoiler: It's Because had had to."
Anderson also pointed out Pence as Indiana governor backed a state constitutional amendment that sought to prohibit same-sex marriage in the Hoosier State. The measure ultimately failed in the state legislature.
Buttigieg invoked Pence during his speech before the LGBTQ Victory Fund brunch in D.C. on Sunday in a emotional speech in which the South Bend mayor talked about his personal struggle accepting being gay.
Reflecting on the Pence's notorious anti-LGBT history, Buttigieg had a message with respect to his marriage for the Vice President, saying his marriage to his spouse, Chasten Buttigieg, has made him closer to God.
"I wish the Mike Pences of the world could understand, that if you have a problem with who I am, then your problem is not with me, your quarrel is with my Creator," Buttigieg said.
The right-wing media had a field day with the remarks, asserting Buttigieg was unfairly criticizing the vice president.
Among those expressing indignation with Buttigieg was conservative commentator Ben Shapiro.
"You have not pushed back honestly against Pence's policies," Shapiro said on Twitter. "You have maligned his religious beliefs and character."
The right-wing response ignores Pence's long anti-LGBT history, which includes promoting as U.S. House member a Federal Marriage Amendment that would have banned same-sex marriage, signing as Indiana governor a "religious freedom" bill enabling anti-LGBT discrimination and defending as vice president his wife for teaching at a Christian school that refuses to admit LGBT student or employ LGBT teachers.
LGBT advocates have asserted Pence supports widely discredited "ex-gay" conversion therapy and engineered the transgender military ban, although spokespersons for Pence have denied that.
It should be noted that in 2015 when Buttigieg came out as gay, Pence as governor of Indiana had good things to say about the South Bend mayor.
"I hold Mayor Buttigieg in the highest personal regard," Pence told WSBT-TV. "We have a great working relationship, and I see him as a dedicated public servant and a patriot.'
A Buttigieg campaign spokesperson referred the Washington Blade back to Buttigieg's remarks and Pence's anti-LGBT history in response to Pence's remarks.