April 12, 2019 at 6:45 am EDT | by Brian T. Carney
REVIEW: New Louise Brooks biopic is from 'Downton Abbey' creator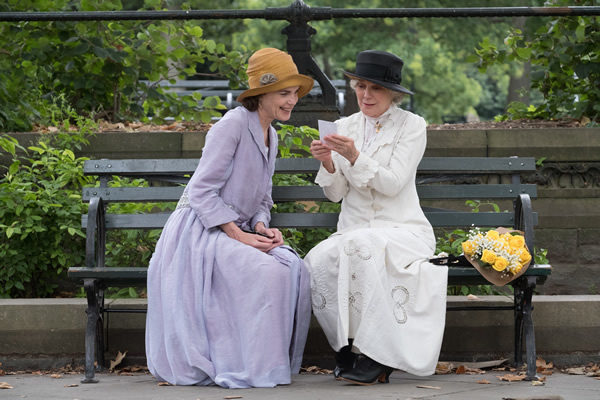 Louise Brooks need a chaperone. The 15 year old from Wichita, Kan., has just been accepted to train with the acclaimed Denishawn Dancers in New York City. Fame and fortune await, but her parents insist she needs someone to protect her from the evils of the city.
Luckily, staid society matron Norma Carlisle is available for the job. Beneath her starchy façade, Norma has her own reasons to get out of Wichita. She's haunted by memories of her infancy in a New York City orphanage and wants to track down her true identity. She's also fleeing a queer sexual scandal that could destroy her family's reputation (no spoilers here).
That's the set-up for "The Chaperone," the latest cinematic outing from "Downton Abbey" creator Julian Fellowes. He's reunited with star Elizabeth McGovern and director Michael Engler for a refined exploration of Jazz Age passion that has some tasty surprises for LGBT fans of period drama.
With style and heart. the movie shows how the summer they reluctantly spend together will change the lives of both women.
While studying under Ruth St. Denis and "Papa" Ted Shawn, Louise begins to flex her artistic and erotic muscles and quickly becomes the epitome of the 1920s flapper. After the credits roll, she becomes a sensation on Broadway and in Hollywood before becoming an international pansexual screen goddess in the classic silent German films of G.W. Pabst.
Norma also becomes a rebel in her own right. Before returning to Wichita and establishing her own unconventional household, she discovers the truth about her birth mother and reignites her own passions.
For fans of PBS period drama, "The Chaperone" will be sheer perfection. Fellowes' adaptation of Laura Moriarty's best-selling novel is elegant and economical. The dialogue is crisp and sharp, the characters are quickly established and clearly drawn and the complex themes are presented with an assured and gentle insistence. The epilogue is an unexpected gem.
Out director Michael Engler makes the entire production look lovely and effortless. The movie has a confident flow and a great eye for period detail (especially corsets, both as costume pieces and metaphors).
The acting is, of course, sublime. Elizabeth McGovern shines as Norma. Even at her most dour, Norma is filled with deep concern for her wayward charge and a nascent sense of social injustice. Like Louise, audiences will be surprised and delighted by Norma's hidden passions and sly humor.
Haley Lu Richardson (M. Night Shyamalan's "Split") is delightful as Louise. She beautifully captures the spirit of a young woman poised on the brink of international stardom who's not quite as innocent as she should be but not nearly as naughty as she thinks she is.
The strong supporting cast includes a charming Géza Röhrig ("Son of Saul") as the German handyman who helps Norma in her quest, Campbell Scott ("Longtime Companion") as Norma's husband, a delightful Victoria Hill as Louise's musical mother, Miranda Otto ("The Chilling Adventures of Sabrina") and Robert Fairchild as the somewhat bohemian dance instructors and a stern Blythe Danner as Mary O'Dell, a mysterious Irish visitor.
There are also wonderful cameos from Matt McGrath, Jane Houdyshell and Lilias White.
For LGBT fans of "Downton Abbey," "The Chaperone" is an exquisite morsel of art, scandal and uplift that will help pass the time until the television serial makes its big screen debut this fall.
For LGBT cinephiles who like their Jazz Age a little less refined and want to experience Louise Brooks in all her decadent splendor, both "Pandora's Box" and "Diary of a Lost Girl" are available online.
Also, as part of its Jazz Film Festival, the Smithsonian is showing the LGBT classic "Some Like It Hot" on the big screen this weekend. Jack Lemmon and Tony Curtis play Jazz Age musicians who disguise themselves as women as they flee from the mob. The legendary Marilyn Monroe sparkles as band singer Sugar Kane Kowalczyk and Joe E. Brown plays a millionaire who happily learns that "nobody's perfect."
The film screens on Sunday, April 14 at 3:15 p.m. on the IMAX screen at the Warner Bros. Theater at the National Museum of American History. Tickets are available at si.edu/imax.