April 17, 2019 at 9:57 am EDT | by Chris Johnson
Buttigieg shrugs off anti-gay hecklers in Iowa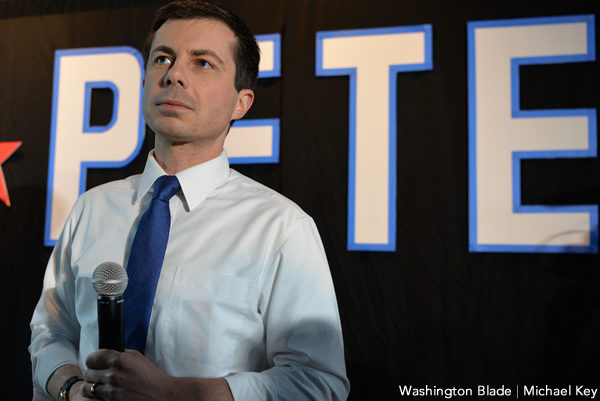 Pete Buttigieg shrugged off anti-gay protesters Tuesday at two campaign events in Iowa, including one heckler who warned the crowd to "remember Sodom and Gomorrah," according to multiple media reports.
The heckler invoked the Biblical cities destroyed by God, according to Politico, just after Buttigieg talked about marrying his spouse, Chasten Buttigieg, who attended the event.
The anti-gay heckler kept shouting, but was drowned out by crowd chants of "Pete! Pete! Pete!" Buttigieg reportedly looked on calmly as security escorted the individual away.
"The good news is, the condition of my soul is in the hands of God, but the Iowa caucuses are up to you," Buttigieg reportedly said to laughter and cheers.
Despite the hecklers, Buttigieg reportedly drew some of the largest crowds in Iowa in the Democratic primary to date.
According to Politico, Buttigieg was expecting 50 people at a Polk County meet and greet. As the RSVPs rolled in and more people said they'd come, the event was moved from a small gym at a local junior high school to larger gym, then to an auditorium, then outside. A whopping 1,650 showed up at the end.
Those crowds are completely organic. Unlike the other candidate, Buttigieg has yet to staff his campaign with Iowa organizers that would normally build up the crowd size for events. With staff in place, Buttigieg may grow even larger crowds.