April 17, 2019 at 8:08 am EDT | by James Wellemeyer
McIntosh appears poised to become next Md. House of Delegates speaker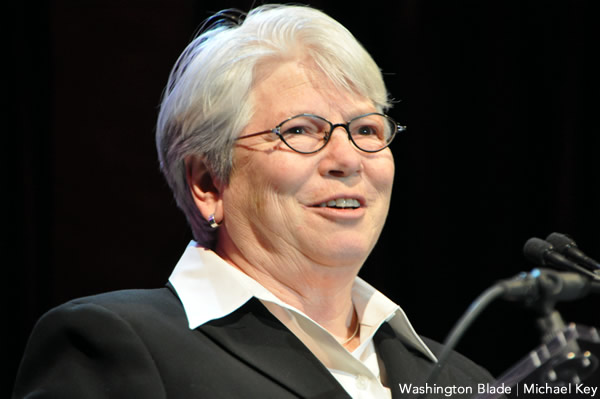 State Del. Maggie McIntosh (D-Baltimore City) appears to have enough votes to be elected the next speaker of Maryland's House of Delegates.
The Washington Post on Monday reported a majority of delegates are supporting McIntosh's effort to become the next speaker, though there are no public campaigns for the role at this time.
If elected, McIntosh would become the first openly LGBT legislative speaker in Maryland and the first woman to serve in the role. Nationwide, she would be one of the first openly LGBT speakers. Others include Oregon House of Representatives Speaker Tina Kotek and former California state Assembly Speakers Toni Atkins and John Pérez.
McIntosh would replace Michael Busch who died of pneumonia on April 7. Busch was the longest-serving House speaker in state history and became a champion for LGBT equality toward the end of his career.
McIntosh became a member of the House in 1992. Before then, she worked as a teacher in Baltimore City and was an adjunct instructor at the Catonsville campus of the Community College of Baltimore County. McIntosh was also a member of Baltimore's Commission on Aging and Retirement Education.
McIntosh currently serves as the chair of the House Appropriations Committee. She has been in the role since 2015. During her career, McIntosh has also served as the House Majority Leader and the chair of the House Environmental Matters Committee.
McIntosh's accomplishments in the House include sponsoring the Chesapeake Conservation Corps program, co-sponsoring legislation to repeal the death penalty and a bill to earmark more than $1 billion for new school construction in Baltimore City. McIntoch also co-sponsored marriage equality legislation.
In 2010, the Maryland Gazette of Politics and Business listed McIntosh as the second most influential state delegate, behind Busch. In 2013, Whitman-Walker Health's Mautner Project honored McIntosh for her efforts to pass marriage equality legislation in Maryland.
Sean Meloy from the LGBTQ Victory Fund, a political action committee that seeks to increase the number of LGBT elected officials nationwide, told the Washington Blade on Monday during a telephone interview that he believes McIntosh has been a "been a dynamic leader in the chamber for quite some time."
"We're excited at the prospect that she will be the next speaker," he said.
Meloy said McIntosh will be "beacon of hope for young kids across the state" as the first LGBT person to serve as House speaker in Maryland. Meloy added her speakership may encourage LGBT lawmakers in other states to take on new leadership roles.
"It's a signal to other legislators around the country that you can step up into these leadership positions," said Meloy.
Meloy added Maryland's pro-LGBT laws will remain in place with McIntosh as speaker.
"It's going to be important that we keep these gains," Meloy said. "We only got marriage by one vote on the Supreme Court. And it's at risk of going away. Our vigilance as a community is going to be super important, and it's a lot easier to keep if we've got folks in leadership positions like Speaker of the House."
Matt Stegman, McIntosh's chief-of-staff, in an email to the Blade said the delegate will not comment on the possibility of her speakership "out of respect for Speaker Busch and his family."