April 17, 2019 at 6:24 am EDT | by Lou Chibbaro Jr.
AIDS Healthcare Foundation center celebrates 10 years in D.C.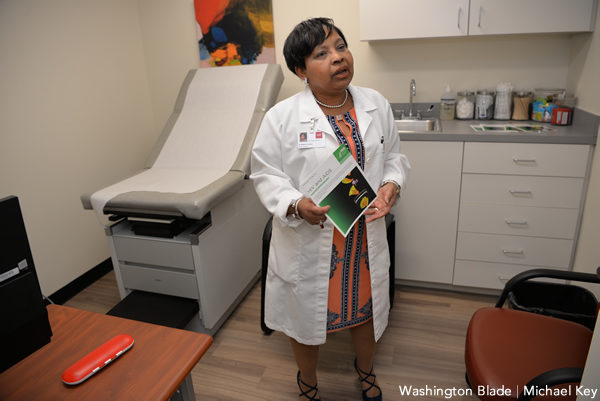 The Los Angeles-based AIDS Healthcare Foundation, which provides medical care and related services for people with HIV in 43 countries worldwide, including the U.S., is celebrating the 10th anniversary this week of its Blair Underwood Healthcare Center in D.C.
Dr. Roxanne Cox-Iyamu, the D.C. center's medical director, said the center first opened in 2009 at its current location in a medical services building at 2141 K Street, N.W., but in a smaller suite of offices than where it's now located in the same building.
Earlier this year, the AHF Underwood Healthcare Center moved to a larger suite of offices on a different floor to accommodate what Cox-Iyamu says is a patient population of "650 and growing."
Among those attending the center's opening ceremony in 2009, according to Cox-Iyamu, was television and film actor Blair Underwood, after whom the center has been named in honor of his outspoken advocacy for HIV prevention and services.
"Blair had been working with AHF in various projects to encourage African-American men to get tested for HIV," Cox-Iyamu said while giving the Washington Blade a tour of the D.C. center's offices.
"He was here with his family," she said. "It was a big event. And then once the event was over the work of growing the center began. And we spent quite a bit of time in the community," Cox-Iyamu continued, noting that the AHF Underwood Center has a presence at D.C.'s LGBT Pride events every year.
"We participate in a lot of testing events so that people in the community know we're here," she said.
Similar to its heath care centers in 15 states in the U.S. and as many as 43 countries worldwide, the D.C. AHF center includes an onsite pharmacy that provides HIV-related prescription medication to the center's patients.
Cox-Iyamu said the K Street center's pharmacy also provides the HIV prevention drug PrEP for people who are HIV negative, including HIV-negative spouses and partners of people with HIV.
In the years since it opened its center on K Street, Cox-Iyamu said AHF has subsequently opened one satellite Healthcare Center at 1647 Benning Road, N.E. in D.C. and another at 4302 St. Barnabas Road in Temple Hill, Md., in Prince George's County.
She said the Benning Road center, which now sees about 450 clients, also serves as a wellness center, which provides walk-in HIV testing and walk-in testing for other sexually transmitted diseases.
"We take people regardless of their ability to pay," she told the Blade, including those who are uninsured. Based on an intake process that assesses patients' financial status, she said the centers on K Street, Benning Road, and Temple Hills assign a case manager to each patient to help them apply for and obtain Medicaid coverage or other types of insurance for which they may be eligible.
African-American men who have sex with men (MSM) make up the largest percentage of patients at all three D.C. area centers, Cox-Iyamu said. Some still face stigma from their families, co-workers, and the communities where they live based on their HIV status, she said. With the K Street AHF center located in a large medical services building, clients fearful of being identified as having HIV can remain anonymous by entering a general medical building that's not labeled on the outside as an AIDS clinic, she said.
"Over time we have grown the staff such that we have a full-range multidisciplinary team," she said. "We have a physician, we have a medical assistant. We have a nurse case manager. We have a pharmacist on site. And we have a non-medical case manager," according to Cox-Iyamu.
"And I think it's important to have all of those individuals on board because of the specific needs that the HIV population has," she said. "And having those resources available to assist with keeping people in care really helps improve the outcomes."
She noted that the K Street center along with the Benning Road and Temple Hills centers have developed strategies to ensure that HIV patients remain in care and continue to return for follow-up visits.
"At this site we have a large African-American MSM population," she said, and many are referred to as "couch surfers" because they don't have a stable home. Some are "dually or triply diagnosed" with HIV along with mental health and substance abuse issues, she said.
Similar to other AHF centers across the country, the D.C. centers provide a referral service for patients to other facilities that provide mental health and substance abuse services, Cox-Iyamu said.
In addition to the Blair Underwood Healthcare Center on K Street and the satellite centers on Benning Road and Temple Hills, AHF has an office near the U.S. Capitol that helps coordinate another activity that AHF officials consider highly important to their overall mission – advocacy for people with HIV before the U.S. government and international agencies on HIV and other health policy issues.
AHF national spokesperson Ged Kenslea said the group's national advocacy office in D.C. has been operating for nearly 20 years.
Among the issues on which AHF has spoken out have been calls for pharmaceutical companies to lower the price of AIDS drugs and opposition to the proposed merger of CVS Health Corporation and Aetna health services company on grounds that the merger, among other things, would lead to further increases in the price for AIDS drugs.
On April 12, Cox-Iyamu and others from the D.C. AHF healthcare centers participated in an AHF-led protest outside the World Bank headquarters in downtown D.C. to raise objections to the World Bank's definition of "middle income countries" on which the World Bank bases its criteria for providing assistance for such countries, including assistance for AIDS programs.
In literature distributed to passersby as the World Bank hosted its annual spring meeting, AHF noted that the World Bank's definition of a middle income country, or MIC, is a daily income for a worker equivalent to $2.73 per day in most western developed countries, which AHF says is equal to the price of a cup of coffee.
At a booth on the sidewalk on Pennsylvania Avenue, N.W., across from the World Bank building, Cox-Iyamu and other AHF staffers handed out free coffee to passersby as a gesture to draw attention to a call for the World Bank to "raise the MIC."
"The global AIDS response has enough obstacles to overcome without having to deal with an arbitrary economic classification further disrupting efforts," AHF said in a statement.
Among those participating in the protest were John Hassell, AHF's National Director of Advocacy, who is based in the AHF Capitol Hill office; and Terri Ford, AHF's Chief of Global Advocacy and Policy, who's based in Los Angeles.
The AHF Underwood Healthcare Center on K Street was scheduled to hold a reception at its offices on April 18 from 3-5 p.m. to celebrate the facility's 10th anniversary in D.C.