April 18, 2019 at 9:18 am EDT | by Lou Chibbaro Jr.
O'Rourke backs LGBT rights at Northern Va. town hall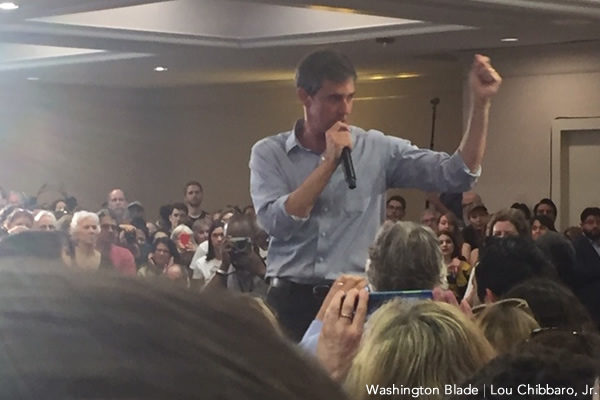 Democratic presidential candidate Beto O'Rourke drew resounding applause and laughter at a campaign appearance in Alexandria, Va., on Wednesday when he inadvertently used a curse word to describe an anti-transgender law passed in North Carolina and quickly tried to withdraw it.
He was responding to a question from a young man in the audience who asked if he would sign the Equality Act, an LGBT rights bill pending in Congress, if he were elected president, and whether he thought a conservative-leaning U.S. Supreme Court might overturn such a law.
O'Rourke, 46, said he would definitely sign the Equality Act.
"Just to provide the context for those not aware, in the commonwealth and in Texas you can be fired based on your sexual orientation," he told several hundred people in a packed ballroom at the Crown Plaza Hotel in Old Town, Alexandria, in what the O'Rourke campaign billed as a town hall.
"It's a defense in a court of law in Texas if you've killed someone of the same sex because they came on to you in a bar or on the street," he said. "That's wrong. In Texas, we just debated a transgender bathroom bill," he continued.
"Seriously? After all this shit that happens – I mean all this stuff that happens in North Carolina. All this stuff – the microphones are not working," he joked, 'all this stuff that happened in North Carolina."
At that point the overwhelmingly supportive audience was roaring in laughter and giving O'Rourke resounding applause over the presidential contender's reference to the law passed by the North Carolina Legislature several years ago banning transgender people from using public bathrooms that are consistent with their gender identity.
"They're trying to scare parents about transgender children," O'Rourke continued. "The transgender children are far more apt to be the victims than the perpetrators of an attack," he said.
"And the president literally turning his back on the service of transgender service members who, from the very beginning of this country, have been serving in the armed forces," he said. He was referring to President Trump's executive order overturning President Obama's policy of allowing trans people to serve openly in the military.
"We don't know how many times they have sacrificed their lives for us and America," he told the crowd. "How many times have they saved the lives of others?"
O'Rourke noted that opposition to transgender people in the military often is based on the same false rationale used to oppose women and African Americans serving in the military in past years.
"And in every turn in this country's history we said, well if we integrate the armed forces by race it's going to make us weaker," he said. "If we integrate the armed forces by gender it's going to make us weaker. If we do it by sexual orientation it's going to make us weaker," he said. "It's made us stronger every time!" he shouted.
"So not only will we ensure that we cancel this president's executive order and welcome transgender service members in the United States military," he said. "Not only will we sign into law the Equality Act that ensures full civil rights of every American in this commonwealth, in my state – wherever they are regardless of their sexual orientation," he said.
"For the Supreme Court and the next nominee that is proposed, we will ensure that they believe in people and not corporations and do not think that corporations are people or that money is speech and that corporations can spend unlimited amounts of money in our elections," he said.
"They will believe in a woman's right to make her own decisions about her own body in Roe v. Wade," he said. "And they will believe in the full civil rights of every single American. That will be our litmus test for the next nominee."
O'Rourke, a former U.S. representative from El Paso, Tex., emerged as a national rising star in the Democratic Party in 2018 when he ran for the U.S. Senate in Texas and came surprisingly close to beating incumbent Republican Ted Cruz, a staunch conservative and longtime opponent of LGBT rights.
Some political observers view his persona as a youthful, charismatic moderate to progressive Democrat as a possible rival to fellow Democratic candidate Pete Buttigieg, 37, the openly gay mayor of South Bend, Ind. Buttigieg's campaign has resonated with voters to place him third in the polls in the multi-candidate race for the 2000 Democratic presidential nomination.
O'Rourke's appearance at the Old Town Alexandria town hall was the last of an eight-stop, two-day campaign swing in Virginia that included appearances in Fredericksburg, Dumfries and other locations.
In his appearance at the town hall in Old Town he opened the session with a 20-minute speech covering a wide range of issues, including U.S. immigration policies, education, and race relations.
Among those attending the town hall were gay Virginia State Sen. Adam Ebbin (D-Alexandria-Arlington) and gay Virginia State Del. Mark Levine (D-Alexandria). Both are running for re-election this year.