May 1, 2019 at 6:00 am EDT | by Joey DiGuglielmo
QUEERY: Nichelle Johnson/DJ Honey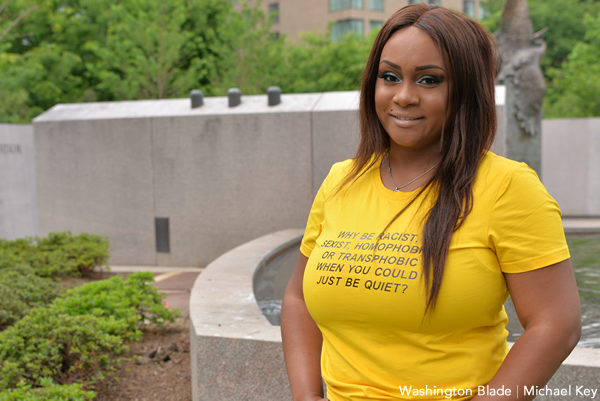 Don't ask DJ Honey (aka Nichelle Johnson) what style of music she spins. She doesn't believe in such discussions.
"You cannot characterize people or music," the 30-year-old Philadelphia native says. "The one thing that is commonly sound is how music makes people feel. I play to the people who want to feel good when the music starts to blare through the speakers."
DJ Honey is DJing this weekend at Youth Pride. It's Saturday, May 4 in Dupont Circle from noon-5 p.m. Rayceen Pendarvis and Private Tails will host. The after party Infatuation Dance is at the Kimpton Hotel (2121 P St., N.W.). Youth Pride is for LGBTQ youth and allies ages 24 and younger. Details at youthpridealliance.org.
Honey started spinning at Rayceen's events about five years ago. This is her first time spinning at Youth Pride.
"It's important that our youth have a place to be themselves," Honey says. "That was rare in my youth. A place where there isn't a closet but to only be your natural LGBTQ self."
Honey got into DJing at age 17 through her mentor Debonair Samir. She spins hip-hop, Latin, Afro beats, reggae and more at mostly queer events but some straight as well. See her upcoming appearances at honeythedj.com.
She works by day as an IT analyst for Comcast. Honey came to Washington six years ago. "I was too ambitious for Philadelphia," she says.
Honey and partner Erika Singley live in District Heights, Md. Honey enjoys traveling, collecting rare vinyl, hiking, dancing, spades, chess, writing music, poetry, photography and more in her free time.
How long have you been out and who was the hardest person to tell?
I've been out for as long as I've known. I grew up in a sexually comfortable home, so I was never ashamed for being lesbian. So I'd say 15.
Who's your LGBTQ hero?
Lena Waithe! Every lesbian should be like her.
What LGBTQ stereotype most annoys you?
Assuming that bisexuals are greedy. Thinking that they want men and women at the same time. It just grinds my gears.
What's your proudest professional achievement?
I was the 2018 Augusta Pride Festival DJ! To have the opportunity to DJ for over 15,000 LGBTIA+ lovers was a proud moment!
What terrifies you?
Honestly, I don't have fears. I don't believe in investing into negative entities that you have no control over. I deal with life and problems as they come.
What's something trashy or vapid you love?
A good ratchet time! Sometimes going in possibly the most unsafe places to have a great time. That's where the best memories are.
What's your greatest domestic skill?
Cleaning
What's your favorite LGBTQ movie or show?
"RENT"
What's your social media pet peeve?
Most importantly, internet bullies. Social media became a platform where bullies can bully without suffering consequences.
What would the end of the LGBTQ movement look like to you?
For everyone to mind their business and worry about themselves. Stop worry about what others are doing with their lives. We are human and we have rights just like the rest of the human race.
What's the most overrated social custom?
A couple who is in a long-term relationship should be gearing up for marriage and/or children. In my opinion, it's rude to ask such questions.
What was your religion, if any, as a child and what is it today?
My home was very open religiously so there weren't any boundaries on beliefs. I still live by that to this day.
What's D.C.'s best hidden gem?
D.C. is its own best hidden gem. D.C. is compounded by hidden gems. It's never ending with stumbling into a unique random place or garden or art show or activity. D.C. is constantly changing growing with the times. It's never left behind but in the forefront of evolution.
What's been the most memorable pop culture moment of your lifetime?
Life changed when "The Box" video channel became "MTV2." Music videos were never the same for me again.
What celebrity death hit you hardest?
That's a hard one. Between Left Eye & Aaliyah, I can't choose.
If you could redo one moment from your past, what would it be?
The moment I learned how to DJ. I would've professionally started when I was 17.
What are your obsessions?
Binge watching "Charmed." In the past five years, I've watched all eight seasons about 20 times. I think I'm due for another.
Finish this sentence — It's about damn time:
I got my life together and stopped chasing women! Ha!
What do you wish you'd known at 18?
That I am an adult and am responsible for myself. #Adulting
Why Washington?
Just something about this vibe of the city that I felt would make me into the best woman I could be. And I was right!