May 14, 2019 at 8:37 am EDT | by Kathi Wolfe
Rest now in our hearts forever, Doris Day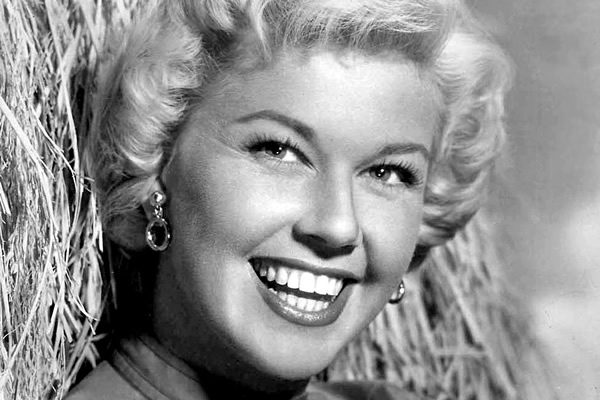 Recently, I was glued to the TV. And, I wasn't watching "Game of Thrones." I was streaming the 1956 Alfred Hitchcock thriller "The Man Who Knew Too Much," starring James Stewart and Doris Day. In the movie, an American doctor (Stewart) and his wife, a former singer, (Day) and their little boy are on vacation in North Africa. Their child has been kidnapped. I barely breathed as Day, reaching out to her son, sings "Que Sera, Sera," one of her signature songs.
Day, a singer known for such tunes as the 1945 hit "Sentimental Journey" and one of the most popular movie stars of the 1950s and 1960s, died at age 97 on May 13 at her Carmel Valley, Calif. home. She was iconic to many in the queer community.
The Doris Day Animal Foundation said that Day, an animal welfare advocate, had contracted pneumonia.
Day was beloved by many: Servicemen in World War II found comfort when they listened to "Sentimental Journey." Everyone from married couples to people dating enjoyed her as she portrayed sunny, wholesome, yet sexy and smart (but never know-it-all) women in romantic comedies. People tuned into Day's TV sitcom "The Doris Day Show."
She is most known for her work with Rock Hudson in the comedies "Pillow Talk" (for which she received her only Academy Award nomination), "Lover Came Back" and "Send Me No Flowers." In these frothy farces, Day refuses to be seduced by Hudson.
"Give me space to get over the idea of you/the thrilling silver voice,/," John Updike wrote in a poem to Doris Day called "Her Coy Lover Sings Out," "the gigantic silver screen/Go easy on me."
It's easy to dismiss Day's work as being too frivolous or sexually repressed. "I knew Doris Day before she was a virgin," quipped composer and showbiz personality Oscar Levant.
Growing up, I didn't think much of Day's movies. Being way too earnest then, I thought her films were mere fluff. Day seemed like a nice woman, but outdated. To me, she was a throwback to the 1950s and a more sexist time.
Now, when I watch "Pillow Talk" or "Lover Come Back" I wonder what I was thinking. True, Day was jumping into bed with Hudson. But their repartee is fun and, for the time, sexy. People thought she was squeaky clean, but "when we began 'Pillow Talk' we thought we'd ruin our careers because the script was pretty daring stuff," Hudson said of Day.
In the 39 movies that she made, Day often played women who worked. She was a decorator in "Pillow Talk" and an advertising executive in "Lover Come Back." Many queer women have relished watching Day play a sharpshooter in the musical "Calamity Jane."
Day was "challenging the limited destiny of women to marry, live happily ever after and never be heard from again," wrote Molly Haskell in "Holding My Own in No Man's Land."
She gave us hope in the 1950s, Grace Cavalieri, Maryland's poet laureate, said to me over the phone. "We saw her working. We wanted to be like her," she said.
Day was loyal to her friends. The queer community will never forget how Day supported Hudson. In 1985, shortly before his AIDS diagnosis was made public, he was a guest on Day's TV show "Doris Day's Best Friends." At a time when President Ronald Reagan refused to say the word "AIDS" publicly, Day stood by Hudson. "He was very sick," Day told interviewers, "But I just brushed that off and I came out and put my arms around him and said, 'Am I glad to see you.'"
"Rest now in our hearts forever, Ms. Day," Tweeted George Takei.
"One of my all time favorite stars has joined the heavenly choir," Elaine Page Tweeted.
"You were a beacon of talent, beauty, grace, and love," Tweeted Michael Feinstein.
Thank you, Doris! R.I.P.
Kathi Wolfe, a writer and poet, is a regular contributor to the Blade.