May 15, 2019 at 3:41 pm EDT | by Richard J. Rosendall
Defusing Donnie's deadly toys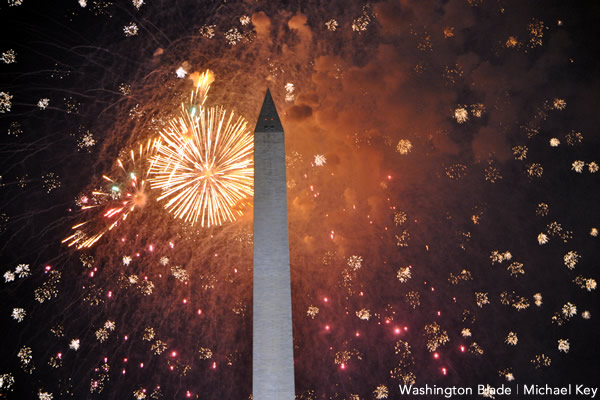 America has become a graveyard of entitlement where a fraudulent president's impulsiveness and ineptitude, riding on his horse Boastful Ignorance, has left our reputation in a state similar to the limestone relief sculptures atop the old Bonwit Teller building: smashed for the sheer spiteful pleasure of it.
More than our good name is imperiled. Despite grousing over John Bolton's interventionist stance on Venezuela, 45 retains his national security advisor, who is busy ratcheting up tensions with Iran. Belligerence, bluster, and alienating allies are Bolton's gift to unhinged statecraft.
Meanwhile, instead of reading his daily brief, Genghis Con is launching tweet storms, reorganizing Washington's Independence Day celebration into a rally about himself, and promising fireworks next year at Mount Rushmore. He suggested launching the District's display from a barge in the Potomac. He should consider lighting it himself.
We don't like to admit that there is such a thing as an American empire, despite our military expenditures being roughly equal to those of the next eight countries combined. Trump's July 4 preparations are a substitute for the brassy military parade he craved. We can put another burger on the grill and chase him from our minds, but for all his clownery he is rattling enough sabers to start several wars.
This is where faith comes in. Rev. William H. Lamar IV, pastor of Washington's Metropolitan African Methodist Episcopal Church, told The Washington Post in August 2017, "The movement of Jesus was violently persecuted by Rome and religious leaders who served as chaplains to the empire." Today, he says, "Churches and preachers who claim to be apolitical are usually firmly aligned with the politics of American empire." At a May 10 memorial service for former congressman Ron Dellums, he said that Dellums, like the biblical Daniel, had "refused to eat the king's meat"—meaning he put his conscience before political expediency.
So far in May, our wannabe king backed North Korea after it fired projectiles in the direction of Japan. He talked of ordering DOJ to investigate Democratic presidential frontrunner Joe Biden and former Secretary of State John Kerry. He joked about shooting immigrants. He expanded a "conscience rule" to allow medical workers to deny care to women, LGBT people, and others they revile. After The New York Times reported that this dubious billionaire's core businesses lost $1.17 billion from 1985 to 1994, he made a boast of it. His personal attorney, Rudy Giuliani, planned to ask Ukraine to interfere in the 2020 election on his behalf before backing off and blaming Democrats. The presidential vandal and his agents are impeding twenty different inquiries.
At the state level, Trump's bellicosity and court packing have encouraged insidious measures like Georgia's HB481, signed last week by Gov. Brian Kemp, which states, "It shall be the policy of the State of Georgia to recognize unborn children as natural persons." Kathleen Crowther writes in the Post, "[N]ot only will abortions be treated as murders, but miscarriages will be subject to criminal investigation, as they already are in a number of states." Fear of women and ignorance of biology, with the accelerant of Trumpism, make the totalitarian society of The Handmaid's Tale seem current. Georgia's law also criminalizes transporting women to other states for abortions. We may need to start a new Underground Railroad.
Trump's bubble is forever threatening to burst. The Post reported on May 9, "A federal judge will fast-track a decision on President Trump's bid to quash a House subpoena for financial records from his accounting firm, saying he will decide the full case, not just whether to temporarily block the subpoena while the case proceeds." Bloomberg reported on May 10, "President Donald Trump's 25 percent tariff on goods from China could hurt exactly what the tax was intended to encourage in the first place: more manufacturing on U.S. soil."
Enacting policies that serve America's diverse people instead of fanatics and corporations requires winning elections. The GOP's organized theft of labor, healthcare, votes, courts, and dignity is almost beyond comprehension; but we'd better steel our resistance if we favor a republic.
As Pastor Lamar said after Charlottesville, "Every justice is costly. But the history of America and the world proves that injustice is costlier."
Richard J. Rosendall is a writer and activist. He can be reached at [email protected].
Copyright © 2019 by Richard J. Rosendall. All rights reserved.