May 15, 2019 at 4:06 pm EDT | by Lou Chibbaro Jr.
Father presents slain trans woman as a man for funeral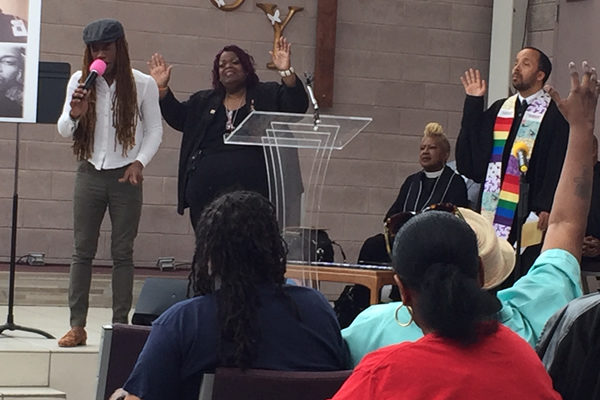 To the dismay of her friends and at least two family members, the father of transgender woman Ashanti Carmon directed a funeral home to change her appearance and dress her body in a man's suit for a private viewing not long after she was shot to death by an as yet unidentified assailant in Prince George's County, Md.
"At the end he just wanted to see and remember her as his son because that's all he knows," said Deborah Carmon, the father's sister and Ashanti Carmon's aunt.
Deborah Carmon and her husband may have been the only family members who supported their niece's decision to transition as a transgender woman more than 15 years ago, according to D.C. transgender activist Earline Budd.
Budd noted that Deborah Carmon and her husband were the only two family members to accept Budd's invitation to participate in a "Celebration of Lives" service held on May 11 at D.C.'s Metropolitan Community Church for Ashanti Carmon and four other members of the LGBT community who died unexpectedly in a two-week period following Carmon's death.
It was Budd who raised the money to pay for the funeral services and subsequent cremation of Carmon's body and the interment of her ashes at D.C.'s Glenwood Cemetery after learning that the family didn't have the money to cover those expenses.
Budd said it was not until after the funds were raised and the funeral expense paid directly to the funeral home that she learned of the father's decision to present Ashanti Carmon as a man in death.
From her conversations with Deborah Carmon, Budd said she learned that the father overruled the recommendation of Capital Mortuary, a D.C.-based funeral home that carried out the funereal arrangements, that the coffin be closed because of the disfigurement of Carmon's face from one or more bullet wounds.
"But the father insisted on a full viewing supposedly because he wanted closure," Budd said. "And the closure for him was more about seeing his child in men's clothes, which is bizarre for me because I don't believe a one-day change can overcome 27 years of Ashanti's life," Budd said.
"They are not going to put my son out there with girl clothes," Deborah Carmon quoted her brother as saying, according to Budd. "I don't want my son laid out like that," Budd said the aunt quoted the father as saying.
Attempts by the Washington Blade to reach the father and other family members sympathetic to the father for comment were unsuccessful.
Amy Nelson, director of Legal Services for D.C.'s Whitman-Walker Health, an LGBT supportive medical services center, called the developments surrounding Ashanti Carmon's funeral arrangements a "tragedy" that could be prevented for other transgender people through advance legal protections.
Among those protections, Nelson said, are a will and an addendum to a will and last testament known as a Disposition of Bodily Human Remains. According to Nelson, such a document would enable a transgender person to specify exactly how their funeral, burial and other end of life arrangements should be made by designating someone they trust to act on their behalf.
The person they designate is called an agent, said Nelson, who described as "terrible" the outcome of Ashanti Carmon's funeral arrangements as dictated by the father.
"That's one reason we make a big effort to push these documents for all of our transgender and gender-nonconforming clients, particularly those whose families are not supportive," she said. "Now the best case scenario is they draft a document, they pass away, their agent is locally based and available and steps in and runs the show," Nelson told the Blade.
Nelson said a transgender or LGBT person seeking these legal protections for the time of their passing obviously needs to find someone they can trust to be their agent. She said that in cases where a client cannot find someone to serve as their agent Whitman-Walker recently has made arrangements for carefully screened volunteers to act as someone's agent.
Budd said a GoFundMe site she created to raise money for Ashanti Carmon's funeral expenses prior to learning of the father's actions raised sufficient funds to reimburse the $3,080 Dignity Washington donated to help cover funeral related expenses.
She said the LGBT Catholic group accepted a $2,000 reimbursement to use for other charitable causes and told her to keep the remaining $1,080 for a reserve fund that Budd has created for funeral expenses for transgender people who pass away in the future and whose families and loved ones many not have the means to cover those costs.
About 50 family members and friends of Carmon and four other members of the LGBT community who lost their lives unexpectedly this year joined four LGBT supportive ministers for a celebration of their lives on May 11 at the Metropolitan Community Church of Washington.
The others whose lives were remembered during the memorial included Robert Chase "Seven," 55, and Patricia "Cleo" Queen, 57, both of whom died in April of a drug overdose in the midst of the city's opioid crisis, organizers of the memorial said. Also remembered at the service were Kyrell Kris Morant, 47, who died April 14 of as yet unknown causes; and Keisha Washington, 33, who died May 1 of natural causes, according to the LGBT community services center Casa Ruby, where she worked.
"The truth is no one knows when it is time for our sunset," said Rev. Elder Akousa McCray Peters, pastor of Unity Fellowship Church of D.C. and one of the four ministers who spoke at the Celebration of Lives service.
Rev. Kenneth King said he was "annoyed and frustrated" over the violence that led to the deaths of Ashanti Carmon and other trans women in recent years.
"Something is about to move us to the next step," he said. "There is something inside us that can let us turn the table."
Among the family members who spoke was Deborah Carmon. She told the gathering that not everyone in Ashanti's family accepted her for who she was.
"People said we don't want you to look like this. You should look like the way you were born," the aunt said. "But I know she was not happy until she was Ashanti. I told her no matter what you choose, you choose what makes you happy."
Budd, the lead organizer of the Celebration of Lives service, said she was disappointed that other family members of Ashanti Carmon, including her father, chose not to attend the service because they disapproved of Ashanti's transition as a woman.
Budd said the outpouring of love and support shown at the service overshadowed the disapproval that transgender people like Ashanti and others like her encounter in life.