May 17, 2019 at 2:56 pm EDT | by Kevin Majoros
Local gay rugby league finds its 'sweet spot'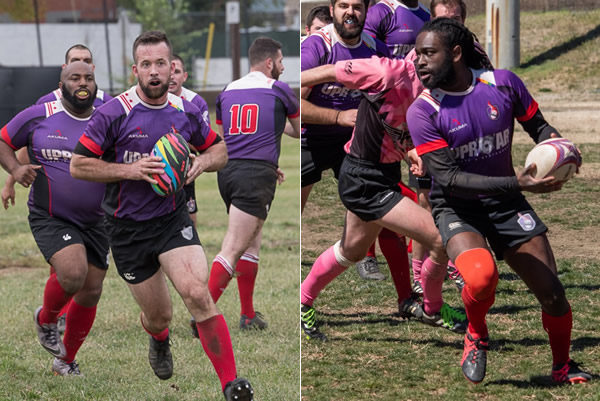 When the Washington Scandals were formed in 2013, members carved out their own niche for LGBT rugby in the Washington area.
Their seasons consisted of scheduling matches with other teams from International Gay Rugby along with matches against LGBT-friendly straight teams. They also began attending tournaments throughout the Midwest and Eastern seaboard.
Fast-forward to 2019 and the Washington Blade checks in with the team on its growth and evolution.
The Washington Scandals have competed on the world stage in two Bingham Cup Tournaments since 2016. At the 2018 Cup in Amsterdam, the Scandals were awarded the Ben Cohen Stand Up Award for Team Sportsmanship in recognition of their positive attitude and respect for other players.
Locally, the Scandals are a member of Division IV of the Mid-Atlantic Rugby Conference. A recent growth spurt has given the Scandals a strong potential to develop a second side (team) in the coming year. Just this past week, they had 44 players at one practice.
"We go through waves each season through recruitment, but we have become better about retention," says Scandals Captain Tim Kilbride. "It's been a big learning curve, but we have achieved a sweet spot and reached a critical mass."
With a larger base of players to choose from, comes the ability to utilize rolling substitutions in matches. On Saturday, the Scandals will host a round-robin tournament in D.C. against the Baltimore Flamingos and the Philadelphia Gryphons.
The games will be shortened to 40 minutes for the tournament, which will serve as a trial for team rosters for the 2019 Capital City Rugby Cup in Columbus on Memorial Day weekend.
"We seek out matches of varying abilities, so our developmental players don't have to just stand and watch," Kilbride says. "It's important to also have veterans on a team for field leadership. We don't want our developmental players to get overwhelmed."
Kilbride has been playing rugby since 2002 and has been with the Scandals since 2016. He mostly plays as a lock or a flanker.
"I love the physicality of the sport and the satisfaction of a hit," Kilbride says. "We spend a lot of time together and team spirit is important for our success."
Captain Joseph Sewell is quick to add that the creation of a second side (team) doesn't mean the Scandals have an A-side and a B-side.
"Our development has an emphasis on creating harmonious units," Sewell says. "Giving everyone playing time results in muscle memory and we are looking to develop two solid teams."
He says the recent influx of players has led to creative scheduling to find match time for everyone but acknowledges that it's a good problem to have.
Sewell joined the team in January, 2018 and plays fullback, wing and inside center. A recent highlight for him was traveling to New York with the Scandals for a match against the Gotham Knights.
"Here were two (International Gay Rugby) teams playing on the field before the professional rugby match of Rugby United New York," Sewell says. "I scored the first try of the game and I have never been prouder of the way our guys played."
The bond Sewell feels with his teammates is strong and the lessons learned go beyond the sport.
"My teammates are great examples of the type of person I want to be when I grow up. I am hoping to emulate many of their traits including patience and wisdom," Sewell says. "There is such a powerful sense of community on the Scandals. My main reason for joining was to make friends, but I also learned how to play this really cool and mystical sport."