May 21, 2019 at 7:50 pm EDT | by Peter Rosenstein
Can Democrats criticize without 'trashing' each other?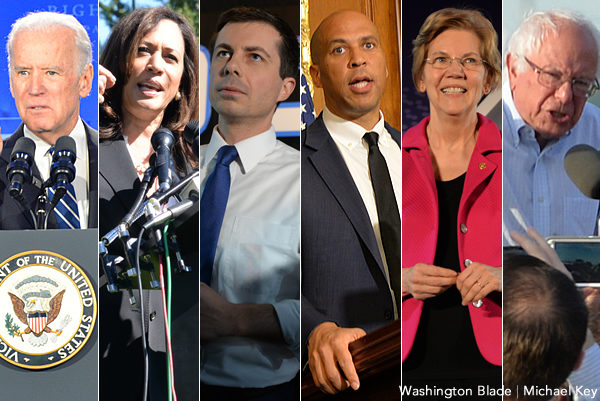 There are now 23 Democrats in the primary; six members or former members of the House of Representatives, seven senators, four current or former mayors, three current or former governors, one self-help author, one tech CEO and a former vice president who was also a senator. They're all trying to win by differentiating themselves from the other 22. They do this in many ways including their personality differences, perceived intelligence, their records in office and current policy positions.
Some try to play to the anger in women, the LGBTQ community, immigrant and minority communities generated by how Trump has treated them. Others like Biden tell us being angry is not the way to win. Some candidates have zero chance, or the same chance of winning I would have were I to declare my candidacy for president tomorrow. So why do they run and how should voters and the media deal with them?
Voters finally get to narrow the field to those who have a real chance at the nomination about nine months from now when the Iowa caucus takes place. Now I think that is a crazy place for Democrats to start because the less than 200,000 people who will show up to make their choice are definitely not representative of the population at large, but so be it.
My assumption is the posts on my Facebook page complaining one candidate or another or one pundit or another is 'trashing' one of the candidates will continue. But what constitutes "trashing" someone? Can you cite and call out your opponent's policies and ideas, as you compare them to your own, say you disagree with them without being accused of trashing them? After all, this is a primary and the reason for primaries is to make clear to voters where you stand in relation to your opponents. Yes these 23 are opponents competing with each other for attention, for a headline, and finally the nomination.
The Democratic Party has made it easy this year to run in the primary. All Bernie Sanders had to say is 'I am a Democrat,' which he did at the same time he filed as an 'independent' to run for the Senate in Vermont. If you don't register even 1 percent in the polls but manage to get 65,000 individual donors you can be on the debate stage. Those donors need only give you $1 each. Since social media is generally free or very inexpensive it is not all that difficult to acquire those donors as some will give just to create havoc. The DNC went on to say those who qualify for the debate will then have to choose lots to see whether they participate on day one or day two of the first debate; either June 26 or 27. So it's possible on day one we could see Joe Biden debate Marianne Williamson, Andrew Yang, Tim Ryan, Wayne Messam, Tulsi Gabbard and John Hickenlooper. Wonder what the ratings for that exciting night of television would be.
Some are running to be the vice presidential nominee; others are making a pitch to be in the Cabinet or are auditioning to become another talking head on CNN, MSNBC or Fox.
It is not fair to suggest if one candidate says something less than positive about the ideas or policies of one of the others in the debate they should be accused of 'trashing' them. After all the questioners in the debate will most likely encourage that to make the debate interesting and highlight the differences among the candidates. That is what a debate is. It should not be considered 'trashing' the other candidate as long as the criticism is about what they say and not who they are. If that is not acceptable let's not pretend it's a debate and call it a beauty pageant.
If it's a beauty pageant each candidate will get 10 minutes to show us their talent, their smile, and likely cite a bunch of platitudes. They can all continue to do this until the first chance a voter gets to make their opinion known. So let us not accuse a candidate of 'trashing' another when we know a sharp exchange, a well-worded sentence, or a stumble, will differentiate them from the others and get them that headline. The opportunity to be remembered by the voters and have the media focus on you for at least a news cycle, getting you closer to the nomination, is what a primary is all about.
Peter Rosenstein is a longtime LGBT rights and Democratic Party activist. He writes regularly for the Blade.