May 22, 2019 at 4:58 pm EDT | by Lou Chibbaro Jr.
Buttigieg attends D.C. fundraiser at home of gay couple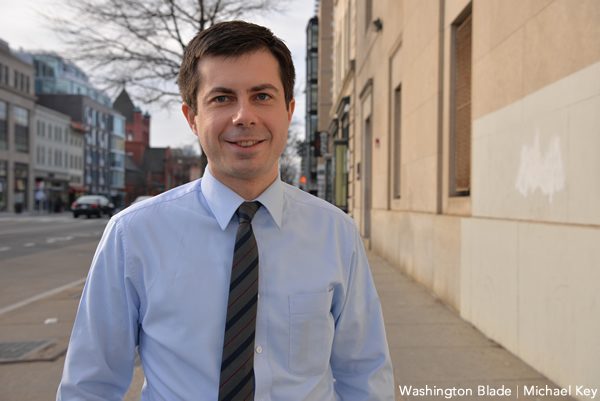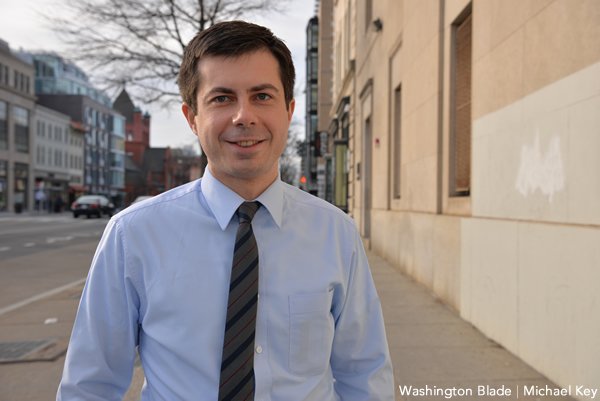 It wasn't billed as an official LGBT event, but nearly all of the close to 100 people who attended a fundraising reception on Tuesday night for gay Democratic presidential candidate Pete Buttigieg at a private home in Georgetown were members of the LGBT community, according to several attendees.
The event was hosted by D.C. physician Jim D'Orta and his husband Jed Ross at the couple's house, along with longtime gay Democratic activist Peter Rosenstein, who each greeted the crowd before Buttigieg spoke.
The event was one of two or three D.C. fundraisers that Buttigieg, the mayor of South Bend, Ind., attended this week.
"Mayor Pete was great," said Rosenstein. "He spoke about a number of issues, including democracy and liberty, economic and social justice, and healthcare. He answered a number of questions, including how he saw the primary playing out at this time and how he as a millennial and mayor fit into the mix," Rosenstein said.
"He was great about taking selfies with the crowd and after speaking and answering questions for about 30 minutes he mingled freely and comfortably with the group before heading to his next event," according to Rosenstein.
Among the attendees who posted photos of themselves with Buttigieg at the event on Facebook were gay activists Gregory King; Jim Slattery, former president of the LGBT group Brother Help Thyself; and John Becker, vice president for political affairs for the Gay and Lesbian Activists Alliance.
Becker said among the issues Buttigieg raised was the one-vote margin among members of the Supreme Court in favor of same-sex marriage that resulted in the high court's landmark decision legalizing same-sex marriage throughout the country.
The fact that the next president or the current one will be appointing more Supreme Court justices could have a major impact on marriage equality and LGBT rights, Becker recounted Buttigieg as saying.
Rosenstein said the event appears to have reached the organizers' goal of raising $75,000 for the Buttigieg presidential campaign.