May 22, 2019 at 12:28 pm EST | by Lou Chibbaro Jr.
LGBT 'fallen heroes' honored at National Police Week event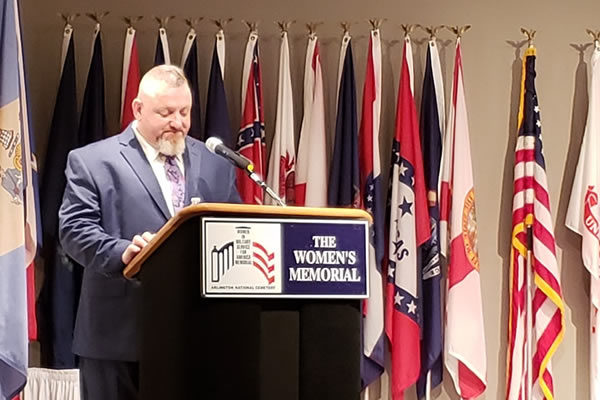 Between 150 and 200 LGBT members of law enforcement agencies were among the more than 25,000 police and law enforcement officers from throughout the U.S. and many foreign countries who came to D.C. last week to participate in events associated with National Police Week.
Among the events LGBT law enforcement members and their families and friends attended was the annual LGBT Fallen Heroes Memorial Service, which was held May 13 at the Women in Military Service for America Memorial located in Arlington National Cemetery.
"Each year on May 13, many gather to honor the lives of those who are no longer with us and give recognition to their survivors," according to a statement by the LGBT Fallen Heroes Fund, the group that organizes the LGBT Fallen Heroes service.
Lt. Brett Parson of the D.C. Metropolitan Police Department who oversees the department's LGBT Liaison Unit, served as a host to the visiting LGBT law enforcement members, who, like their straight counterparts, are police officers, firefighters, paramedics, emergency medical technicians, and members of the armed services.
All of them came, according the National Police Week website, to honor their comrades who have died in the line of duty. On the evening of May 13, after the LGBT Fallen Heroes Service, the 31st Annual Candlelight Vigil to honor all law enforcement members who died in the line of duty was held on the National Mall.
Among the LGBT participants in the Police Week events, "Some are out, others are not," Parson said. "While there is time set aside to reunite and socialize, the main reason for their pilgrimage to D.C. every year is to participate in several events that mark the spirit of the solemn occasion."
Parson noted that the LGBT Fallen Heroes Fund was founded by Det. Scott Gunn of the Anne Arundel County, Md., Police Department, now retired, and his husband Nicholas Batz.
"They organize and produce a memorial service to recognize the families and loved ones of LGBT police officers, firefighters, paramedics and EMTs, and members of the armed services who have died," Parson said in a statement. "This service serves to treat their significant others as true family, as many times we know they have been excluded from the official events," he said.
The group's website says it is also raising funds for a memorial site to honor fallen LGBT law enforcement members at D.C.'s Congressional Cemetery.