May 23, 2019 at 4:25 pm EDT | by Patrick Folliard
German classic play 'Mary Stuart' compelling in fresh Olney production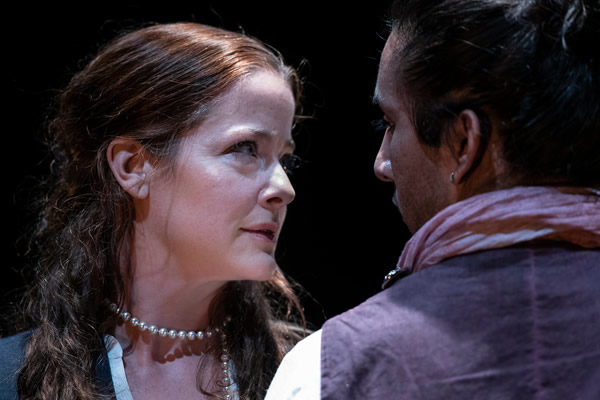 'Mary Stuart'

Through June 9

Olney Theatre Center 

2001 Olney Sandy Spring Rd, Olney, Md. 

Tickets begin at $54

301-924-3400
A battle of wills, words and intrigue, the decades-long feud between Queen Elizabeth I and her ill-fated cousin Mary Stuart ranks among English history's most gripping power struggles. Their story couldn't be more suited to dramatization, and in his classic "Mary Stuart" (1800), German playwright Friedrich Schiller toys with details but doesn't stray far from the facts.
Now Schiller's tale of two queens is being told at Olney Theatre Center with a fresh and suspenseful adaptation by Olney's out artistic director Jason Loewith. By paring down language, cast and setting, Loewith (who also staged the production) achieves a superb amalgam of classic and current.
Once queen of Scotland (and briefly France), Mary now languishes in dank, cramped quarters as "the guest" of her powerful cousin, the Queen of England. Mary, played by Eleasha Gamble with a mix of decorum and lively impetuosity, accepts her current situation with regal aplomb while harboring hope for a second shot at the big time.
A legitimate claimant to the English throne with a sizeable Catholic following, Mary is a threat that England's highest Protestant jury has voted to neutralize. Wary of regicide, Elizabeth remains decisively ambivalent. Megan Anderson's Elizabeth is outwardly confident — tailored pants, commanding, a woman in a man's world, etc. — but beneath the façade she's not entirely secure. There's also a lusty side, particularly when handsome younger men are around.
Olney's intimate Mulitz-Gudelsky black box space has been configured in the round. Set designer Richard Oulette and Loewith's beautifully simple set is a shiny black octagon with a sort of crown echoing the stage's shape hanging high above. It's well suited to claustrophobic rooms, Elizabeth's offices and a grassy field.
And the strong, six-person cast, dressed casually in muted tones like casually dressed college faculty members during fall semester (costume designer Ivania Stack cleverly adds an Elizabethan ruff, medal, crucifix or string of pearls to designate rank and station), play multiple roles. In addition to Elizabeth, Anderson lovingly assays Hannah Kennedy, Mary's elderly companion. Gamble also plays the roles of various noblemen.
Talented actor Chris Genebach brings to life two pivotal, vastly different men: Sir Amyas Paulet, the harsh but principled jailor who won't engage in shady moves to hasten the prisoner's demise, as well as the Earl of Leicester, a strapping courtier who uses lovemaking to advance his agenda. Genebach is equally effective in both parts.
Olney vets Paul Morella and Mitchell Hébert are perfectly cast as Elizabeth's advisors Lord Burleigh and Shrewsbury, respectively. Burleigh is itching to behead Mary and excise "popery" from the English isle; whereas, the elder Burleigh advises mercy.
Jake Ryan Lozano excels as Mortimer, Sir Palet's young nephew who has access to Mary. Recently returned from the continent where he embraced Catholicism and fashion (a flowy, rose-colored scarf) he pledges his allegiance to Mary, confiding that's he's raised a posse to liberate her at long last. His dreams are inspired. Unfortunately, he proves quite mad.
Though Mary and Elizabeth never met in history, Schiller couldn't resist bringing them together. Released from her rooms for a day, Mary runs barefoot in the grass relishing a tease of freedom. When Elizabeth arrives unexpectedly on the scene, Mary feigns humility. Elizabeth doesn't buy it. She insists that her cousin queen lie prostate before her. In a genius bit of staging, both queens lie prostate, their faces close, and as the stage slowly begins to rotate, their feelings are revealed.
After the meeting, Mary's end is decided. Cagey as ever, Elizabeth wants to be rid of her rival, but doesn't want the blame. She places the blame on a royal secretary.
This "Mary Stuart" trains the spotlight on power and patriarchy. And while Mary, the ostensible loser, meets her fate with royal dignity, Elizabeth's glorious and onerous reign grinds on.