May 17, 2019 at 2:17 pm EDT | by Patrick Folliard
Kathleen Turner on her new cabaret, gay icon status, Hollywood career and more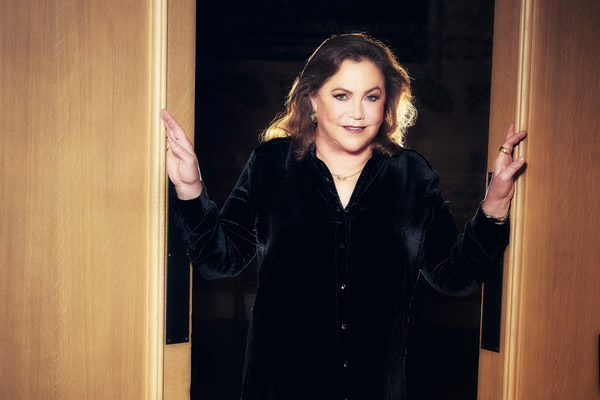 2019 Arena Stage Annual Gala
Tuesday, May 21
Arena Stage
1101 6th St., S.W.
202-488-3300
Not long after her movie star-making turn as femme fatale Matty Walker in '80s thriller "Body Heat," Kathleen Turner appeared at Arena Stage. She played Tatiana and Hippolyta in Shakespeare's "A Midsummer Night's Dream," kicking off a long and satisfying relationship between the husky-voiced actor and the waterfront theater.
Over the years, Turner has shone memorably in Arena productions like "Red Hot Patriot," "Mother Courage and Her Children" and "The Year of Magical Thinking." And now she's headlining Arena's annual gala with excerpts from her first cabaret, "Finding My Voice," which debuted last year (gala proceeds go to Arena's artistic and educational programs).
Turner fulfilled her movie promise with "Prizzi's Honor" and "The War of the Roses." She received an Oscar nod for "Peggy Sue Got Married," and Tony Award nominations "Cat on a Hot Tin Roof" and "Who's Afraid of Virginia Woolf." But there have been setbacks too, including chronic illness and addiction issues.
A big-name actor who has never lived in Hollywood, Turner isn't exclusively one thing. She's an activist whose ire has recently been reignited, a teacher and a self-described "citizen of the world."
Via phone from her Manhattan apartment, she talks about these things and more.
WASHINGTON BLADE: Kathleen Turner in cabaret. Makes perfect sense. Was this long in the making?
KATHLEEN TURNER: I first did it in London's West End, and then brought it to Café Carlisle where they asked me to cut it down. It's not about my singing. It's about my storytelling. I'm still tweaking it. Actually, it wasn't long in the making. And my decision to do it had a lot to do with Molly Smith [Arena Stage's Artistic Director]. You'll understand more when you come to the Gala and see me do it.
BLADE: You're an activist for, among other things, reproductive rights, and have volunteered with Planned Parenthood for decades. Any thoughts on the current assault on the organization?
TURNER: I was just shooting in Atlanta where the expletive governor (editor's note: Turner's exact words) signed the heartbeat bill. At six weeks a woman doesn't even know if she's pregnant or not. It's obscene. So, I'm setting up a sit down with Planned Parenthood's new president Leanna Wen to clarify what more I can do to help. I travel to affiliates and make myself available to speak, but I think all of us need to do more.
BLADE: "Red Hot Patriot," your one-woman show about the late Molly Ivins (the brilliant liberal newspaper columnist) was such a good time, but beneath the humor was there some political rage?
TURNER: Absolutely, but that's nothing new to me. Molly was and is very close to my heart. I adored her sense of humor and agreed with her political positions. We initially mounted "Red Hot Patriot" in Philly. Molly was a Texan, so for the very first performance we had a planeload of Molly's fellow Texans from the ACLU, Texas Observer people, and her brother. Molly was a big-boned woman, but her brother was really big. He wrapped his arms around me and thanked me for keeping Molly alive. That was one of the most extraordinary things I ever heard pertaining to my work.
BLADE: You brought "Who's Afraid of Virginia Woolf" to the Kennedy Center. You were spectacular as Martha.
TURNER: I was thrilled with the production and what we achieved.
BLADE: Is it hard to move from screen to stage?
TURNER: For me it's always been theater. To my mind, film happened to me. And it was fun and I enjoyed the work tremendously. But with films, I never had the power or liberty and freedom that I have on stage.
BLADE: Is #metoo your Hollywood experience?
TURNER: I was fortunate. I became a star very quickly and didn't have to deal with those kinds of predatory men. Today, I'm aligned with the Time's Up movement. It's about creating legal funds for women to fight back against harassment. That makes sense to me; my nature is to do something about the problem.
BLADE: Now that you're in your 60s, are you exploring new things besides cabaret?
TURNER: Oh yeah. Not long ago I played a non-singing role in Donizetti's comic opera "The Daughter of the Regiment." I was the Duchess of Krakenthorp. The character is so selfish and absurd, a caricature of a comic villainess. It was great fun. To be surrounded by those voices is extraordinary. From my dressing room, I could hear the mezzo Stephanie warming up on one side, and the soprano, pretty Yolanda, on the other. And the house seats 3,800. It's astounding. Another world altogether. And soon, I'll be directing a new playwright whose protagonists are a woman in her 70s and another in her late 60s. You don't see that a lot.
BLADE: And how is the R.A. (rheumatoid arthritis)?
TURNER: Oh, you know, it's an ongoing thing. Part of treatment is to keep moving. I find Pilates helpful. So I do that three times a week. And when spring comes, I bring my bicycle out of storage and ride along Hudson River Park, but never in the street.
BLADE: I've heard you praise the work of your great friend Cherry Jones. What other working actors do you like?
TURNER: I don't know a lot of the young ones because I don't watch TV. I really liked Rachel Weisz in "The Favourite" though I didn't like the film. And Emma Stone. She's a courageous actress. I don't see her hedging her bets and compromising like I see with so many others.
BLADE: I'm pretty certain that my favorite of your films is "Peggy Sue Got Married."
TURNER: It's magical, isn't it? That's thanks to its director, Coppola. The dressing table scene is everything. The camera pulls back and I have a double echoing my movements. You can see the back and front of me at the same time and you accept it. Once you accept that you're ready to go on the journey with her.
BLADE: A surefire cure for the blues is your obscene phone scene from John Waters' movie "Serial Mom."
TURNER: (Laughs.) I'm still asked to say those lines. I refuse.
BLADE: Is that what started your gay following?
TURNER: Sure, it has a lot to do with "Serial Mom." But recently, my daughter sent me a clip from "RuPaul's Drag Race." A contestant being attacked by the others bellows "In the name of Kathleen Turner, what is going on here?" I liked that. The references keep coming.
BLADE: What keeps you coming back to Arena?
TURNER: That's easy. It's the quality of the people there. In 20 years, Molly [Smith] has made Arena into a full plant. When she directed me in "Mother Courage," it was thrilling, and even when she's not directing me, she remains deeply involved my work while I'm there. Also, the production people are top notch. And I like Washington. And Arena gets me an apartment over on 6th Street, I can walk everywhere. Lots of good restaurants and things to do. It's always a nice time.