May 23, 2019 at 6:00 am EDT | by Lou Chibbaro Jr.
Roem's GOP opponent 'extremely hostile' to LGBT Virginians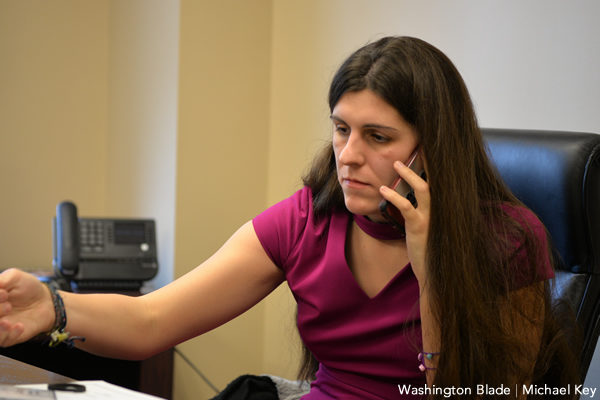 The Democratic Caucus of the Virginia House of Delegates issued a strongly worded statement this week calling the Republican opponent of Democratic House of Delegates member Danica Roem "extremely hostile" to LGBT Virginians.
In 2017, Roem became the first out transgender person in the United States to win election and be seated in a state legislature when she defeated anti-LGBT incumbent Bob Marshall (R) in the race for the 13th District House of Delegates seat in Western Prince William County and Manassas Park.
In March, attorney and self-described stay-at-home mom Kelly McGinn of Manassas Park emerged as the Republican nominee to challenge Roem in the November 2019 general election in which all members of the Virginia General Assembly will be on the ballot for re-election.
McGinn has so far not publicly commented on Roem's status as the nation's first transgender state legislator. In a March 14 statement announcing her candidacy McGinn referred to the controversies surrounding Virginia's Democratic governor, lieutenant governor, and attorney general, saying, "I'm running for Delegate to be your voice for common sense leadership."
In a May 20 statement, the House of Delegates Democratic Caucus, which acts as a political action committee or PAC to help elect Democrats to that body, disclosed past statements and positions taken by McGinn expressing strong opposition to same-sex marriage and the rights of LGBT people to adopt children.
The caucus released a copy of written public testimony that McGinn submitted in 2011 opposing a proposed state regulation change that would prohibit private adoption agencies from discriminating on the basis of sexual orientation, age, or family status in placing children up for adoption.
In her testimony, McGinn called the proposal "absurd" and "irrational," stating, "although redefining family, marriage, and parenthood has become a national obsession, one man and one woman joined in marriage remain the most successful paradigmatic family in which to place a child."
McGinn added in her testimony that LGBT adoption was "a social experiment on our children."
The House of Delegates Democratic Caucus, which has endorsed Roem for re-election, also disclosed a 2008 joint letter signed by McGinn and 88 other Catholics, including priests, condemning Catholic politicians who support same-sex marriage, abortion rights, and embryonic stem cell research.
"The letter explicitly compares marriage equality, stem cell research and abortion to slavery, stating, 'The slave trade coarsened the British people, the British ruling class, and the British public life. In precisely the same way, abortion and other issues have coarsened our public life, and have poisoned American political discourse and our politics,'" the Democratic Caucus quotes the letter as saying.
The letter goes on to state, "The lack of public civility comes not from pro-lifers but from these Catholic politicians who support the right to kill innocent life in the womb and those who support defining man-woman marriage out of existence."
According to the Democratic Caucus statement, "This year, McGinn used transphobia to explain her public opposition to ratification of the Equal Rights Amendment, saying the ERA 'does not even mention the word 'woman' or 'women,' referring only to equality of rights on account of 'sex,' a term which enjoyed a common understanding in 1972 – a man or a woman – but does not in 2019.'"
The caucus statement points out that McGinn appeared to reiterate her opposition to LGBT parenthood when she "liked" a tweet describing as "harmful to children" the landmark pro-LGBT bill passed earlier this year by the Virginia General Assembly known as Jacob's Law.
The bill, which Virginia Gov. Ralph Northam signed in February, updates the state's child surrogacy laws to clear the way for same-sex couples who have children through a surrogate mother to obtain full parental rights. The bill was named after a child named Jacob who was born through surrogacy to a gay male couple in Northern Virginia.
The McGinn campaign didn't immediately respond to email and phone messages from the Washington Blade seeking a response to the House of Delegates Democratic Caucus disclosure of McGinn's statements and comments in opposition to LGBT issues.
"Republicans may say they aren't going to personally attack Delegate Roem in this campaign but Kelly McGinn's public hostility toward LGBTQ+ adoption and marriage equality is a personal attack on every LGBTQ+ Virginian," said Trevor Southerland, executive director of the Virginias House Democratic Caucus.
"What makes McGinn's anti-LGBTQ+ remarks even more disturbing is that she made them publicly with the express intention of influencing policy," Southerland said in the Caucus statement. "It seems she is determined to replace former House District 13 Delegate Bob Marshall as Virginia's 'chief homophobe,'" he said.
Although Roem has emerged as a strong voice for LGBT rights in the House of Delegates, nearly all political observers in the state capital in Richmond have said Roem has also become a champion for so-called "bread and butter" issues in her district, especially her efforts to improve longstanding automobile traffic congestion along Route 28 in Prince William County.