May 29, 2019 at 12:50 pm EDT | by Lou Chibbaro Jr.
'Dyke March' to return during D.C. Pride Week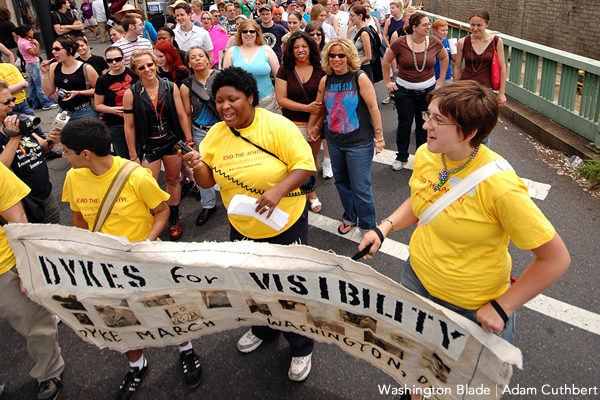 A group of mostly anonymous organizers has announced in email messages to the Washington Blade that after a 12-year hiatus, a Dyke March will take place in D.C. on Friday, June 7.
"Did you know that the first Dyke March ever was in Washington, D.C.?" a statement from an unnamed sender says. "It's been 12 years since the last D.C. Dyke March was held, but this year we want YOU to help us bring it back!" the statement says.
"The Dyke March, a grassroots march for queer liberation led by self-identifying dykes, first started in the District in 1993," the statement continues. "It subsequently spread to major cities in North America and the UK, but fizzled out in D.C. Now local organizers are bringing it back to the District on June 7 after a more than a decade-long hiatus and their inaugural theme is 'Dykes Against Displacement,'" the statement says.
By displacement, the statement says it is referring to the large numbers of D.C. residents, including LGBT residents, who moved out of the city because they could no longer afford the high cost of living due to gentrification and real estate development.
"Dyke Marches are community-driven, grassroots, and meant to bring together all who identify as dykes through marching as an act of visibility and protest," the statement says. "It is non-Pride affiliated, with no corporate sponsors, permits, or cops – our goal is to encourage activism within our community and center transwomxm, queer womxn, lesbians, and other dyke identities who are oft-marginalized by the mainstream LGBTQ movement."
In a separate statement sent to the Blade by email on May 28, a press contact identified as Cabot Petois said "thousands of self-identified Dykes will descend on the nation's capital on June 7 under the theme of 'Dykes Against Displacement' to protest the crisis in the District that affects the most marginalized members of the LGBTQ community."
The statement from Cabot Petois says the Dyke March will kick off at McPherson Square at 5:30 p.m. on June 7, but it doesn't disclose the route of the march or the location where it will end. However, it says there will be a "rally at the end of the march."
The earlier statement says "more route details will be posted leading closer to the day."
Cabot Petois' statement included a phone number and email address, but no one responded to messages left by phone and email by the Blade as of Tuesday evening.