June 1, 2019 at 6:54 am EDT | by Kevin Majoros
Night OUT at the Nationals to celebrate 15 years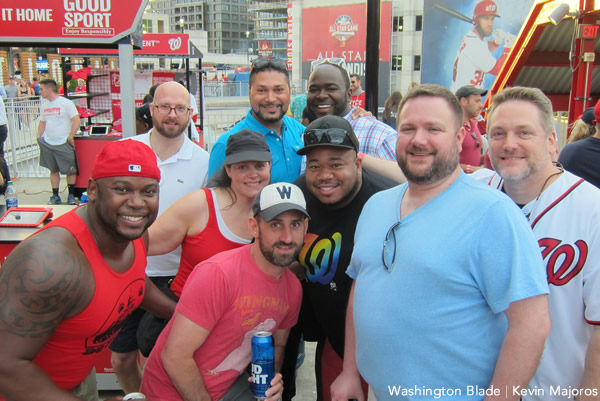 Each year since the Washington Nationals came to D.C. in 2005, Team DC, in conjunction with the Nats, has hosted Night OUT at the Nationals. This year's event is set for Tuesday, June 4 against the Chicago White Sox at Nationals Park.
Night OUT is an LBGT community event, which has continued to evolve over the years. In its 15th iteration, ticket sales at press time are over 4,200 sold – already surpassing their highest count ever.
"We are thrilled to once again be hosting the annual Night OUT at Nationals Park," says Jake Burns, executive vice president of business operations for the Washington Nationals. "We know this year's event will be especially meaningful since this marks our 15th season! We encourage our fans to show their support by purchasing a special ticket on our ticketing platform."
The special ticket includes an exclusive Nationals-branded Night OUT T-shirt, and $5 from every special ticket sold will be donated to Team DC's scholarship fund, which awards college money to local, openly gay LGBT youth.
"We can't wait to see everyone at Nationals Park next Tuesday cheering on former Congressman Barney Frank during his ceremonial first pitch and the Gay Men's Chorus of Washington, D.C. singing the National Anthem," adds Burns.
Tickets that remain for the event range from $19 to $55 and each person buying a ticket through the link receives the Nationals-branded Pride shirt which can be picked up starting at 4:30 p.m. through the end of the first inning. Sizes will be distributed on a first come, first served basis.
The longest running Pride night in Major League Baseball will have a few surprises, including drag queens on the baseball field for the first time. Also new this year is a 'community village' featuring local LGBT nonprofits, which will give the LGBT community a chance to connect with Nats fans during the game.
On hand for the festivities will be 43 All Star partners from the D.C. community who purchased blocks of 50 tickets.
"This event isn't just people from the LGBT sports teams and leagues, it is a very large cross section of our community," says Brent Minor, founder and executive director of Team DC. "I love the natural diversity that happens at Night OUT. It's good for our community."
The Washington Blade will be honored on the field during the pregame ceremonies with the Spirit Award. The Blade is celebrating its 50th anniversary, which coincides with the 50th anniversary of the Stonewall Uprising.
Gates open on June 4 at 4 p.m. with pregame ceremonies beginning at 6:30 p.m.