June 19, 2019 at 2:34 pm EDT | by Joey DiGuglielmo
QUEERY: Tariq Darrell O'Meally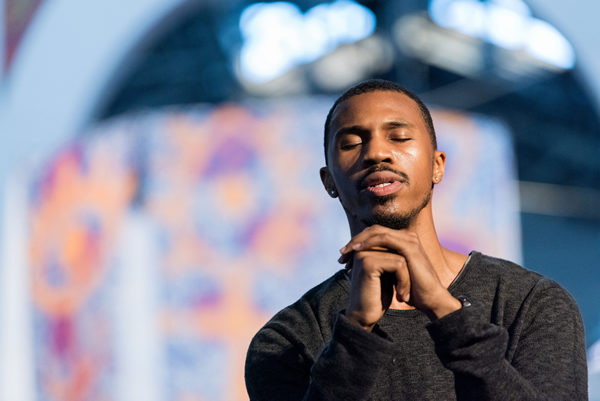 Dancer/choreographer Tariq Darrell O'Meally says the beauty and attraction of his chosen art form is two-fold.
"With dance, the body is the vessel/object," he says. "There is no catalyst needed to access it. There is you and your body. That means every human on earth has access to this thing always. The equity of that is powerful."
He also says like all great art, it can convey powerful concepts in a way that doesn't require any explanation.
"Dance, much like music, has the capacity to convey a multitude of ideas, emotion and experiences without having to say a word. That's a form of magic I think."
O'Meally, artistic director of his own eponymous company, lives in Baltimore but is participating in a nine-month fellowship program at the Halcyon ArtsLab in Georgetown. He'll be at the By the People Festival this weekend sharing the fifth installment of a contemporary dance work he developed called "Night Light: Half-World," a work in progress.
The 30-year-old Landover, Md., native calls it a "meditative, contemporary dance and movement piece that explores the concepts of witnessing and being witnessed."
"Through his work, O'Meally expresses his belief that knowing yourself is the beginning of all wisdom," a press release for the performance states. "With this idea in mind, he searches for the power within introspection and vulnerability in the dancing African-American body as a means of transcendence."
It will be performed on Saturday, June 22 at 7 p.m. at the Smithsonian's Arts+Industries Building (900 Jefferson Dr., S.W.). Details at bythepeople.org.
O'Meally's parents were house dancers in New York in the '80s so he grew up around dance. He started in theater but moved to dance when he discovered he "can't hold a note to save my life." "So You Think You Can Dance" became an "obsession," he says. He specializes in what he calls "contemporary modern moving toward a post-contemporary context."
O'Meally moved to Baltimore in 2015. He's single and enjoys wine, reading, TV, time with friends and family and movies in his free time.
How long have you been out and who was the hardest person to tell?
I've been out since I was 18. Honestly, it was difficult to tell my mother but, the hardest person to tell was myself. I think it's hard for us to see ourselves with deep compassionate clarity. When you know what you are and what you are not, there is beautiful but terrible power in that. And at the time I didn't know what to do with that power.
Who's your LGBTQ hero?
I am really in awe of the everyday, college night- and Sunday brunch-hosting drag queen. There is a fearlessness that they show by rejecting American social norms. I hope to have that kind of day-to-day courage to stand in my truth.
What LGBTQ stereotype most annoys you?
I can't really think of one.
What's your proudest professional achievement?
As an educator, I'm always so proud when I see my students learning and integrating new ideas and concepts.
What terrifies you?
Not living up to my potential. Also, not being able find a partner to share my life with.
What's something trashy or vapid you love?
Reunion specials for reality TV shows. Like MTV's "The Challenge," "Drag Race" and "Real Housewives of Atlanta." It's so messy. Sometimes I don't even watch the season, just the reunion.
What's your greatest domestic skill?
I make delicious breakfast sandwiches at 3 a.m. after leaving a club or party.
What's your favorite LGBTQ movie or show?
"To Wong Foo, Thanks for Everything! Julie Newmar" and "Moonlight" I watch once a month. "Queer as Folk" (American) is my favorite show. Watching the very first episode was one of the first moments that let me know I liked men. I mean Brian Kinney.
What's your social media pet peeve?
Being unnecessarily passive aggressive in someone's comments. If there is an issue, just DM the person.
What would the end of the LGBTQ movement look like to you?
I think when we can lose the letters LGBTQIA+ will let us know that the greater society has stopped seeing us as other. I know its cliché, but just being a person, no labels, is very underrated.
What's the most overrated social custom?
Small talk. I hate talking about absolutely nothing with someone I don't know. Sometimes it's OK just to be quiet.
What was your religion, if any, as a child and what is it today?
Grew up in a Baptist church. I consider myself to be a Christian though probably not a pious one.
What's Baltimore's best hidden gem?
The people in Baltimore are consistently some of the funniest people I have ever met.
What's been the most memorable pop culture moment of your lifetime?
Beychella/ Homecoming. I don't have enough words to describe how ridiculous Beyonce and her team are. They get millions of people to agree on one thing. And they know how to keep a secret.
What celebrity death hit you hardest?
Brittany Murphy's sudden death made me sad. I really enjoyed her as an actress. Also, Robin Williams's death took my breath away.
If you could redo one moment from your past, what would it be?
My maternal grandmother died from pancreatic cancer when I was a teenager. I remember seeing her for the last time and knowing it would be the last time I'd see her alive. I wish I could have said something in that moment to let her know how much I loved her.
What are your obsessions?
I love fantasy/sci-fi novels ("Lightbringer Series," "King Killer Chronicles," "The Expanse"), good pizza, great and healthy intimacy, looking out for my friends and family. Oh, and dance.
Finish this sentence — It's about damn time:
… that we stop pretending that the first seven cycles of "Top Model" isn't some of the best TV ever.
What do you wish you'd known at 18?
To be kinder to myself. I was so critical of myself that often prevented me from enjoying the process of growing up. I wish I had known to kiss more guys. Wish I knew to save money instead of spending it on food and video games. I wish I was able to see that even though I had lost my brother, who was my only friend at the time, that I wasn't alone.
Why Baltimore?
Super cheap rent.