June 21, 2019 at 12:00 pm EST | by Yulani Rodgers
Calendar: June 21-27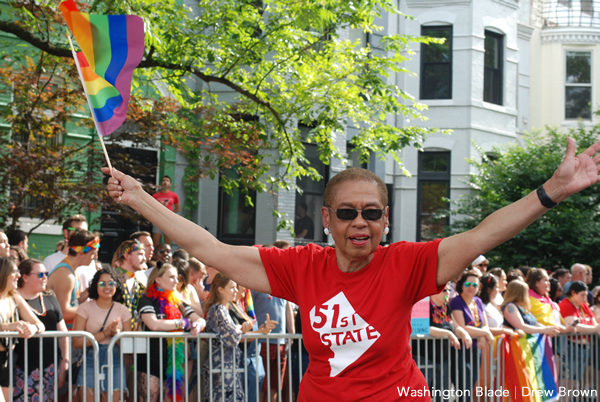 Friday, June 21
The 18th Street Singers will close their season with"Ties that Bind: Music Traditions from Around the World" tonight at the National City Christian Church (5 Thomas Circle, N.W.) at 8 p.m. In this spring concert series, singers will "highlight classical and folk traditions to explore musical cross-currents that infuse and connect us all." The group is a classical chorus that seeks to redefine the genre by performing a diverse selection to draw in a younger and wider audience. For more information and to purchase tickets, visit eventbrite.com.
Queer Girl Movie Night is hosting its June screening tonight at Republic Restoratives (1369 New York Ave., N.E.) tonight from 7:30 p.m.-10:30 p.m. The selected film will focus on the representation of queer womxn in film although the title has not been revealed yet. This is a monthly event featuring different films and seeks to create established inclusive places for queer womxn. It's free and open to all ages.
Saturday, June 22
Mayor Muriel Bowser's Office of LGBTQ Affairs will host its second annual District of Pride event at the Lincoln Theatre (1215 U St., N.W.) tonight at 7 p.m. The event will consist of queer artists from the area along with a special appearance by Rayceen Pendarvis, the Empress of Pride and the Gay Men's Chorus of Washington. The office advises the Mayor and D.C. government on the needs of the LGBTQ residents through technical assistance and training. The event is free but registration is required. For more information and to register, visit districtofpride2019.eventbrite.com.
The D.C. Reunion Project presents Thriving with HIV today at the Milken Institute (950 New Hampshire Ave., N.W.) from 9:30 a.m.-5:30 p.m. The event is "a local experience for long-term survivors" living anywhere in the D.C. Metropolitan area and includes a continental breakfast and lunch. The Reunion Project "hosts one-day summits around the country, and is led by a National Steering Committee made up of people living with HIV." Registration is free and confidential. For more information and to register, visit dcreunionproject2019.eventbrite.com.
Sunday, June 23
Geek Nite Out will host a "Getting Buzzed at Drag Brunch" event at St. Arnold's Cleveland & The Abbey (3433 Connecticut Ave., N.W.) today at 11 a.m. Before going to see "Toy Story 4," attendees can enjoy a "one of a kind drag brunch." The show starts at 12:30 p.m. but the group will leave around 1:10 p.m. to see the movie at the AMC Loews Uptown 1 (3426 Connecticut Ave., N.W.). Geek Nite Out is a group for people looking to meet new people and sometimes do "extremely geeky things." For reservations, visit starnoldsmussel.com.
Dragon's Breath Yoga (3423 14th St., N.W.) will start its Queer Yoga and Snacks event today from 2-4:30 p.m. The event will consist of 90 minutes of yoga followed with time to meet new people and build connections. Coordinators would like the event to be reccuring every fourth Sunday afternoon and are willing to expand. Tickets are $10 and participants are advised to bring snacks to share. To purchase tickets, visit clients.mindbodyonline.com.
Monday, June 24
The Songbyrd Music House & Record Cafe (2477 18th St., N.W.) will host an Autostraddle Meetup with queer trivia tonight at 7 p.m. Autostraddle is an online community for lesbian, bisexual and queer women that's the "most popular lesbian website." Donations are being accepted and will go to Sylvia Rivera Law Center. To make a donation, visit eventbrite.com.
Congresswoman Eleanor Holmes Norton is celebrating pride at Red Bear Brewing (209 M St., N.E.) tonight from 7-8 p.m. She'll be there to discuss issues concerning the LGBTQ and D.C. community. Congresswoman Norton is a strong supporter of the Equality Act and has recently introduced a bill to ban discrimination of LGBTQ jurors in local D.C. court. To register, visit eventbrite.com.
Tuesday, June 25
A "POSE" viewing party will be held at the D.C. Eagle (3701 Benning Rd., N.E.) tonight at 10 p.m. This is a weekly event that allows attendees to watch the hit show with two flatscreens. "POSE" is a drama spotlighting the legends, icons and ferocious house mothers of New York's underground ball culture, a movement that first gained notice in the 1980s. The show was also recently renewed for a third season. To RSVP, visit eventbrite.com
Desiree Dik will host drag bingo tonight at 7 p.m. at Red Bear Brewing (209 M St., N.E.). Four games will be played for prizes followed by a drag show. Its free to play and games are held every second and fourth Tuesday of the month. For more information, visit redbear.beer.
Pat Benatar and Neil Giraldo will play tonight at the Wolf Trap (1551 Trap Rd., Vienna, Va.) at 7 p.m. The concert will open with Liz Phair and Melissa Etheridge performing their own hits like "I'm The Only One" and "Why Can't I?" Other songs that will be performed are "Hit Me with Your Best Shot" and "Love Is a Battlefield." Tickets start at $35 and doors open at 5:30 p.m. For more information and to purchase tickets, visit wolftrap.com.
UFCW Outreach and NOVA Pride at Work present their Pride movie night event tonight with a screening of "Milk" at 6 p.m. at NOVA Labor (4536 John Marr Dr., Annandale, Va.). "Milk" is a biopic of slain elected official Harvey Milk. For more information, call Frank at 571-278-6186.
Wednesday, June 26
United Night Out 2019 will be hosted by Federal Triangles Soccer Club tonight from 6-10 p.m. at Audi Field (100 Potomac Ave., S.W.). D.C. United is celebrating its ninth annual Pride Night and a portion of ticket sales supports the club and Team D.C. The first 500 people to purchase tickets through its website will receive a D.C. United pride themed koozie. Gates open at 5 p.m. and tickets are $30. To purchase tickets, visit offer.fevo.com.
The Lambda Bridge Club meets at the Dignity Center (721 8th St., S.E.) tonight at 7:30 p.m. The club will be playing duplicate bridge games and newcomers are welcomed. The group hosts games every first and third Wednesday of the month and serves gay bridge players. No reservation is required. To find a partner, call 202-841-0279.
NLGJA-D.C., a local LGBT journalism group, has a Pride happy hour tonight at 6 p.m. at Nellie's (900 U St., N.W.). Members are non-members are welcome. Look for the event page on eventbrite.com for details.
Thursday, June 27
Reel Affirmations XTRA presents "Rafiki" at Landmark's E Street Cinema (555 11th St., N.W.) tonight at 9 p.m. Rafiki is a movie about the love story between two young women in a country that still criminalizes homosexuality and forces them to choose happiness or safety. Reel Affirmations XTRA is The D.C. Center's monthly film series that "keeps LGBTQ images and life stories on the foreground of the Arts and Culture scene." Tickets are $14. To purchase, visit dccenter.org/events/rafiki.
Peak Unlimited LLC is hosting an Evaluate & Elevate Business Forum today from 9 a.m.- 2 p.m. at the Hilton Garden Inn Fairfax (3950 Fair Ridge Dr., Fairfax, Va.). The event will feature panelists who will evaluate issues within businesses and provide recommendations for elevation. Peak Unlimited LLC provides "exceptional practical training, brand and business audits. Tickets start at $50. To purchase, visit eventbrite.com.