July 9, 2019 at 11:50 pm EDT | by Michael K. Lavers
Norton hosts community forum on hate crimes in DC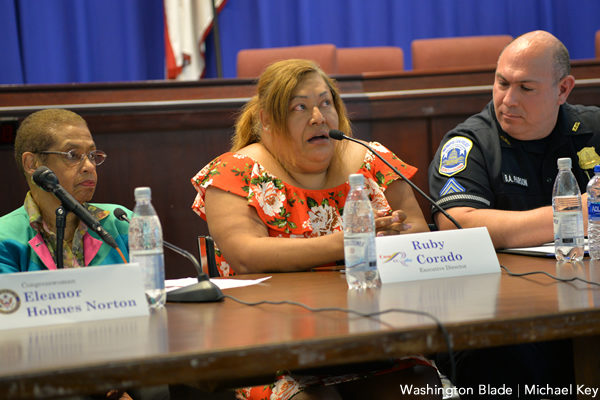 Delegate Eleanor Holmes Norton (D-D.C.) on Tuesday hosted a community forum on the recent spate of anti-LGBT attacks in the nation's capital.
Norton acknowledged the number of reported hate crimes in D.C. nearly doubled over the last two years.
The Washington Post earlier this year reported there were 209 reported hate crimes in D.C. in 2018, compared to 107 that were reported in 2016. Norton on Tuesday said half of all reported hate crimes in D.C. are based on gender identity and sexual orientation.
"There's been a doubling of hate crimes in our city in just two years," said Norton. "That's nothing to be proud of."
"Half of them were based on sexual orientation or gender identity," she added. "That's nothing to be proud of."
Lieutenant Brett Parson, who oversees the Metropolitan Police Department's LGBT Liaison Unit, participated in the event that took place at One Judiciary Square. Casa Ruby CEO Ruby Corado, Helping Individual People Survive (HIPS) Development Associate Shareese Mone and National Center for Transgender Equality Deputy Executive Director for Policy and Action Rodrigo Heng-Lehtinen also joined Parson and Norton.
The forum took place less than a month after Zoe Spears, a 23-year-old transgender woman and former Casa Ruby client, was killed near Eastern Avenue in Fairmount Heights, Md. Ashanti Carmon, a 27-year-old trans woman, was murdered in the same area on March 30.
A man with a gun demanded oral sex from trans women who were walking on Georgia Avenue near Casa Ruby in Northwest D.C. on June 15. Emmelia Talarico of No Justice No Pride was assaulted and threatened on June 18 when she was leaving a grocery store in Eckington.
A group of men attacked Braden Brecht and his boyfriend, Karl Craven, on U Street on June 16. Three people were stabbed inside the Fireplace, a gay bar on P Street in Dupont Circle, on the same day.
A Florida man on June 24 allegedly shouted anti-gay slurs at the manager of a Wawa in downtown D.C. when he attacked him with a stolen bicycle.
Corado became emotional when she spoke about Spears, who she said called her "mom."
"She was an amazing kid," said Corado, who added Casa Ruby is planning Spears' funeral that is scheduled to take place on Friday. "She was someone who had a lot of dreams."
Mone read the names of Spears, Carmon and the nine other trans women who have been murdered in the U.S. so far this year. Norton said 29 trans women were murdered in the country in 2017.
"The only time people care about the transgender community is when one of us dies," said Mone.
Mike Silverstein, a gay Advisory Neighborhood Commissioner from Dupont Circle, is among those who spoke at the forum.
He and other members of the ANC Rainbow Caucus last month sent a letter to D.C. Council Chair Phil Mendelson (D-At-Large) and other officials that urged them to add additional funding in the city's budget for which 15 advocacy groups asked earlier this year. Others who spoke at the forum said D.C. Mayor Muriel Bowser and her administration need to do more to tackle violence and discrimination based on gender identity and a lack of employment opportunities for trans Washingtonians.
Sheila Alexander-Reid, director of the Mayor's Office of LGBTQ Affairs, was among the dozens of people who attended the forum.
"If we prevent the crime from occurring, then bias would not be considered because a crime has not been committed," said Parson. "We need rooms full of more people. We need communities to be more outraged like the four of us are."
Criticism of U.S. Attorney Jessie Liu's handling of hate crimes cases is among the other topics discussed during the forum. Norton said she will "make an inquiry" about how many cases Liu's offices has prosecuted.