August 8, 2019 at 12:08 pm EDT | by Kevin Majoros
D.C. Gay Flag Football League regrouping as participation dips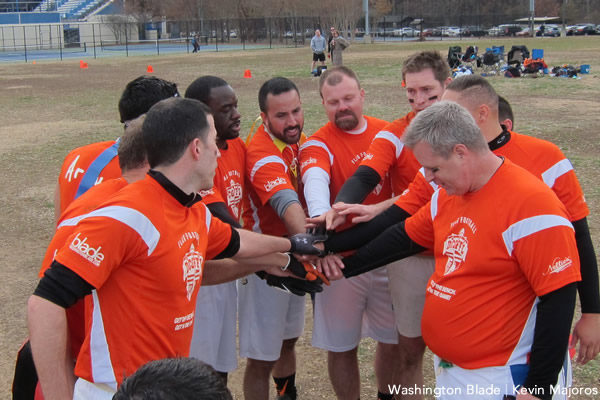 With upwards of 40 LGBT sports teams and leagues in existence, Washington has a thriving sports community that continues to grow each year. While there are many players who compete in multiple sports at the same time, it's also common for players to migrate from sport to sport.
A swimmer might feel burned out in the pool and decide to try rugby. A softball player might be too injured to play ball and moves over to the dart league. A sport that meets multiple times per week might be too time consuming for the player who switches to a sport that's only held once a week.
There are a lot of factors at play, but the end result is ebbs and flows in the athlete numbers that each team or league can maintain. A league with a waiting list can become a league with low numbers and vice versa.
The good news is that the LGBT sports community continues to flourish, just not in a way that every team or league can count on.
In the mid-1990s, there was a group of flag football players meeting weekly at Francis Field and a group playing near the Washington Monument. In 1998, the groups came together and the beginnings of the D.C. Gay Flag Football League were set in motion.
After building for a few seasons, the league consistently had 20 teams playing, sometimes 22. Last spring, for the first time since 2011, it dropped to 14 teams.
They had evolved over the years to keep the league fresh, so the drop was unexpected. With so many factors at play, league leadership was unsure of what caused the decline. They have ideas on pulling their numbers back up.
"We were consistently pulling in 60 new players each season and we didn't hit that number this past spring," says league Commissioner Brandon Waggoner. "Quarterbacks are a leadership role for each team, and we have a hard time maintaining the head count for that position."
League leadership is hoping to engage some tactics for its upcoming 19th season and beyond. That will include recruiting events, attracting new sponsors, changes in their social event locations and changes to their player draft. One big change they're gunning for is a change of venue for league play.
The league has been playing at the Carter Barron fields since its inception. Last week, the fields at Carter Barron were used as a parking lot for the Citi Open tennis tournament. As in previous years, the league will do maintenance on the fields to have them in shape by the time its season starts this fall.
The new location members are targeting is the much-coveted fields that have just opened at RFK. The Fields at RFK Campus include three multi-purpose turf fields to accommodate kickball, soccer, lacrosse, baseball, softball and more.
There are a whole lot of teams and leagues (straight, LGBT, youth) vying for those permits. The daily operations of The Fields are being managed by Capitol Riverside Youth Sports Park. Several entities such as D.C. Fray, Capitol Hill Little League and District Sports have already secured spots.
In the meantime, the league is looking to its future in an attempt to even out numbers.
"We are going to be paying attention to all the details and bring a fresh perspective," says JJ Johnson, the league's director of operations. "We want to reach a higher level of competition and better game-day experience. This is a big job and we will continue to do it well."
"I love our league and the journey that we have been on," Waggoner says. "I was around for the beginning and I am happy to back in a leadership position that will take us to our 20th season in 2020."