August 8, 2019 at 4:33 am EDT | by Joey DiGuglielmo
QUEERY: Carlos Richardson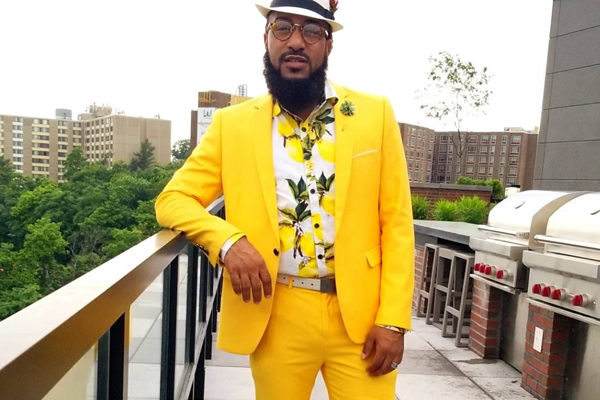 Carlos Richardson stumbled into teaching "by mistake" and ended up becoming teacher of the year.
He'd earned a bachelor's in international studies/political science but a career on Capitol Hill did not materialize the way he'd hoped. Feeling frustrated and stuck in his college job at B. Dalton Bookseller when a friend told him about a teaching job he thought might be a good fit for Richardson.
"The rest is history," the 41-year-old Ypsilanti/Ann Arbor, Mich., native says. "When I reflect back, I was always a teacher. I always played the teacher when playing school as a kid and I had a little library in my bedroom where I pretended to be the librarian checking books out to my siblings."
Richardson teachers social studies at Friendship Collegiate Academy, a local charter school. In 2014, he was named "teacher of the year" out of the nine schools in FCA's network, an event he calls the "biggest accomplishment of my life and career" and "a surreal moment."
Richardson says charter schools give parents and students a choice in the direction they want their education to take.
"Charter schools have the freedom to have an objective and focus that caters to the needs of our students," he says.
Richardson came to Washington 18 years ago just after college. His father was from here and he'd always liked his visits here growing up.
He's engaged to his partner of seven years, Marco Brooks. They live together in Lincoln Heights. Richardson enjoys travel, fashion, concerts, reading and time with friends in his spare time.
How long have you been out and who was the hardest person to tell?
I have been out since I was 19. I was dragged out of the closet by my mother. The hardest part was having a one-on-one conversation with my father about it. It went extremely well though.
Who's your LGBTQ hero?
James Baldwin. "Giovanni's Room" changed my life.
What LGBTQ stereotype most annoys you?
That we are all about SEX! And that all gay people want straight people. If straight people don't want ya, we don't either!
What's your proudest professional achievement?
Winning Friendship Public Charter Schools 2014 Teacher of the Year award. I could not stop laughing after they announced my name because I could not believe that I actually won.
What terrifies you?
Mass shootings in America, especially in schools. I have been in quite a few places where tragedy has happened shortly after I left. I always think will I one day be there when it happens.
What's something trashy or vapid you love?
High school chick flicks. I love the comedy and because I work in a school, I totally get the clique dynamics and high school personality types. I love the cheap humor in these flicks.
What's your greatest domestic skill?
I can wash a pretty mean dish. I cannot cook at all though and I have no desire to! When finding my mate, I made sure to find one who can cook.
What's your favorite LGBTQ movie or show?
"Moonlight." I felt like I could relate to the characters and the passion and confusion of being gay was so real to me in this movie.
What's your social media pet peeve?
People who write posts with proper nouns that start with lower-case letters. I hate when people purposely take the unpopular opinion on a trending or hot topic just so that they can troll and start controversy — desperate attention seekers.
What would the end of the LGBTQ movement look like to you?
There would no longer be any need for any form of having to "come out," no longer any more coming out parties, there would be an absence of people being exposed and having to justify to anyone the reasons for your LGBTQ status.
What's the most overrated social custom?
Being on time. I think for a lot of situations this is important but for a vast majority of situations, events, invites and more it is not necessary. I'm usually not on time for most events and in the end I'm happy that I wasn't.
What was your religion, if any, as a child and what is it today?
Christian, still a Christian.
What's D.C.'s best hidden gem?
Kenilworth Park & Aquatic Gardens. It's really beautiful and peaceful here.
What's been the most memorable pop culture moment of your lifetime?
Janet Jackson's breast being exposed at the Super Bowl. I am a HUGE Janet Jackson fanatic. I remember watching the halftime show and thinking, "Did I just see that?!" I literally was jumping up and down screaming. My phone started ringing off the hook right after that happened. I will never forget it.
What celebrity death hit you hardest?
Aaliyah. She was young and I was around her age at the time. I could not believe that something like that could happen to such a sweet person. I could not get out of my head how tragic the accident was and for it to happen after ending a great music video shoot. It seemed unreal.
If you could redo one moment from your past, what would it be?
For a period during my sophomore year in college deciding that I didn't care anymore about a lot of the things that I actually really did care about. I shut down, stopped working hard and missed opportunities. I wish I could have seen that I was being self-destructive and was not hurting anyone but myself.
What are your obsessions?
Travel, history, music, fashion, love, good food, friends and family.
Finish this sentence — it's about damn time:
that gay Pride is acknowledged and celebrated all over the world.
What do you wish you'd known at 18?
I wish I knew that there are certain things that I should pursue and take advantage of now because it will be harder or more challenging to accomplish some of those things the older you get.
Why Washington?
D.C. gives you a sense of being in the South while also being in the North. The people of D.C. are educated, cultured and like to have a good time. We have great festivals, great places to eat and a sense of community. Nightlife in D.C. is great and exploring the culture is easy and mainly free.