August 21, 2019 at 8:00 am EDT | by Lou Chibbaro Jr.
Del. Stonewall PAC endorses Sarah McBride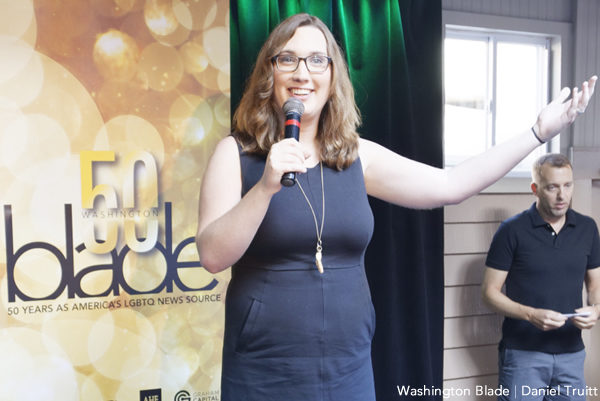 The Delaware Stonewall PAC, a statewide LGBT group that backs LGBT supportive candidates running for public office, announced on Aug. 19 that it has endorsed LGBT rights advocate Sarah McBride in her race for a seat in the Delaware State Senate in a Wilmington district.
"Delaware Stonewall PAC is proud to support Sarah McBride for Delaware State Senate District 1," the group said in a statement. "We celebrate the fact that if elected she would be the first transgender individual elected to a legislative position in Delaware," the group said.
"But we are also cognizant of the fact that she is a person who has excellent qualifications to serve in that capacity," the Stonewall PAC statement says.
The statement notes that McBride was born and raised in the district, "shares the values of people living in the district, and has demonstrated through her work and passion an interest in assuring everyone is treated equally."
Stonewall PAC President Peter Schott said McBride's qualifications go beyond her work on state issues.
"Ms. McBride has gained respect on the national level which can only ensure that Delaware's voice will be heard and respected nationally and we know that all of us will be proud when she is elected as the Delaware State Senator from District 1," said Schott.
The Democrat who currently holds the District 1 seat is not running for re-election, creating an open seat in a Democratic leaning district.