¿Quién es Juan García Rodríguez, el nuevo cardenal cubano, y qué piensa de la comunidad LGBTI+?
El arzobispo de La Habana no ha hecho declaraciones sobre los derechos LGBTI+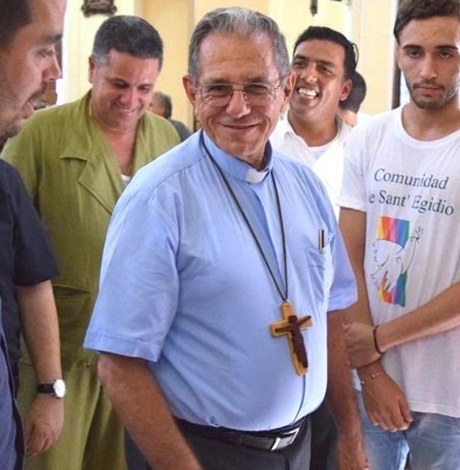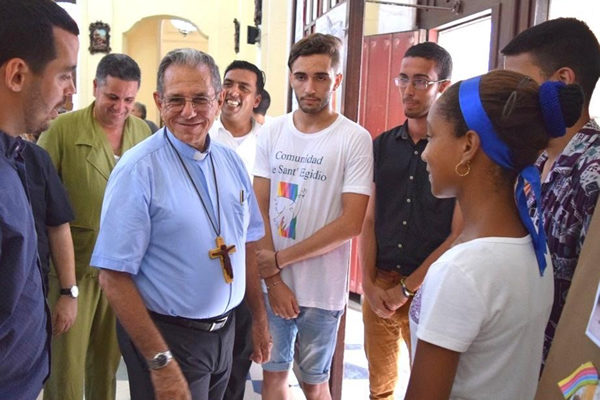 Nota del editor: Tremenda Nota es el medio socio del Washington Blade en Cuba. Esta nota salió originalmente en su sitio web el 1 de septiembre de 2019.
El papa Francisco anunció este domingo en la plaza de San Pedro que próximamente se crearán 13 cardenales y uno de ellos será el cubano Juan de la Caridad García Rodríguez, arzobispo de San Cristóbal de La Habana desde 2016. 
El nuevo cardenal tiene 71 años y nació en Camagüey, sede arzobispal que desempeñó como titular desde 2002, antes de sustituir a Jaime Ortega Alamino en el arzobispado habanero.
García Rodríguez se contará por su edad entre los más de 100 cardenales menores de 80 años que participarían en un cónclave para la elección de otro papa si fuera necesario.
Tres años atrás, cuando sustituyó a Ortega, el arzobispo dijo a la prensa que esperaba aumentar los diálogos con el gobierno cubano y contribuir así a que la iglesia católica participara en la educación y los medios de comunicación, además de tener más acceso a las prisiones.
Al menos en los primeros años de su episcopado no ha conseguido cumplir estas aspiraciones, aunque García Rodríguez mantiene la posición amigable de su predecesor hacia la política cubana que controla el Partido Comunista de Cuba con exclusión de otros grupos.
El pasado mes de julio, por citar un ejemplo de cautela en su relación con el gobierno, el arzobispado de La Habana prefirió no pronunciarse sobre las acciones de las autoridades para impedir que laicos católicos y periodistas independientes participaran en los funerales del cardenal Ortega.
Jaime Ortega Alamino, a quien los medios llamaron "el cardenal del deshielo" por su papel mediador en el acercamiento que tuvieron los gobiernos de Cuba y Estados Unidos en 2014, calificó de "antiguos delincuentes, sin nivel cultural, algunos con trastornos psicológicos" a un grupo de disidentes que ocuparon un templo y fueron desalojados por la policía, a solicitud del prelado, días antes de la visita de Benedicto XVI a la Isla en 2012.
Ortega también había negado, en declaraciones realizadas en 2015, que existieran presos políticos en Cuba.
García Hernández, en cambio, ha evitado declararse sobre estos temas en los últimos años.
"Por su discreción y centrismo, es la persona menos comprometida en las luchas intestinas de la Iglesia cubana", dijo el intelectual laico Lenier González Mederos al periodista Mario J. Pentón en los días que tomó posesión el actual arzobispo.
García Hernández tampoco se pronunció el año pasado sobre la polémica alrededor del matrimonio igualitario que sí generó declaraciones de varios colegas suyos como Dionisio García Ibáñez, arzobispo de Santiago de Cuba, para rechazar el matrimonio entre personas del mismo sexo/género y atribuírselo al "imperialismo cultural", o Wilfredo Pino Estévez, arzobispo de Camagüey, a favor de implementar una unión civil para parejas LGBTI+.
El nuevo cardenal sí figura entre los firmantes de un mensaje publicado por los obispos cubanos acerca del proyecto de Constitución que presentó el parlamento en 2018. En el documento se criticó la intención de definir el matrimonio como "la unión de dos personas" y se calificó este concepto de "mal fundado y erróneo".
Los obispos aseguraron en el texto que no deseaban "menospreciar la dignidad de ninguna persona" y que su posición a favor del matrimonio tradicional "no significa[ba] discriminación".
Finalmente, el parlamento modificó la redacción del artículo y optó por una redacción más técnica y neutra que fue rechazada por gran parte de la comunidad LGBTI+, incluso entre los grupos favorables al discurso oficial.
Durante los debates populares previos al referéndum de la actual Carta Magna cubana, la diputada Mariela Castro Espín, directora del Centro Nacional de Educación Sexual (Cenesex) y activista por los derechos LGBTI+, dijo a la prensa del País Vasco: "Fundamentalistas religiosos están tratando de 'chantajear al Gobierno cubano con que no van a votar a favor de la Constitución si se deja el artículo relativo al matrimonio entre dos personas'".
Castro Espín parecía referirse a las iglesias protestantes que dirigieron varias cartas públicas a la Plaza de la Revolución contra el matrimonio igualitario.
No hay evidencias de que la Iglesia Católica haya intentado influir sobre la redacción final del artículo relacionado con el matrimonio, aunque es probable que sostuviera conversaciones con el gobierno cubano sobre el tema, si se toman en cuenta los antecedentes de mediación política que desempeñó el arzobispado de La Habana en la persona de Jaime Ortega.
El nombramiento de un nuevo cardenal con sede en La Habana, anunciado solo a un mes de la muerte de Ortega, también expresa la voluntad que tiene El Vaticano de mantener su influencia en futuros diálogos con el gobierno cubano.
Transgender immigrant activists march to White House
Marchers demanded end to ICE detention of trans, HIV-positive people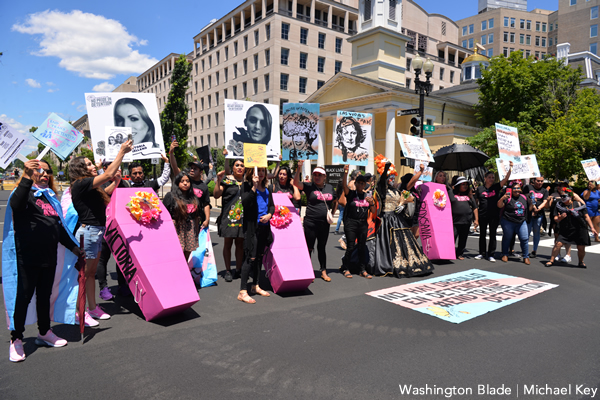 More than 100 people marched to the White House on Wednesday to demand the Biden administration end the detention of transgender people and people with HIV/AIDS in U.S. Immigration and Customs Enforcement facilities.
Casa Ruby CEO Ruby Corado and other marchers left National City Christian Church in Thomas Circle after organizers held a "funeral" for three trans women — Roxsana Hernández, Victoria Arellano and Johana "Joa" Medina Leon — who died while in ICE custody or immediately after the agency released them.
Hernández, a trans woman with HIV from Honduras, died in a hospital in Albuquerque, N.M., on May 25, 2018, while in ICE custody. Arellano, a trans woman with HIV from Mexico, passed away at a hospital in San Pedro, Calif., while in ICE custody.
ICE released Medina, a trans woman with HIV from El Salvador, from its custody on May 28, 2019, the same day it transferred her to a hospital in El Paso, Texas. Medina died three days later.
Hernández's family has filed a lawsuit against the federal government and the five private companies that were responsible for her care.
Isa Noyola, deputy director of Mijente, one of the immigrant advocacy groups that organized the march, emceed the "funeral." Noyola played a message that Hernández's nephew in Honduras recorded.
"The state does not recognize our humanity," said Noyola, who became emotional at several points during the service.
A press release that announced the events said 25 trans women who had previously been in ICE custody participated. They, along with other participants, blocked traffic at the intersection of 16th and H Streets, N.W., near Black Lives Matter Plaza for several minutes before they marched into Lafayette Square.
March participants also carried three pink coffins that represented Hernández, Arellano and Medina. They propped them up on a security fence along Pennsylvania Avenue before they staged a die-in.
The march took place a week after Mijente and seven other immigrant advocacy groups in a letter to Homeland Security Secretary Alejandro Mayorkas and acting ICE Director Tae Johnson demanded the release of all trans people and people with HIV who are in immigrant detention facilities.
The White House on Tuesday announced asylum seekers who saw their cases closed under the previous administration's "Remain in Mexico" policy will be allowed to enter the U.S. in order to pursue them. Vice President Kamala Harris, who traveled to Guatemala earlier this month, has also acknowledged anti-LGBTQ violence is one of the "root causes" of migration from Central America's Northern Triangle.
'Our only crime is to seek opportunities, to seek refuge'
Li An "Estrella" Sánchez, a trans woman from Mexico's Veracruz state who the U.S. has granted asylum, is among those who participated in the march.
She told the Washington Blade during an interview in Lafayette Square after the march that she spent 13 months in ICE custody at three Georgia detention centers — the Atlanta City Detention Center, the Irwin County Detention Center and the Stewart Detention Center — before her release in 2013. Sánchez, who founded Community Estrella, an Atlanta-based organization that advocates for ICE detainees who identify as LGBTQ, said she and other trans ICE detainees face inadequate access to health and solitary confinement, among other things.
"I know first hand what they felt," said Sánchez, referring to the three trans women who died in ICE custody or immediately after their release. "I wouldn't wish it upon my worst enemy to be in a jail."
"Our only crime is to seek opportunities, to seek refuge, to seek protection, to seek security," she added.
Sánchez also had a message for President Biden.
"Listen, because the people are continuing the fight," said Sánchez. "You have promised to support the LGBT community and you are really forgetting the immigrant community."
Kamala Harris addresses LGBTQ community activists at White House roundtable
VP calls herself 'long-standing ally of the community'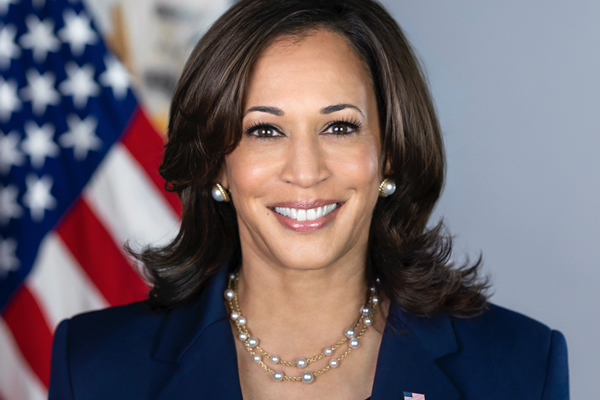 Vice President Kamala Harris addressed LGBTQ leaders Wednesday at White House roundtable in recognition of Pride Month, declaring "there's a lot of work to be done" in terms of LGBTQ issues.
"You as community activists, you all have your eyes and ears to the ground," Harris said in her prepared remarks for the event, which took took place in the Ceremonial Office of the Vice President next to the White House.
Harris, speaking in her prepared remarks that lasted about five minutes, touted the efforts of the Biden administration in advancing LGBTQ rights, including the most recent announcement from the Department of Veterans Affairs it would begin to cover gender reassignment surgery for transgender veterans.
Looking forward, Harris said passage of the Equality Act, legislation that would expand the prohibition of anti-LGBTQ discrimination under federal law, was among the work items to be completed.
"We still don't have full rights when it comes to employment, housing — things of that nature," Harris said. "So there's a lot of work to be done."
Harris, calling herself a "long-standing ally of the community" also identified her past efforts in support of LGBTQ community, going back her time as San Francisco District Attorney when she created for an LGBTQ hate crimes unit, then as California attorney general pushed the state to become the first to outlaw LGBTQ panic defense in court.
"You are the voices of so many who probably will never walk into this room, and probably over the course of time were not thought to be invited into this room," Harris concluded.
Harris also talked about ongoing violence against the transgender community as well as the wave of new state legislatures against transgender youth, restricting their access to school sports and transition-related care.
The LGTBTQ leaders in attendance at the event were, per the White House:
Imani Woody, Founder, Mary's House
Amiri Nash, DC Youth Poet Laureate
Marcelle Afram, Chef and Co-Owner, Shababi Palestinian Rotisserie Chicken
D Ojeda, Policy Advocate, National Center for Trans Equality
Mia Ives-Roblee, Director of Disability Justice Initiative, Center for American Progress
Anthony Musa, Chair, Pride in Federal Service & Sanctions Licensing Officer, U.S. Department of the Treasury
Kevin Jordan Contreas, Community Health Supervisor, Whitman-Walker (Frontline Healthcare Worker)
The Washington Blade attempted to shout out a question after Harris' remarks on efforts to reach out on the Equality Act, but it was drowned out by other reporters' inquiries as White House staffers escorted the pool out of the Ceremonial Room.
Chaos erupts at Loudoun County school board meeting over trans students rights proposal
Two people arrested, two others injured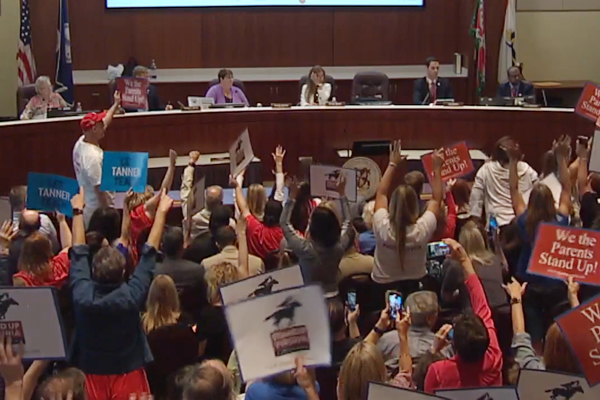 The Loudoun County School Board abruptly ended its meeting Tuesday as chaos erupted after parents who were against the school district's implementation of Policy 8040 failed to observe rules regarding disruptions and decorum.
Loudoun Now reports Vice Chair Atoosa Reaser made the motion to curtail public comment about an hour after that portion of the meeting began. A brawl then broke out between members of the public, and Loudoun County Sheriff's Department deputies were called to clear the room.
Two people were arrested, and two people also suffered minor injuries. The names of those who were taken into custody and injured have not been made public.
The school board resumed its meeting at 6:30 p.m. after it ended the public comment session and deputies cleared the room. The school board entered into closed session to meet with legal counsel and discuss negotiations involving a bid award.
In light of the events that transpired at the school board meeting, a group of LGBTQ groups in neighboring Fairfax County in a statement called upon prominent community members to condemn the anti-transgender hate in Loudoun County.
"A coalition of organizations based in Northern Virginia is calling on local officials … to condemn the rise of anti-LGBTQIA+ hate, in particular animosity towards transgender and gender-expansive students, on display in Loudoun County," reads the statement
"In addition, the coalition is asking for the denouncement of support for this hate from other local groups, including the Fairfax County Republican Committee, the Family Foundation of Virginia and the Family Research Council," it adds. "Finally, the members of these organizations are requesting visible displays of support for LGBTQIA+ students, particularly trans and gender-expansive students, in both words and deeds."
More than 300 people attended the school board meeting, with many of them opposing Policy 8040 which would allow transgender students to use their preferred name and pronouns regardless of the name and gender in their permanent education record. The proposed policy would also not require them to provide any substantiating evidence.
Parents also expressed their support for Policy 8040 during the public comment session.
They spoke in favor of inclusivity and equality in the Loudoun County School District.
Parents who were against the policy cited the need to respect biology and privacy as their arguments. In addition, some speakers, including former state Sen. Dick Black expressed anger at the previous school year's events such as the suspension of physical education teacher Tanner Cross after he refused to refer to trans students using their preferred pronouns.
"The crowd repeatedly cheered public speakers who lashed out at school board members and denounced the plan that would provide bathroom and locker room access based on a student's gender identity," WTOP News reports.
Only 51 of the 249 speakers who had signed up for public comment ended up speaking before Reaser's motion was passed.