Calendar: Sept. 13-19
Performances, parties and events in the week to come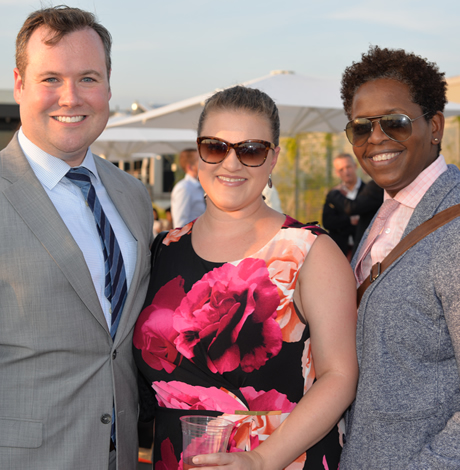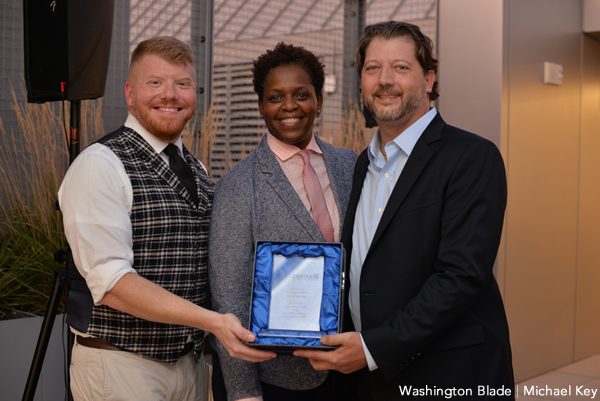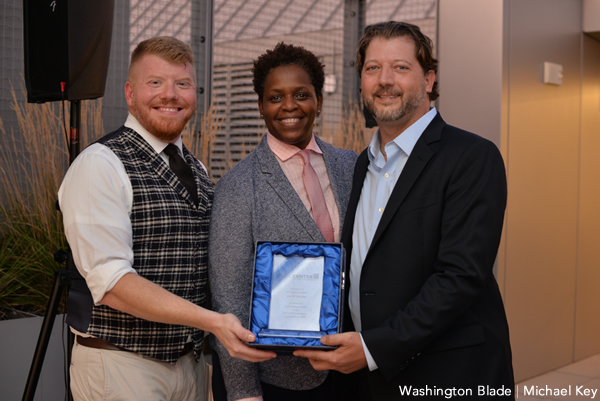 Friday, Sept. 13
The D.C. Center Fall Reception is tonight from 7-10 p.m. at the Warner Building (1299 Pennsylvania Ave., N.W.). Tickets start at $50. This is the Center's signature fundraising event and contributions ensure programming continues for all the D.C. area LGBT community. The reception celebrates 15 years of service as well as a return to the rooftop space at the Warner building. For more information, visit thedccenter.org.
The Alamo Drafthouse (15200 Potomac Town Place, Suite 100, Woodbridge, Va.) is screening "Friday the 13th (1980)" for 24 hours starting at 10 p.m. tonight. Return to Camp Crystal Lake, shuttered for over 20 years due to several vicious and unsolved murders, now home to a new owner with seven frisky, young counselors. Enjoy a prime Kevin Bacon, as counselors and staff re-open the camp despite warnings from the locals. What could go wrong? For tickets and a vintage trailer, visit drafthouse.com. 
Saturday, Sept. 14
Arty Queers, D.C.'s LGBTQ Art Market, is open today from 11a.m.-5 p.m. at the D.C. Center (2000 14th St., N.W., suite no.105). This monthly indoor market features original artwork for sale including paintings, pottery, photography, jewelry and more. All art is created by local LGBT artisans and displayed in the heart of the U street corridor. Art space is available for $20 per table, and interested artists should visit thedccenter.org for more information. 
Drag Picnic hosted by Brooklyn Heights is today from 12:30-3 p.m. at Pitchers D.C. The event is every second and fourth Saturday of the month and showtime is promptly at 1 p.m. Performances by Brooklyn Heights and other D.C. area favorites. Reservations can be made at pitchersdc.eventbrite.com. 
The Harmonizers fall show "The Circle of Life" is tonight fro 4-6:30 p.m. at the Rachel M. Schlesinger Concert Hall and Arts Center (4915 East Campus Drive, Alexandria, Va.). This annual event is a journey through Broadway hits, featuring 2015 Barbershop Harmony Society International Quartet Champions "Instant Classic" and the multi-award winning Sweet Adelines quartet, "GQ." Prices are $35 for general admission tickets and $100 for premier seating. For more information, visit harmonizers.org. 
The 2019 Baltimore Drag Festival hosted by Ryan Butler, Josh Kohn and Micah E. Wood starts tonight at 7 p.m. at the Creative Alliance (3134 Eastern Ave., Baltimore). Baltimore's first-ever drag festival includes vendors, fun, community and drag performances. Headliners include Sabrina White, Karmella and Iyana Deschanel. General admission tickets are $15, $12 for members and $15-18 at the door. VIP tickets are $25, $22 for members. More information at creativealliance.org.
Rave Room featuring Tama Gucci, hosted by Friends with Benefits Radio, is tonight at 10 p.m. Tickets start at $13. Location to be sent by email shortly after purchase.Tama Gucci, a pioneer of R&B and drum and base fusion is the first featured artist of this event series featuring old-school rave, hardcore, breakbeat, hard techno and more. Tickets available at residentadvisor.net or $20 at the door. 
Sunday, Sept. 15
The Maryland Renaissance Festival (1821 Crownsville Road, Annapolis, Md.) hosts a Celtic Celebration today from 10 a.m.-7 p.m. Tickets are $27 for ages 16-61 and $12 for 7-15. Today attendees can enjoy music and merriment with a Celtic flare as they enjoy entertainment throughout the village. For tickets and information, visit rennfest.com.
Monday, Sept. 16
La Ti Do presents Sarah Anne Sillers from 8-10 p.m. tonight at Le Mirch (1736 Connecticut Ave., N.W.). LTD, winner of the D.C. Metro theater arts special award and named Broadway World D.C.'s best cabaret, presents an evening of Jazz performances by Sara Anne Sillers and spotlight feature, Eric Brooks. Guest performers include Rebecca Cooley, Hannah Gilberstadt, Erin Granfield, Michael Santos Sandoval and more. Hosted by Don Michael Mendoza and Anya Randall Nebel. General admission is $20 at the door. More information available at brown paper tickets.com. 
Tuesday, Sept. 17
The Sapphire Sapphos: 40 Years Later is tonight 6:30-8:30 p.m. at Shaw library (1630 7th St., N.W.). Founded in late 1979, this group was D.C.'s first ongoing political, social and cultural group for black lesbians. A panel discussion features past president Tania Abdulahad as she and former members reflect on the organization's cultural and historical significance. The event is free and open to all but space is limited. Register on eventbrite.com. 
The B-52s – 40th Anniversary Tour with guests Orchestral Manoevers in the Dark and Berlin starts at 8 p.m. tonight at The Anthem (901 Wharf St., S.W.). These three chart-topping '80s bands will thrill fans with hits including the B-52's "Love Shack," OMD's "If You leave" and Berlin's "Take My Breath Away." Tickets and information on ticketmaster.com.
Wednesday, Sept. 18
The DC9 (1940 9th St., N.W.) hosts Astronomy on Tap tonight. Doors open at 7:30 p.m. Show starts at 8 and features professional astronomers giving short, engaging talks, prize giveaways and merchandise, including exclusive pint glasses and t-shirts, available for a small donation. Line up includes "How Stars Live and Die" by Liz Landau of the NASA Jet Propulsion Laboratory, "Astronomy on a Rocket" by Nick Thomas of the NASA Goddard Space Flight Center, "Jupiter Exposed" by Rahul Patel of CNA Corporation, space-inspired songs by Liz Landau, astronomy bingo, and rooftop stargazing, weather permitting. For more information, visit dc9.club.
Thursday, Sept. 19
LGBT! #ShowUp4DC is today from 10 a.m.-2 p.m. at the Rayburn House Office Building, and is hosted by the D.C. Center, Capital Pride, DCHomos, Go Gay D.C., HRC and the Mayor's Office of LGBTQ Affairs. This event is to support H.R. 51, the D.C. Statehood Bill, scheduled for hearing today. Supporters state Congress made statehood an LGBT issue when blocking needle exchange programs and medical marijuana during the early days of the HIV/AIDS epidemic. Current D.C. Council legislation facing possible Congressional interference include LGBT Older Americans and Older People with HIV Act and the Gay and Trans Panic Defense Bill. Visit showup4dc.com for more information. 
DC Center to host estate planning seminar series
Three sessions presented by Murray Scheel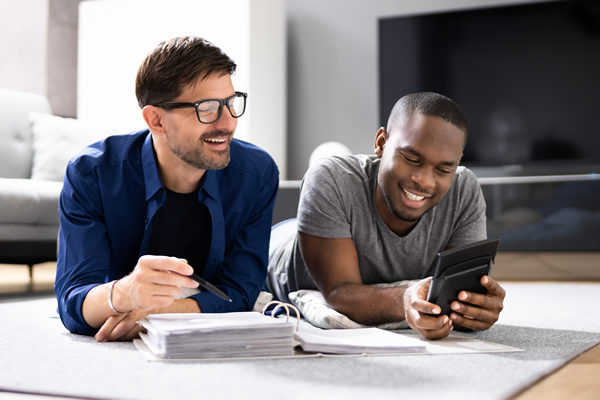 The DC Center for the LGBT Community and the DC Department on Aging and Community Living will host "Estate Planning Tools with Murray Scheel" via Zoom. 
Scheel will walk guests through the process of taking care of the end-of-life planning business that needs to be addressed during the golden years. Scheel is Senior Staff Attorney at Whitman-Walker Health's Legal Services.
This event series will consist of three 1.5-hour sessions:
Jan. 19, 3 p.m. – "Tools for while you're living" (overview, general power of attorney, healthcare power of attorney, disposition of remains, etc.)
Jan. 26, 3 p.m. – "Tools for after you're gone" (living wills, last wills, assets, etc.)
Feb. 2, 3 p.m. – "Healthcare insurance & long term care" (Medicare, Medicaid, correcting misinformation, skilled nursing, hospice care, etc.)
To register for this event, visit the DC Center website.
DC Center to host legal seminar for trans people
Attorney Richard Tappan and paralegal Miranda Shipman to give legal advice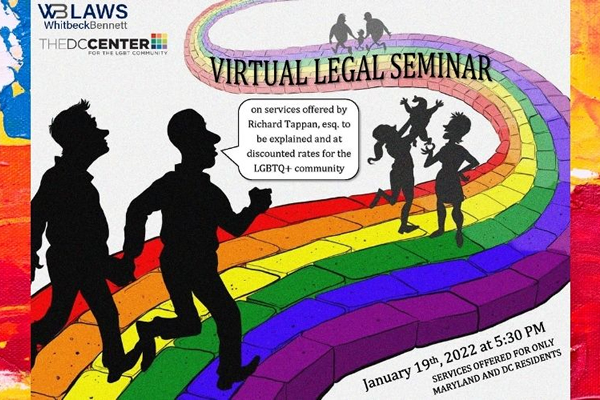 The DC Center for the LGBT Community will host a "Gender and Name Change Legal Seminar" on Wednesday, Jan. 19 at 5:30 p.m. online.
Attorney Richard Tappan and paralegal Miranda Shipman will give legal advice and speak on the importance of the legal community within the LGBTQ community, the difficulties of the LGBTQ community in the legal field and name and gender changes.
Guests can find the link at the DC Center website.
Busboys and Poets to focus on peace in 2022
Special guests include Angela Davis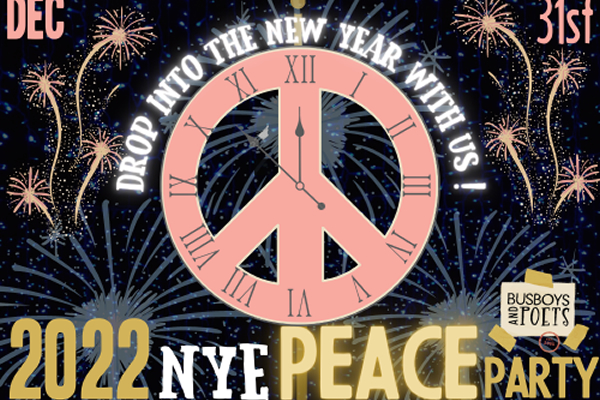 Busboys and Poets will host "The 2022 NYE Peace Party" on Friday, Dec. 31 at 9 p.m. at Busboys and Poets in Columbia.
The event will feature peace activists and literary powerhouses such as political activist, philosopher, academic, scholar and author Angela Davis, activist, scholar and educator Gina Dent, and renowned writer, poet, playwright and activist Sonia Sanchez, among others.
There will also be live music, food, party favors, champagne toast and free parking. Tickets are available on Eventbrite.