September 19, 2019 at 11:32 am EDT | by Peter Rosenstein
No, Biden didn't 'shine' in debate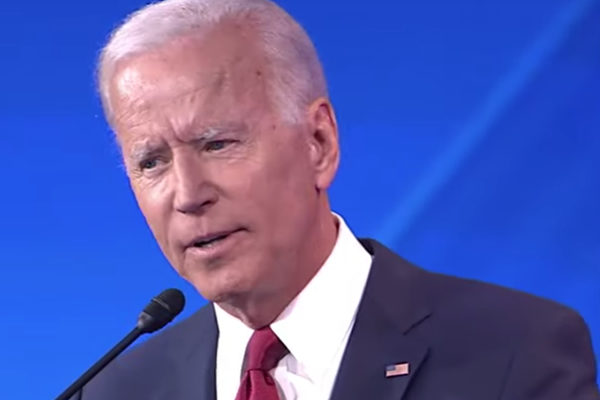 Contrary to the Washington Post's initial headline "Joe Biden Shines" in the third debate on Dan Balz's column, he did not shine. In fact the Post changed the headline to "For most of the night, Biden weathers a volley of attacks" a more accurate description.
Biden was better in the third debate but then we may be setting the bar low for what we consider doing well. He had a good opening and generally seemed to know his topics giving clearer answers. He was then aided by getting some sympathy for much of the rest of the debate after Julian Castro's attack on him which wasn't an attack on his policies but rather a personal attack aimed at his age.
As Balz wrote "There were moments he would want to take back. Pressed by one of the moderators, Jorge Ramos, to declare whether he had made a mistake in supporting the deportation policies carried out during the presidency of Barack Obama, Biden paused, seemingly uncomfortably, and then said, "I'm the vice president of the United States."
"That drew a rebuke from Julián Castro, the former mayor of San Antonio and housing secretary in the Obama administration. He challenged Biden, claiming the former vice president seemed happy to take credit for good things under Obama but walked away from the bad things." That was a policy attack and was more legitimate.
Many people were OK with Biden's performance but were amazed at his response, or lack of response, to the question put to him by ABC News correspondent Linsey Davis. She asked Biden, "Mr. Vice President, I want to come to you and talk to you about inequality in schools and race. In a conversation about how to deal with segregation in schools back in 1975, you told a reporter, "I don't feel responsible for the sins of my father and grandfather, I feel responsible for what the situation is today, for the sins of my own generation, and I'll be damned if I feel responsible to pay for what happened 300 years ago." You said that some 40 years ago. But as you stand here tonight, what responsibility do you think that Americans need to take to repair the legacy of slavery in our country?" He didn't answer what he thinks now and went on to in essence blame African-American parents for their poor parenting skills suggesting that is the reason their children are doing poorly in school. The line that got attention was his calling on parents to use their 'record player' but it was his entire answer that was perplexing to say the least.
Joe Biden may well be the Democratic nominee, and I will support him 100 percent, but he didn't shine in this debate. The person who did shine was Beto O'Rourke. When asked by David Muir "Some on this stage have suggested a voluntary buyback for guns in this country. You have gone further. You said, 'Americans who own AR-15s and AK-47s will have to sell them to the government, all of them.' You know the critics call this confiscation. Beto responded "Hell yes we are going to take your AR-15, your AK-47." Now that may not be enough to get him back into contention for the nomination but for this one night he did shine. His responses on gun control and immigration were spot on, coherent and smart. His passion shone through. Cory Booker did a good job as did Amy Klobuchar and Kamala Harris was great and took the debate to Trump from her opening statement to her comments on healthcare. Mayor Pete while not answering the question he was asked made a statement that resonated with the LGBTQ+ community when he said, "I came back from the deployment and realized that you only get to live one life and I was not interested in not knowing what it was like to be in love any longer, so I just came out." In that moment he shined.
We have a long way to go before we have a nominee and as Cory Booker reminded us again on Meet the Press last Sunday, in recent history no frontrunner at this time in the Democratic primary process has ever gone on to be elected president of the United States. Democrats tend to elect younger, vibrant candidates like Kennedy, Carter, Clinton and Obama. Now this may be a different time and many will say past situations aren't comparable. They could be right. But then again it will be a long time till we find that out. There are nearly four and a half months until Democrats actually begin to vote in caucuses and primaries beginning with Iowa. 
Peter Rosenstein is a longtime LGBT rights and Democratic Party activist. He writes regularly for the Blade.