September 18, 2019 at 1:19 pm EDT | by Richard J. Rosendall
Something worth more than winning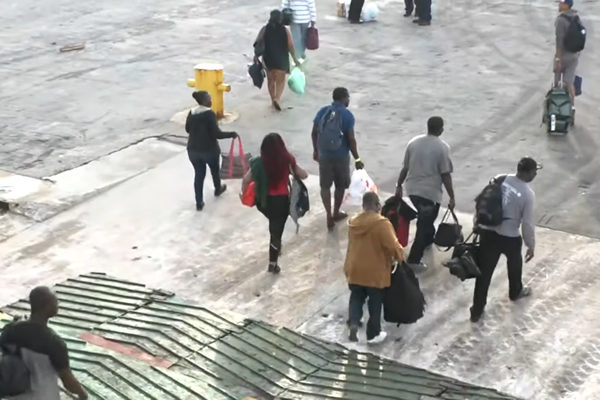 One of the LGBT refugees in Kenya whom I have helped in the past few years is a Ugandan named Musa. Last Wednesday, after years of waiting and suffering, he was scheduled for resettlement, with a long flight from Nairobi to Frankfurt and thence to his new home in Iceland. My last bit of help was sending him money to get to the airport.
Displaced people from Africa to the Middle East to Central America are seeking new homelands in which they can work to fulfill their dreams.
Many African politicians, including in Kenya, Tanzania, and Uganda, blame homosexuality and transgender identity on colonialism, when in fact what the colonial powers introduced was intolerance. Former Zimbabwean President Robert Mugabe, who declared gay people "lower than pigs and dogs," finally died recently at age 95 in a hospital in Singapore.
In Britain, one of the sentiments stoked by Brexit supporters, including members of Prime Minister Boris Johnson's cabinet, was hostility toward migrants from countries Britain spent centuries plundering. The "Mother of Parliaments" ended its legislative session in rancor. The so-called prorogation was orchestrated by Johnson, who, with Her Majesty's pro forma approval, cut short the session to facilitate his crash-out from the European Union.
England is far from alone in its anti-immigrant recrudescence. America has long been enriched by immigrants whose progeny too often forget their heritage and withdraw the welcome mat. Acting USCIS director Ken Cuccinelli asserts that "The New Colossus," the Emma Lazarus poem engraved on Lady Liberty's pedestal in New York Harbor that includes "Give me your tired, your poor," was meant to welcome only Europeans. Trump's regime continues to betray American principles.
Unmoved by others' suffering, Trump last week suggested Bahamian refugees from Hurricane Dorian were members of gangs. When he referred to "some very bad people," Trump did not appear to include the white thugs he has encouraged to beat up protesters at his rallies.
We may be able to find a more politically palatable descriptor of Trump's racism than racism, but let's be clear: the truth will be spoken come what may. Those facing ICE raids, biased policing, and a spike in hate crimes cannot be expected to endure it quietly. We must deal with this in one way or another.
A recent Times headline said: "Salvadorans, Washington's Builders, Face Expulsion under Trump." As a friend wrote on Facebook, "Most people have no idea the level of contributions these communities have made." Indeed, they embody the American dream, which remains true regardless of Trump. If we want to protect our country, perhaps we should deport Stephen Miller.
Like Brexiteers, America's white nationalists seek to erase the history of colonialism and claim exclusive rights for themselves. Sorry, but the legacy of the past is all around us, and the asserted racial exclusivity contradicts America's founding texts. That contradiction has driven struggles for justice for 243 years.
Values must be lived. At last week's Democratic presidential debate, Pete Buttigieg spoke of the risk he took as an elected official by coming out as gay during Mike Pence's governorship. He did not want to go through life without knowing what it was like to be in love. So he trusted the voters, who reciprocated by re-electing him with 80 percent of the vote. "[P]art of how you can win and deserve to win," he said, "is to know what's worth more to you than winning. And I think that's what we need in the presidency right now. We have to know what we are about."
That is the most mature, powerful truth I have heard from a candidate this cycle. Some say Buttigieg is finished and his strong fundraising is just a money pit. Why not wait for actual voters to weigh in?
The morning after the debate, Musa called me from Iceland via WhatsApp. He was giddy with happiness. He told of the warm welcome he and the others being resettled had received, their spacious house, his large bed and wardrobe. And he told of a wondrous thing he had never previously seen: before the plane landed, the pilot told them to look out the right-side windows to see the Northern Lights.
Richard J. Rosendall is a writer and activist. He can be reached at rrosendall@me.com.
Copyright © 2019 by Richard J. Rosendall. All rights reserved.