August 27, 2019 at 9:11 am EDT | by Kathi Wolfe
Trump admin perverts meaning of Statue of Liberty poem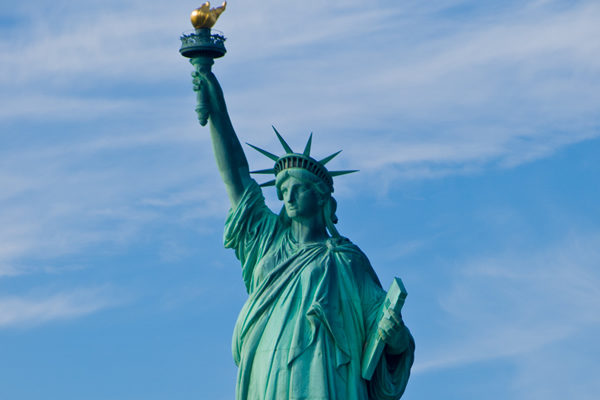 You gotta hand it to them: The Trump administration has everyone chattering about poetry. Not only poetry freaks like me who love our poet laureates as we do our rock stars. Or poetry slam enthusiasts. But everybody from my neighbor to my cousin, who's a lawyer.
Why are so many tongues wagging about poetry when most of us bards sell few books? When queer poet W.H. Auden famously said, "poetry makes nothing happen."
You'd think the outburst of poetry chat would have been sparked by an edgy Instagram poet or a hot Twitter haiku. But, no. The ire was ignited by something as American as apple pie: "The New Colossus," the poem by Emma Lazarus that's on the pedestal of the Statue of Liberty.
Unless you've been on Mars, you know the most famous of Lazarus' words: "Give me your tired, your poor,/ Your huddled masses yearning to breathe free,/The wretched refuse of your teeming shore./Send these, the homeless, tempest-tost to me./I lift my lamp beside the golden door!"
It began after the Trump Administration announced its revisions to he "public charge" rule on immigration. I'm no lawyer, and I won't pretend to understand the legalese involved.
These revisions, beginning on Oct. 15, will deny green cards and visas to legal immigrants who use or who would likely use benefits such as Food Stamps or Medicaid.
This will hurt everyone from people of color to queer folks to disabled people – anyone who wouldn't be able to say they'd have a job or an independent source of income if they came to this country.
I think of my great-grandparents who came to the United States to escape the pogroms of Eastern Europe. They came here with nothing. While working in the fields and in cigar factories, they built a life for themselves and their children. It's hard to think what would happen if they arrived today.
Then on Aug. 13, Ken Cuccinelli, acting director of U.S. Citizenship and Immigration Services spoke to NPR's "Morning Edition," about the Trump administration's revision of the Public Charge rule. He said that people who were a public charge (who use benefits such as Medicaid) were a "burden on the government."
"All immigrants who can stand on their own two feet, self-sufficient, pull themselves up by their bootstraps," would be welcome to come to the U.S., he added.
Then, Cuccinelli became a poet. "Would you also agree that Emma Lazarus's words etched on the Statue of Liberty…are also a part of the American ethos?" NPR's Rachel Martin asked him.
"They certainly are: 'Give me your tired and your poor who can stand on their own two feet and who will not become a public charge,'" Cuccinelli said.
Cuccinelli's rewriting of Lazarus' words had no rhyme or rhythm.
Yet, Cuccinelli's Orwellian riff on "The New Colossus," which Lazarus wrote in 1883, is disturbing. Lazarus, who died in 1887 at age 37, from cancer, was a poet, writer and fifth generation American Jew.
Lazarus became an advocate for Eastern European Jewish immigrants. She was asked to write a poem to raise funds for the pedestal of the Statue of Liberty.
Lazarus decided to write it when, "her friend Constance Cary Harrison said…'Emma, think of these refugees you are helping,'" Annie Polland, executive director of the American Jewish Historical Society, told NPR, "Think of how they'll see the statue in the harbor."
But, Lazarus didn't write "The New Colossus" to only welcome European immigrants to this country. She wrote it to "argue that aiding the poor and oppressed of all lands was the mission of all Americans, the mission of America itself," Esther Schor, author of "Emma Lazarus," wrote in a recent oped in The New York Times.
Talking about poetry is fab! But, politicos, stop tweaking poems to justify your unjust policies.
Kathi Wolfe, a writer and a poet, is a regular contributor to the Blade.