September 24, 2019 at 6:19 pm EDT | by Peter Rosenstein
Mayor Pete, thank you for the apology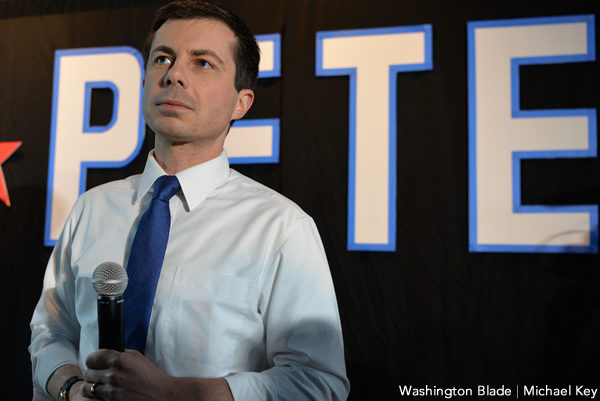 I am supportive of Mayor Pete Buttigieg running for president. As the first openly gay candidate to have a wide impact running for president I think he represents the LGBTQ community well. I have co-hosted a fundraiser for him in D.C., offered to do a second one in Rehoboth Beach, and helped advertise three others he recently held in the area.
So why was I upset with his recent comments to Clay Cane on SiriusXM Urban View? Cane in a sort of weird question said to him, "I'm sure you've heard this before in LGBT circles that more masculine-presenting men have more access," Cane said. "How different would it be if you were quote-unquote more effeminate?"
Buttigieg responded, "It's tough for me to know, because I just am what I am and there's going be a lot of that. That's why I can't even read the LGBT media anymore, because it's all too gay, not gay enough, wrong kind of gay. All I know is that life became a lot easier when I just started allowing myself to be myself. I'll let other people write up whether I'm too this or too that."
Now I liked the part of his answer where he said "All I know is that life became a lot easier when I just started allowing myself to be myself." But the problem came when he said he no longer even reads the LGBT media. Mayor Pete is smart and I thank him for saying in response to a follow-up question later, "I appreciate the question and the chance to clear this up. Just to be clear LGBTQ media plays an important role especially at a time like this." He added, "I was having a grumpy moment where I was thinking about some of the coverage that I do get frustrated with that seems to tell people how to be gay, and that's to be fair happening in a lot of different sources and places online in and other places."
I know he recognizes it is the LGBTQ media like the Washington Blade that helped him get his campaign off the ground. The Blade did a cover story on him in February before all the hoopla around him began. That, in turn, helped move the LGBTQ community to come forward with the money to finance his campaign.
It is important for Mayor Pete to recognize how LGBTQ media like the Washington Blade, this year celebrating its 50th anniversary, have been in the forefront of the drive for LGBTQ equality, which led to his being able to run for president. When the Blade began publishing back in 1969 you could be fired from the federal government for being gay. Its reporters covered events that were dangerous and no mainstream media outlet would consider covering. They reported on the activists from Frank Kameny fighting the federal government to Stonewall veterans demanding their rights. These media outlets are not owned by any conglomerate, rather by men and women of the LGBTQ community. They struggle every day to stay alive in a market difficult for any publication. If they close there won't be any publications reporting stories of importance from the communities perspective of which Mayor Pete says he is proud to be a part of.
If Mayor Pete makes it to the White House he will find only one LGBTQ media reporter credentialed as White House press — Chris Johnson of the Blade. If the president gets asked a question on how his actions impact the LGBTQ community it is nearly always from Johnson, who takes his turn as the pool reporter every month being the one to cover the president on that day and all the media get their news from him. I know if Mayor Pete makes it to the White House he would respect and read the reporter from the LGBTQ media.
We are living in difficult times for all minorities and for women. Some have said Kamala Harris isn't "black enough," which is as crazy as saying Mayor Pete isn't gay enough. Harris doesn't go after the African-American media. When women candidates are attacked for not being authentic, not nice enough, don't smile enough, etc., they don't attack publications like Ms. magazine, Elle or other women's media. They understand in the long run that media will stand with them.
So again I thank Mayor Pete for his apology, even presidential candidates are entitled to a grumpy day. But surely he knows in the long run it is the LGBTQ media that will be standing with him when other media walk away. It is the LGBTQ media that will support his efforts long after the campaign is over whether or not he is successful. We in the LGBTQ media are excited he is representing our community and representing it well. 
Peter Rosenstein is a longtime LGBT rights and Democratic Party activist. He writes regularly for the Blade.