October 18, 2019 at 3:39 pm EDT | by Scott Stiffler
Authentic and affirming, Octane fuels change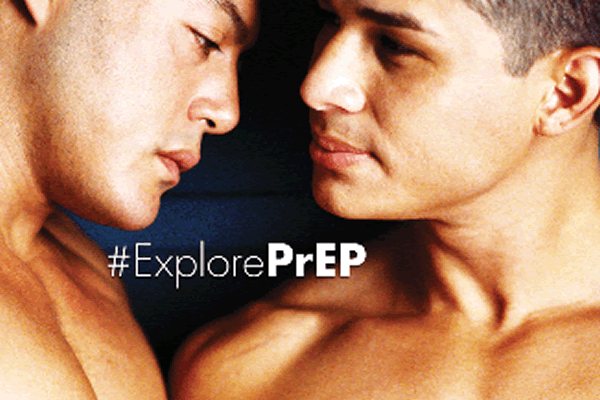 From billboards to bus stop kiosks to the click of a mouse or the swipe of a phone, advertising inundates—but the words and images chosen to pique our interest in a product or inspire a behavior rarely acknowledge the lives, let alone the existence, of LGBT people.
One notable exception is when the conversation turns to sex—and for 19 years, one company has been at the forefront of generating creative content that effectively delivers empowering information to D.C.'s LGBT community.
"We're trying to reach people where they live, play, work, and socialize," says Octane Public Relations & Advertising CEO Everett Hamilton, of the social marketing campaigns they create for the D.C. Department of Health (dchealth.dc.gov). "How you do that," he notes, "is sometimes the easy part. The challenge is coming up with authentic ways to communicate."
Octane's answer to that challenge is anchored in providing the LGBT community with, so to speak, straight talk—a message not every media outlet is willing to receive.
Recalling a campaign during the early days of PrEP, Hamilton notes the commercial Octane (octanepra.com) produced was not accepted by some TV stations, while others deemed it only suitable to run after 9 or 10 p.m.
"Some regions didn't want to run the campaign, because they didn't want people to think they had high HIV infection rates."
Hamilton say Octane, which is owned by women and minorities and dedicates its communication service to social change, storytelling, and culture, "can come up with any kind of campaign, but there are other municipalities that would not run what we run in D.C."
The credit for that, says Hamilton, "goes to all of the [DC] mayors. They approached this from a public health perspective. There's never been any pushback, because they know everything we do is data based. I also credit the DOH with normalizing the conversation around HIV and AIDS, by emphasizing that it's not something you whisper about."
Michael Kharfen, senior deputy director of the HIV/AIDS, Hepatitis, STD and TB Administration, D.C. Department of Health, reflects on the long relationship with Octane, the prime contractor for its social marketing campaigns.
"They've developed these messages," says Kharfen, "as well as the implementation strategies. Their boldness in generating content is quite exceptional. Ten years ago, we started our efforts under the umbrella of, we called it, 'DC Takes on HIV.' They came up with that tagline. There was a lot of feeling from the community that the Health Department had not been the driver of change in this city, and this complimented a number of changes we were taking. So we really have evolved, and I give them a lot of credit for that."
But that effort to take a frank conversation to the community has not been without its challenges.
One element of Octane's 2000s-era "Rubber Revolution" condom distribution campaign ran photos of, Hamilton recalls, "men embracing, men kissing, men looking like they just had sex or were just about to have sex. Even then, this was not something you could put in every publication. But how else are you going to connect with gay men about condom use, if you didn't show them in situations where they would need them?"
Early on, says Hamilton, the Washington Blade "was the only place that would show two men together in bed, men kissing, condoms—and that's because the Blade was, and is, at the heart of our community. So it would be natural to turn to them to help us connect in a very credible way."
From AIDS to PrEP to viral load suppression, says Hamilton, "The Blade has been there, reporting on these developments, while our campaigns have been going parallel. It's like we've been in synch."
"Octane has offered consistent, solid, invaluable support," notes Washington Blade publisher Lynne Brown, who recalls a moment of financial instability in 2009, when the paper was bought back from the corporate conglomerate that had taken it over. "Everett's grasp of our dire situation was instant. His support was pivotal to our ability to move forward. The Blade is indebted to him for his constant, generous involvement."
No debt is owed, says Hamilton. "I sent her an email saying, 'Let me know how Octane can help,'" he recalls, of his 2009 outreach. "We never abandoned the Blade, because it was important to the DOH, and to me. It wasn't charity. It was, 'Hey, we have got to get this advertising to the community, and you're still the place people turn to. We want to continue, and to expand our partnership with you.' "
Hamilton says Octane has "three partners. We have the Blade, and we have Michael Kharfen, who lets us be really creative. Our "Sexual + Being" campaign [sexualbeing.org] took a year and a half of work, and Michael allowed us that time, to get it right. We also have Mayor Bowser, who has supported everything that has come out of Octane. We've come so far in D.C. It's not just about HIV and AIDS, but the full compliment of sexual health. Now, the transgender population has been added into that, as well as a number of other different demographic groups."
This week, Octane launched its first campaign created specifically for Spanish speakers, to talk about sexual health as a part of overall health and well-being. Next month, the "U=U" campaign (as in, undetectable equals untransmittable) will target D.C. residents who currently have HIV, to educate them on the importance of staying in HIV treatment.
Says Kharfen, of campaigns in which the message intersects with personal identity and holistic health, "You cannot disconnect people's behavior from who they are. That's the current framework of 'Sexual + Being,' which Octane came up with. These two messages are very much intertwined. Taking a much more affirming and aspirational view has been quite effective, and Octane has been very diligent, in terms of doing the formative research work we expect—ideas that are developed, and tested."
That eye for detail, and commitment to create a message that inspires positive action, notes Kharfen, is essential to the DOH mission. "One of the ways we perceive our work," says Kharfen, "is that it's more than just a campaign. We're not trying to sell athletic shoes. We're trying to influence behaviors."