October 29, 2019 at 3:23 pm EDT | by Lou Chibbaro Jr.
JR's to reopen after delayed license renewal filing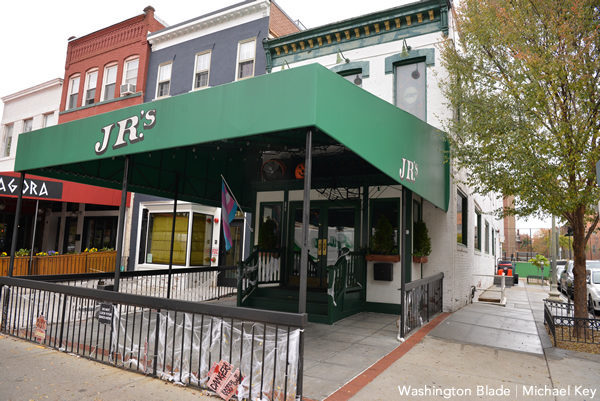 The D.C. Alcoholic Beverage Control Board on Tuesday lifted an order suspending the liquor license for the D.C. gay bar JR.'s six days after it issued suspension orders for both JR.'s and the D.C. gay bar Larry's Lounge on Oct. 23 for their alleged failure to file an application to renew their license by a Sept. 30 deadline.
Jared Powell, a spokesperson for the D.C. Alcoholic Beverage Regulation Administration, known as ABRA, told the Washington Blade JR.'s Bar & Grill and Larry's Lounge were hit with license suspensions after the two establishments failed to submit an application to renew their license by the Sept. 30 deadline and after a 23-day grace period that ended on Oct. 23.
In a late-breaking email sent to the Blade at 1:42 p.m. Tuesday, Powell stated, "As of a few minutes ago, JR.'s Bar & Grill renewed their license and they are approved to resume alcohol sales in accordance with their approved license hours."
He didn't say what the approved hours were, but JR.'s along with most other D.C. bars have remained open to serve alcoholic beverages until 2 a.m. during week days and until 3 a.m. on Friday and Saturday nights.
Customers of JR.'s and Larry's Lounge told the Washington Blade the two Dupont Circle area bars were closed beginning last Thursday or Friday and remained closed over the weekend. JR.'s was closed on Monday, Oct. 28, and stated in a message on its website that it would not be reopening on Monday as it initially planned to do.
"We are sorry and will provide more information concerning our operating status soon" the message says. "We look forward to serving you all again as soon as possible."
Eric Little, the owner of JR.'s, and Ronald Robinson, the owner of Larry's Lounge, couldn't immediately be reached by the Washington Blade for comment as of early Tuesday afternoon.
ABRA's Powell said neither Robinson nor another representative of Larry's Lounge had contacted ABRA to respond to the license suspension as of Tuesday.
The lifting of the suspension order against  JR.'s appeared to clear the way for it to open Tuesday night in time for the annual Halloween High Heel Race on 17th Street, N.W., where JR.'s is located. The popular race involving men dressed in drag has attracted several thousand spectators during the past several years.
Powell told the Blade that bars and other liquor serving establishments are allowed to remain open with a suspended license as long as they do not sell, serve, or manufacture alcoholic beverages.
"Starting on October 23, 2019, Cease and Desist [ABC] Board Orders were distributed to ABC licensees, including JR.'s Bar and Grill and Larry's Lounge, who failed or chose not to renew their license by the September 30, 2019 renewal deadline," Powell said in an email statement on Monday.
"Licenses can be returned to licensees when the required renewal documents and payment, including any late fees, are submitted and if done before the license is cancelled," Powell said. He told the Blade that the ABC Board could begin cancelling licenses by Nov. 6 if the renewal process isn't completed by that time.
"Licenses not renewed by the deadline will be subject to a late fee of $50 per business day, starting on Tuesday, October 1, 2019, not to exceed the cost of the license, AND potential cancellation," the ABRA website states.
The website states that among the requirements for a license renewal is a Clean Hands Certificate issued by the D.C. Office of Tax and Revenue to confirm that the applicant is up to date in paying all D.C. taxes, including liquor sales taxes.
Unconfirmed reports have surfaced that the Office of Tax and Revenue was experiencing delays in processing and issuing Clean Hands Certificates to bars and other establishments seeking to renew their liquor license and that this may have been the cause for some of the licensees to miss the Sept. 30 deadline for renewing. Some have speculated that the delays may have been caused by OTR's need to process a new city tax on employers for the recently enacted D.C. paid family leave program.
"There have been no delays in renewing ABRA licenses due to the new family leave law," OTR spokesperson Natalie Wilson told the Blade on Tuesday. "Any delays in the renewals of ABRA licenses for restaurants, taverns and clubs are a result of tax delinquencies, primarily delinquent sales tax, with OTR," Wilson said.
"We regret to inform you that JR's Bar will be CLOSED today, 24 October 2019 due to a temporary oversight with our liquor license," JR.'s stated on its website. "We fully expect to reopen tomorrow, Friday, 25 October 2019 at 4:00 PM," the statement says.
"In order to continue expanding our offerings (to include things like food and beer trucks), and doing so in a safe way, we need to ensure that all of our paperwork with the city is in order," the Oct. 24 statement says. "As such, today's closure will allow management to make sure everything is on the 'up and up' with city officials."
One day later, on Oct. 25, JR.'s updated is website message to say it would not be able to reopen that day, saying "the city's response to the issues with our liquor license were more intense than we expected." The message said the bar expected to reopen on Monday, Oct. 28.
On Monday, a third update on the bar's website stated JR.'s would not be reopening on Oct. 28 and gave no timetable for when it would reopen.
The website had not been updated to report the license suspension had been lifted clearing the way for JR.'s to reopen about an hour after ABRA official Powell told the Blade JR.'s license had been successfully renewed.
Larry's Lounge does not appear to have released any statement on the web or on social media discussing its closing beginning last week.