October 30, 2019 at 11:45 am EDT | by Philip Van Slooten
Calendar: Nov. 1-7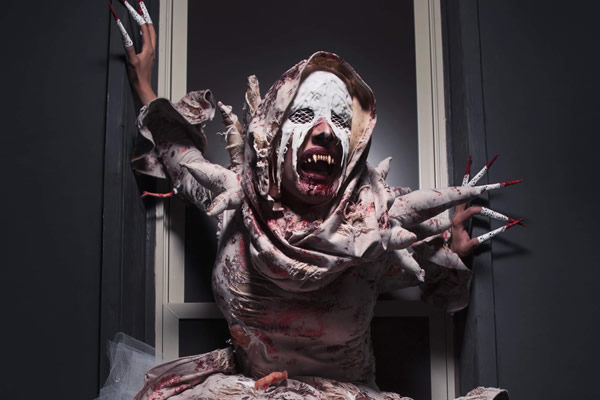 Friday, Nov. 1
The Arlington Gay and Lesbian Alliance First Friday Social is tonight from 6:30-8:30 p.m. at Pinzimini (801 North Glebe Road, Arlington, Va.). LGBT and allies are welcome to enjoy cash bar drinks in a relaxing atmosphere. No cover charge. For more information, visit agla.org/social.
Going Underground hosted by Dupont Underground (19 Dupont Circle, N.W.) is tonight from 7-10 p.m. Guests are encouraged to wear culturally bright costumes in celebration of a "Day of the Dead" theme. Featuring music by Lucy Black Entertainment and DJ Tezrah, and an after party across the street at Doyle. Tickets start at $50 on eventbrite.com.
Desiree Dik's Slay Them Dead! drag competition tonight from 9-11 p.m. at Red Bear Brewing (209 M St., N.E.). Everyone is invited to sign up for tonight's "Day of the Dead" event. Winners receive $50 and a chance to co-host and perform in a future event with Desiree Dik at Red Bear. Top performers from each event to battle for the Slay Them crown and a cash prize. More information at redbear.beer. 
Qrew: Halloqween starts tonight at 10 p.m. at Songbyrd music house and Record Cafe (2477-2475 18th St., N.W.). The event will feature costumes, dancing and music by Tezrah. Admission is free before 11 p.m. and $10 after for this 21-and-up event. Tickets and information at songbyrddc.com.
Fright Night: A Queer Pan-African Halloween Party is tonight at 10 p.m. at Black Cat (1811 14th St., N.W.). Tickets are $10 online at at the door. DJs include Kryptik, Muse(o)fire and Naiome. This event is celebrates queer black and brown identity as well as the spirit of Halloween with costumes and music. For information and tickets, visit eventbrite.com.
Saturday, Nov. 2
Cornhole for a Cause is today at 11 a.m. at JR.'s Bar (1519 17th St., N.W.). Hopefully JR.'s will have its licensing issues worked out by then. Rogue Sports and Stonewall Kickball are co-sponsors of this charity tournament to benefit SMYAL. Entry fee is $50 per team of two. Fee includes 15 percent off at Hank's Oyster Bar, 15 raffle tickets and more. Proceeds support SMYAL's services for local LGBT youth. More information at smyal.org/event/cornhole-for-cause.
"Kid Prince and Pablo," a modern retelling of Mark Twain's "The Prince and the Pauper," will be performed today at 1:30 p.m. at the Kennedy Center (2700 F St., N.W.). Tickets are $20 for this sensory-friendly performance that is welcoming to family members with autism or other sensory sensitivities. Following the show, children can ask talk one-on-one with performers. Tickets and information at kennedy-center.org.
"Rise Up: LGBTQ Rights, Then and Now" presented by the Georgetown University Gender and Justice Initiative and the Newseum is today from 2:30-4:30 p.m. at the Knight TV Studio (555 Pennsylvania Ave., N.W.). It's free to attend with a Newseum admission. A panel of experts including Sandy James, a FreeState Justice trans rights attorney, and Connor Cory, a Whitman-Walker Health LGBTQ immigration attorney, among others will discuss LGBT history and challenges with a focus on transgender rights. Visit newseum.org for more information.
World Stages: The Manganiyar Seduction will be performed today at 2 and 8 p.m. at the Eisenhower Theater of the Kennedy Center (2700 F St., N.W.). Tickets start at $19. This show brings together singers and musicians from the Rajasthani deserts to perform traditional Manganiyar music in a "Hollywood Squares"-style visual format. Tickets and information are available at kennedy-center.org.
Tula's Halloween Cabaret and Disco is tonight at 8 p.m.at the BlackRock Center for the Arts (12901 Town Commons Dr., Germantown, Md.). An evening of cabaret-style drag performances is followed by an all-night dance in the Grand Foyer Disco. Admission starts at $25. Disco-only tickets are $15. More information available at blackrockcenter.org.
Sunday, Nov. 3
ArtRave, an art and fashion collective in D.C., kicks off its 9th annual ensemble of emerging and established designers today from 11-5 p.m. (1514-1518 P St., NW). Also includes handmade crafts, farm fresh products and more. For more information, visit artravedc.com.
Drag Brunch Sundays hosted by RedRocks H Street (1348 H St., NE) is today starting at 11 a.m. Each show is an hour long and features different performers throughout the D.C. area. Visit redrockshstreet.com or Facebook events for more information.
Go Gay D.C. hosts "Speed Friending" today from 5-7 p.m. at the Embassy Row Hotel (2015 Massachusetts Ave., NW). At this platonic take on "speed dating," attendees are paired up with strangers for multiple rounds of casual, friendly conversations. Attendance is free. More information and registration at eventbrite.com.
Sunday Cruise is every week at the D.C. Eagle (3701 Benning Rd., NE). Drink specials include $10 and $12 bottomless beer mugs and more. Guests are welcome to enjoy drinks and cigars on the patio. For more information, visit dceagle.com.
Monday, Nov. 4
2018 Beltway poetry Grand Slam Champion Jael Benjamin hosts open mic night tonight at Busboys and Poets (625 Monroe St., N.E.) at 9 p.m. $5 cover. Seating is on a first-come, first-seated basis. Performances by professional spoken word artists, open mic rookies, musicians and more. A different person hosts each week. Visit busboysandpoets.com for more information.
Tuesday, Nov. 5
Life, Time and People magazine photographer David Burnett delivers an artist's talk tonight from 7-8:30 p.m. at the Smithsonian American Art Museum (8th and G St., N.W.). An award-winning photojournalist, Burnett has photographed every American president since Kennedy and has documented wars, revolutions and music icons. Meet and greet follows talk. Free tickets available at asmpdc.org.
Wednesday, Nov. 6
L Word Trivia is tonight from 6:30-9:30 p.m. at the Board Room (925 B Garfield St., Arlington, Va.). Hosted by Katie Sosa. Admission is $15 and a portion of the proceeds benefit SMYAL. Visit eventbrite.com for tickets and information. The New Pornographers and Lady Lamb perform tonight at 8 p.m. at the Lincoln Theater (1215 U St., N.W.). Audiences will experience both power-pop riffs and folksy ballads in an eclectic evening of music. Tickets are $40. Doors open at 6:30 p.m. For tickets and information, visit ticketfly.com or the lincolndc.com.
Beach Blanket Drag Bingo is tonight from 8-10 p.m. at Freddie's Beach Bar (555 23rd St., S, Arlington, Va.). Free entry and prizes. Karaoke following Bingo. Featuring performances by Ms. Regina Jozet Adams, Ophelia Bottoms and Ashlee Jozet Adams. More information available at freddiesbeachbar.com.
Bookmen D.C., an informal men's gay literature group, meets tonight at 7:30 p.m. at the Cleveland Park Libery (3310 Connecticut Ave., N.W.) to discuss Martin Duberman's "has the Gay Movement Failed?" All welcome. Details at bookmendc.blogspot.com.
Thursday, Nov. 7
First Thursdays Open Mic is tonight at A League of Her Own (2319 18th St., N.W.) from 8-10 p.m. Sign-ups start at 7:30 p.m., show starts at 8. Event features a welcome space for all to showcase their music, spoken word, stand-up comedy or other creative talents. More information on this event and more on Facebook events.
Just in time for the holiday season, the National Symphony Orchestra performs the "Nutcracker Suite" as part of an evening of classical works connecting music and dance. Show starts at 7 p.m. at the Concert Hall of the Kennedy Center (2700 F St., N.W.). Tickets start at $15. Tango, ballet and Viennese waltz music also featured. Visit kennedy-center.org for more information.
Queer Tango Taster is tonight from 7-8:30 p.m. at Bloombars (322 11th St., N.W.). Cost is $20 for a single class. Discounted rates available for attendees. This is an all-levels class free from traditional gender norms and binaries. All are invited to this role-switching class with a variety of partners. Visit tangomercurio.org/outreach for more information.